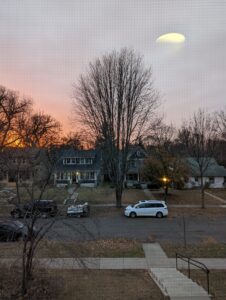 Living off campus is a popular option for many Macalester juniors and seniors. Our St. Paul neighborhood provides a wealth of rental opportunities within a short walk of campus.
As with many decisions, living off campus brings a host of freedoms and responsibilities. The college is committed to educating students to make informed choices, and be accountable for themselves as they interact in the surrounding neighborhood.
Looking for a place to live for the first time can be exciting and overwhelming all at the same time. There are a great number of well intentioned and seasoned landlords and property owners in the Macalester neighborhood that are trustworthy and have been renting to Macalester students for years. On the other hand, there are scammers and folks looking to make a fast buck and steal personal information every day. Here are some things to be mindful of as you search for off campus housing:
Listing photos that have an MLS watermark and extremely vague details (i.e. address is not shared by the landlord after reaching out to request that information).

The landlord does not offer or is not able to show the apartment/space they've listed.

The landlord is ready to make a deal with no background info.

You feel pressured to sign an application, provide personal information or submit a deposit immediately (i.e. before you are able to see the apartment/space).

The asking rent doesn't match up with similar properties in the neighborhood.

The landlord asks for payment of deposit via wire transfer, Zelle or Venmo. Payment in these forms are just like cash; once it's sent, it's gone. Venmo does offer protection on most purchases, but real estate transactions are an exception to that policy.
Google the address of the listing. Typically rental listings will appear on multiple websites. If the unit you are interested in renting shows up as being for sale elsewhere, that's a big red flag.

Schedule a time to tour the rental before providing any personal information or signing anything. If you are not in the area (i.e. studying abroad), ask about getting a live video tour with the landlord inside the rental unit. If they can't do this, that is another red flag.
---
List a House, Apartment, Duplex, Sublet, or Roommate Request