Russian Studies at Macalester Facebook Page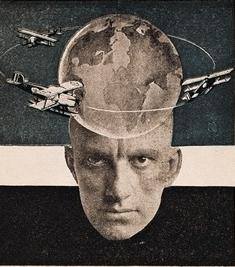 Visit our Facebook page for all of the latest department news, campus and local events, student and alum opportunities, and poignant news in the culture and politics of Russia, Central Asia, and Eastern Europe. Check out the archives of our student run Russian language radio show Checkpoint Charlie, linked to by the Learn More button.
Russian Studies blog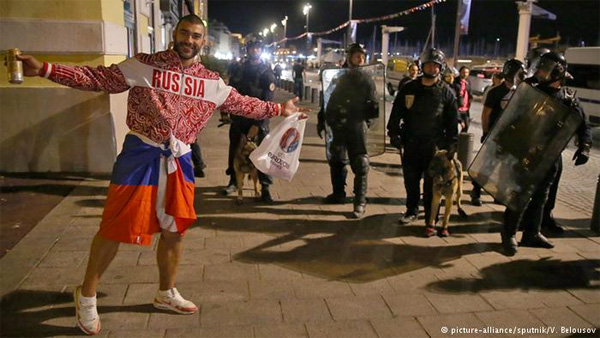 Visit RusMac, our blog, for commentary on culture and politics in Russia, Central Asia, and Eastern Europe.
Checkpoint Charlie on Macalester Radio, WMCN 91.7 FM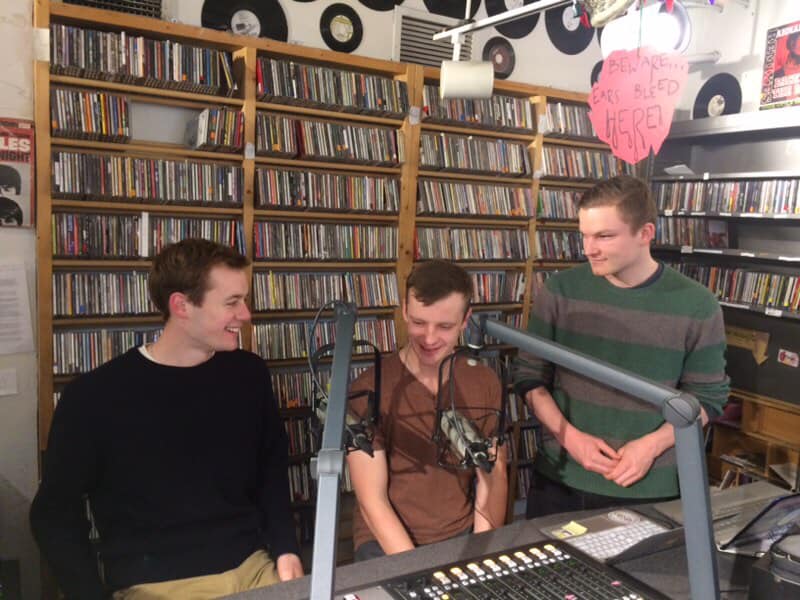 This past semester, Macalester's Russian and German departments united in an unprecedented explosion of cultural collaboration. For a whole hour every Sunday, Macalester Russian tutors broadcast on WMCN entirely in Russian, sharing their favorite contemporary Russian tunes (with some Kino thrown in on occasion for good measure), reading poetry, and interviewing Russian Studies professors and students. Listen to the complete first run of Checkpoint Charlie here, and keep your eyes and ears peeled for future productions!
26th Annual Russian, East European, and Central Asian Conference at Macalester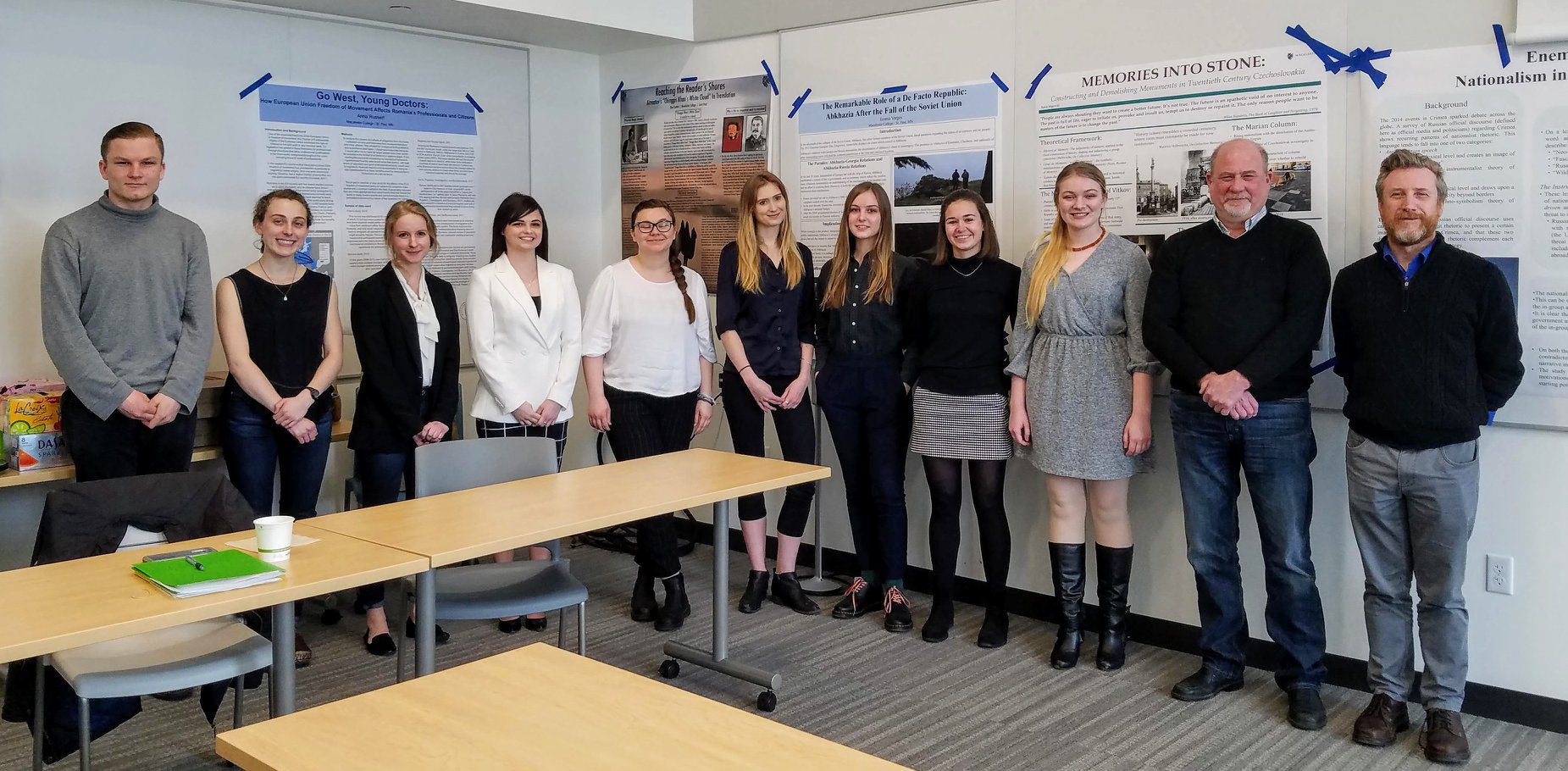 On Saturday, April 13th, Macalester students (plus one Grinnell student) gathered to present posters they made for projects relating to Russia, Eastern Europe, and Central Asia. The projects spanned a wide breadth of topics and disciplines, ranging from Romanian doctor emigration to sheep in Kyrgyzstan, from climate change in Russia to Bosnian Croat nationalism.
Maslenitsa Celebration at the Russian House

On March 31st, the Russian Studies department belatedly celebrated Maslenitsa, a weeklong holiday that takes place before Lent. In a Minnesotan Russian fashion, students played cornhole and other lawn games followed by burning winter in effigy and a whole bunch of bliny. Snow fell later that day and again a few weeks later, but we are convinced that burning winter in effigy staved off the worst of the weather forecasts.
At the Radio Station with Professor Anton Svynarenko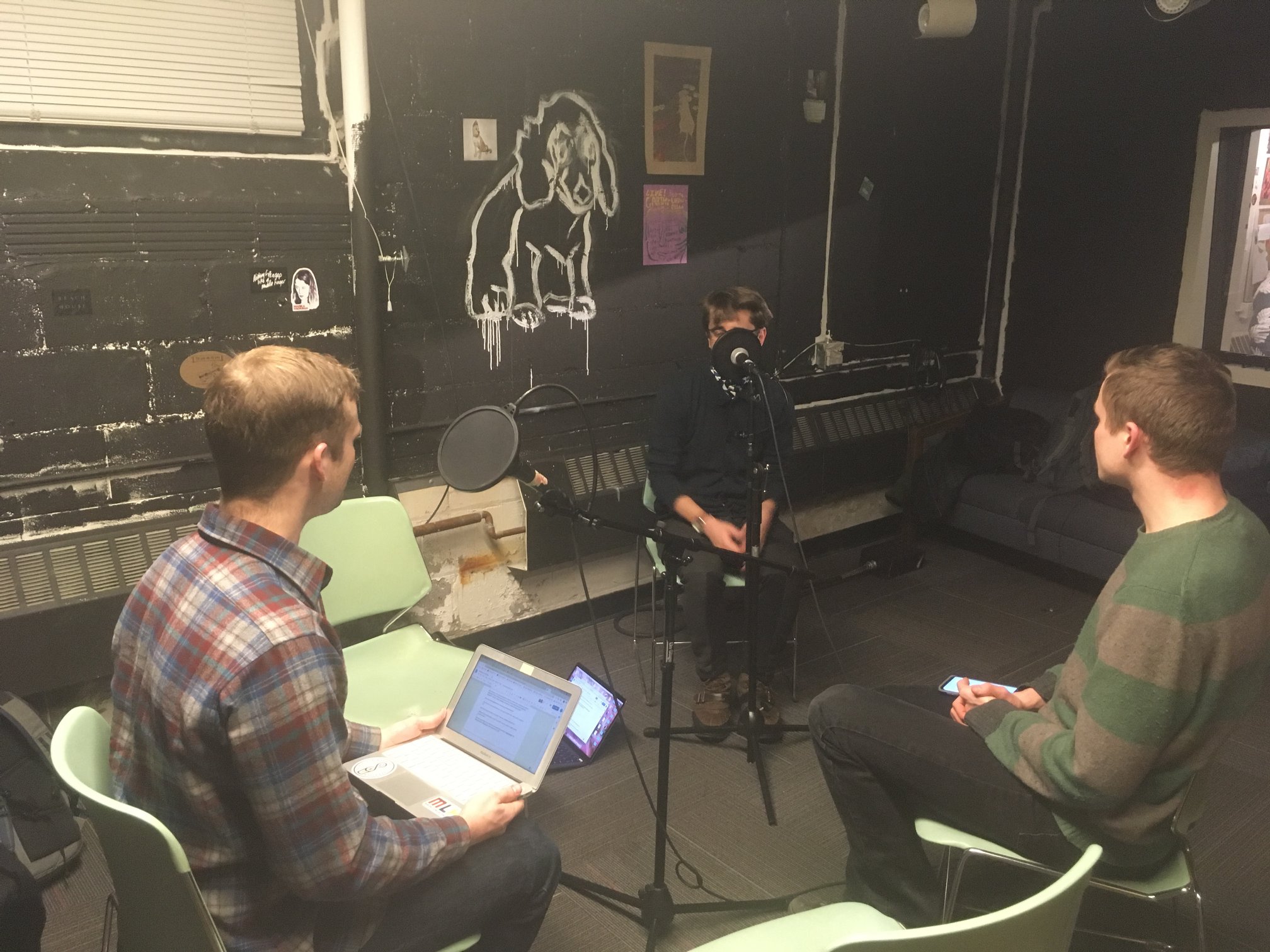 On Saturday, February 16, Fabian Bean, Dan Szetela, and Lab Instructor Valeria Skvortsova interviewed new Visiting Lecturer Anton Svynarenko for the 2/17 edition of Checkpoint Charlie, the Russian and German Departments' joint radio show on WMCN. The interview touches on his road to becoming a professor at Macalester, his dissertation, "Queer Children in Russian Modernism", and his love for animals and '60s psych rock, among other topics. Listen to the full program here!
In the Kitchen with Russian Studies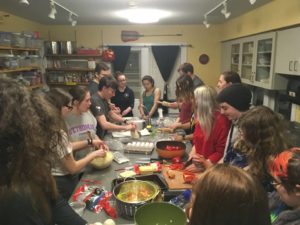 On Tuesday night, February 12th, the Departments of Multicultural Life and Russian Studies teamed up to bring students a tasty culinary workshop at the Cultural House.
The yummy food the students prepared included the Georgian staple khachapuri, Uzbek plov, and a traditional Russian salad (without salad greens). Listening to the previous weekend's episode of our student radio show Checkpoint Charlie on WMCN, a running away egg, and constantly ringing fire alarm kept the evening exciting!
Special thanks to our шев-повар Dan Szetela, фотограф и посудомойка Fabian Bean, and everyone who came and made this event amazing.
Student Research Symposium at TMORA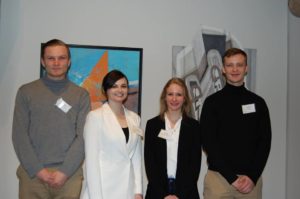 On Saturday, February 9th, while most of the professors of the Russian Department went to a conference in New Orleans, four Macalester seniors also proved themselves as scholars. Dan Szetela, Maria Donahoe, Kasia Majewski, and Fabian Bean, as pictured from left to right, participated in the Annual Interdisciplinary Student Research Symposium at The Museum of Russian Art in Minneapolis.
The following are the topics of the students' papers:
• Dan Szetela: "Cities of Garbage Fame: Moscow Region Trash Protests in the Context of Russian Environmentalism and Civil Society"
• Maria Donahoe: "Enemies and Brothers: Nationalist Language in Russian Media and Political Discourse"
• Kasia Majewski: "Pointe Shoe Ambassadors: The Politicization of Soviet Ballet Tours"
• Fabian Bean: "Pavlensky: A Modern Suprematist?"