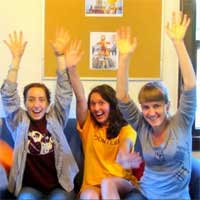 Living in Russian House is a terrific way to improve your spoken Russian and to prepare for a semester in a Russian-speaking country. Located right next to the campus (1668 Princeton), the student residents practice Russian daily, have a common meal with housemates once a week, and participate in monthly film evenings or game nights. For the 2023-24 academic year, a student program assistant will live in the house to coordinate house activities and help with language proficiency.  The program assistant and student residents share responsibilities for cooking and housekeeping.  At Macalester's Russian House, all are invited to come visit, relax, and chat with fellow students. Russian House sponsors a variety of dinners, films, cultural events, and student performances, all with the goal of helping fellow students better understand Russian culture and society.
Prerequisites: Sophomore status and at least one year of college-level Russian. Residents are encouraged to take one Russian course each semester they live in the house. Applications are available online at Russian House Application Form.
Applications for the 2023-24 academic year are open now until March 3, 2023.  Applications received after this date will not be considered.