There are many options for students that wish to study abroad. After at least two years of Russian language study, or one year plus one summer of intensive study, Macalester students can select one of the following approved programs:
Notes from Abroad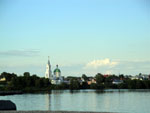 View of Old Tver' from the bank of the Volga River
Kaitlyn Arctander writes: "The photo of the Volga is one of the first photos I took in Russia. I was with a group of really friendly Russian girls who wanted to make me feel at home. I had told them that in New York I lived by the water, and they brought me to the river to show me that my new home has water, too. We stayed by the river until nearly 2am when it started getting dark and had a picnic — it was also the first time I tried Kvas!"

the Bronze Horseman
Marisa Raether writes: "I studied abroad in St. Petersburg from January to May of 2007. In this picture, I am standing in front of the famous "Bronze Horseman" statue dedicated to Peter the Great, the founder of the city, which is situated on the bank of the Neva River near the Admiralty and St. Isaac's Cathedral (which you can glimpse in the background). St. Petersburg is full of beautiful statues and monuments, and this one was my absolute favorite. I squealed with delight every morning when I rode by it in the bus on the way to school. This statue is especially famous for the poem inspired by, Aleksandr Pushkin's "The Bronze Horseman," in which the statue comes to life and pursues a young Petersburger. It never came to life while I was nearby, but I don't doubt that it happens from time to time.
In 1998, Macalester College was awarded a grant from the Trust for Mutual Understanding to send a team of 25 archaeologists, scholars, and specialists to participate in research activities in Chersonesus, Ukraine, as part of the Black Sea Project.