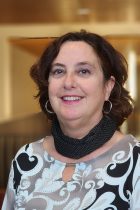 Rosa teaches Spanish classes and classes on Peninsular Literature, focusing on Spain. Originally from Barcelona, España, she earned her BA in Journalism from the Universidad Autónoma de Barcelona and received her PhD in 2001 in Peninsular Literatures and Cultures, with a emphasis on Women's Studies from the University of Minnesota, where she completed her dissertation, Ciudadanas e Inmigrantes en la Narrativa catalana de la transición: Montserrat Roig, Maria Barbal, María Jaen y Maruja Torres, January 2001.
Some of her interests include the narratives of women's immigrant's voices, cultural studies, gender and film studies in Peninsular Literatures.
She has participated in different national and international conferences on the study of Contemporary Spanish literature and cultures such as:
"Tres modelos de ciudadanas en la Barcelona de la dictadura a la transición democrática". Congreso Internacional de Literatura Hispánica, Mérida, México, 2015.
"Najat El Hachmi: La búsqueda del modelo de mujerciudadana".Congreso Internacional de Literatura Hispánica, Lima, Perú, 2010.
"Narrating the voices of the immigrant women in contemporary Catalan Society" Red River Conference on World Literature, North Dakota State University, May 2008.
"Espuelas de papel: an new approach to the literature of the andalusian immigrants in Catalonia. Midlands Conference on Language and Literature at the University of Nebraska-Omaha, 2006.