A Farewell to Professor Chudgar
Juliet Wilhelmi '14
In his final semester at Macalester, Professor Neil Chudgar reflected on the conversations with students that have baffled, delighted, challenged, and fascinated him. "I've learned as much in five years at Mac as I did in grad school, and most of that learning came directly from the low-key brilliance of Mac students," he said.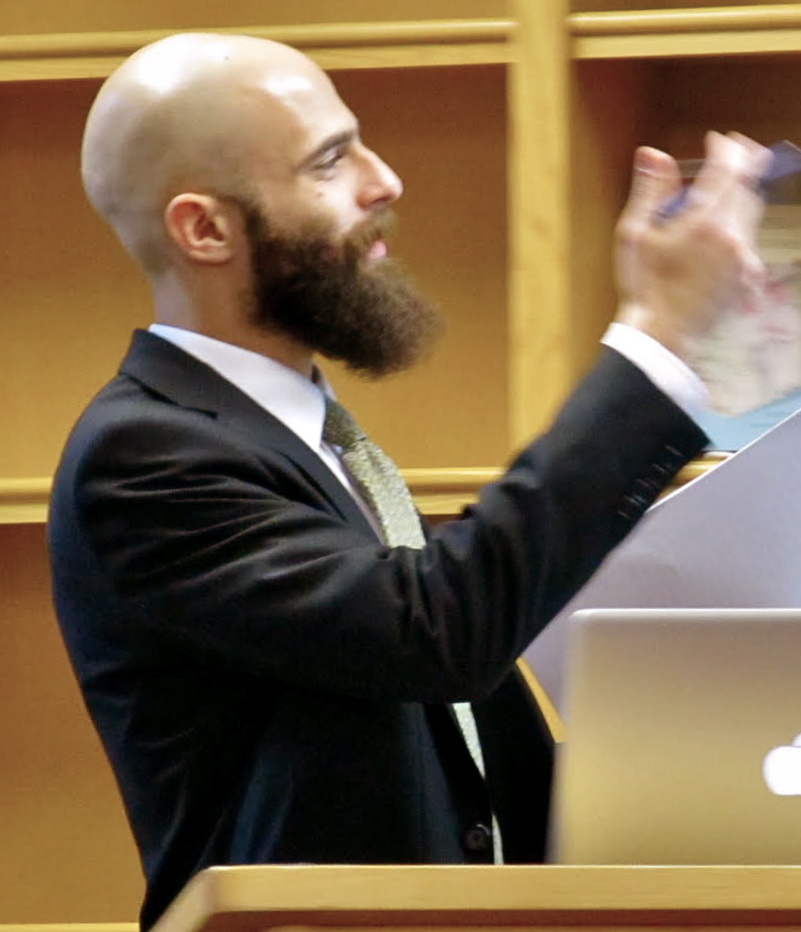 As an undergraduate, Professor Chudgar did not see himself specializing in 18th Century British Literature. In fact, he says that he "refused" to take the 18th century course required to finish an English major at the University of Pittsburgh.
Most of the courses he has taught at Macalester draw from the texts of that very era. "18th century English readers and writers were still questioning the facts of modern life that we, in late America, have come to take for granted," Chudgar said. "What is important about human lives? Is sympathy necessary? Is progress possible? Is science harmful? Is 'being yourself' a good idea?"
Professor Chudgar majored in Philosophy at the University of Pittsburgh. "[I chose it] because it was hard," he laughed. He always enjoyed his English classes as well, and went on to earn a Ph.D. in English from the University of Chicago.
While starting his doctorate degree, Chudgar first became enchanted with 18th Century British thought. Supposing that he would specialize in American Romanticism, he signed up for Sandra Macpherson's 18th Century class as "background" for that course of study. "If you've taken my course, you have an idea of how [Macpherson] taught hers, down to the kind of pencils she used," he explained. The intellectual intensity of Macpherson's class, he said, was like nothing he'd ever experienced.
The variety of courses that Chudgar has taught at Macalester has allowed him to channel his intellectual passions in many directions. Last year, he team-taught Learning to Read with Educational Studies Professor Tina Kruse. Even as the teacher, Chudgar says he received "a wonderful education" about the psychology and theory of reading. He has given his senior seminar on Literature and the Sense of Touch three times, and each year it has been "wildly different." Teaching Literature and the Natural World has been a particularly surprising experience. "There are a dozen students now (like eggs!) and, truly, talking with those dozen people three times a week is as thrilling, as disturbing, as challenging, and as delightful an intellectual experience as any I've ever had," he said.
Indeed, Chudgar values the opportunity to learn even as he is helping others to do so. "When it's working really well, teaching for me is indistinguishable from being a student," he said. "I'm fully engaged in the conversation, I don't know what will come next, and I'm asking questions I did not know how to ask before."
For Chudgar, teaching is a mode of seeing the world. "Even though I'm not going to be a college professor any more, I think I will be teaching forever," he said. "I want to share everything I know with everybody I meet so that we can share a common perspective on the world."
Chudgar says that above all, he will miss the kindness of Macalester's community. "All my life I've been trained in various ways to value being smart, but that's not the value that matters around here," he said. "Make no mistake, Mac students are, in my experience, very smart. Here, it's much more important to be kind, to be compassionate, to care about the world's problems, to work hard in the service of others."
The Macalester community will miss Professor Chudgar as he leaves academia this summer. Professor Daylanne English said, "Rarely have I met an academic with more openness to such a wide range of ideas and people. He has been delightful to have as a colleague, and I will very much miss seeing him in Old Main and hearing his bird clock."
As his student and advisee, it has been a pleasure to experience Professor Chudgar's deep compassion and effusive intellect for the past four years. I signed up for his Introduction to Poetry course as a shy yet inquisitive freshman. He took a personal interest in the workings of each student's mind, and he helped put me on a path to studying poetry. My skill as a poet developed in thrilling and unexpected ways thanks to his teachings about interpretation, observation, and the inner workings of poetry. Professor Chudgar awakened the intellectual fervor that would guide me through the rest of my time at Macalester.
Chudgar feels grateful for his own experience at Macalester. "It's a little bit like Shangri-la around here," he said. "It's a lovely, gentle, kind, happy place. I'm looking forward to whatever comes next, but I don't think many places like this can exist."