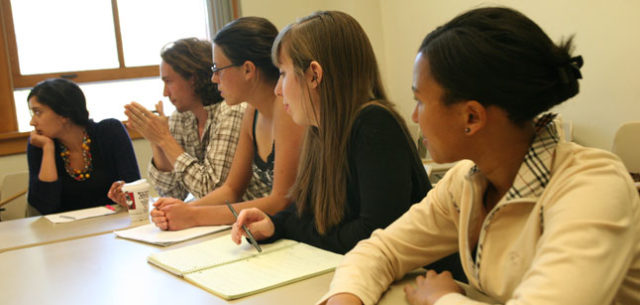 Attending class is a basic necessity for student learning and intellectual growth at Macalester College. While implementation requires the professional judgment of faculty and staff, and assumes student responsibility in ensuring that their academic goals are not negatively impacted by their college-sponsored co-curricular activities, this policy specifies guidelines for addressing class attendance and absence issues. Questions about this policy should be directed to the Office of Student Affairs or Director of Academic Programs.
I. Attendance in Classes
The faculty recognizes the importance of regular attendance in all courses. Attendance policy in classes, however, is left to the discretion of the individual faculty, except in the cases of College-authorized absences.
II. College-Authorized Absence for College-Sponsored Activities
a. Absences from classes and, if necessary, from the campus are authorized for students who, as individuals or members of athletic teams or other organized groups, represent the College in college-sponsored activities. The following groups are included in this category: (1) members of properly authorized varsity and junior varsity athletic teams participating in scheduled intercollegiate competitions; and (2) participants in college- sponsored, co-curricular activities led by faculty and/or staff (not including student organizations). Though such absence for college-sponsored activities is authorized by the College, faculty and staff leading such activities should make every effort to ensure minimal disruption of student class attendance.
b. The names of students involved in such organized activities shall be reported to the Office of Student Affairs by the faculty or staff supervisors of the college-sponsored activities well in advance of each event necessitating absence from classes. This report will describe all necessary information, including dates of absences and the specific purpose of the activity. The Office of Student Affairs shall then certify to faculty teaching courses with students participating in the college-sponsored activity, as far in advance of the absence as practical, College authorization of absence for students involved. It is still a student's responsibility to notify faculty of any impending class absences.
III. Individual Authorizations for Absence
The Dean of Students is empowered to authorize absences from classes and, if necessary, from the campus for individual students in cases of exigency. Authorized absences shall not relieve students of the responsibility of making up work that has been missed.
IV. Provisions for Making Up Work
a. Instructors shall be notified of all College-authorized absences and shall provide opportunity to students to make up work missed during College-authorized absences from class without penalty. If College-authorized absences total more than 10% of the course meeting time, it shall be at the discretion of the instructor whether the student may make up the missed work. College-authorized absences shall not relieve students of the responsibility of making up work that has been missed.
b. If a class will not meet at its regularly scheduled time or will have an additional class meeting outside of its regularly scheduled time, faculty should provide an alternative assignment or consideration for students unable to attend due to a College-authorized absence for a college-sponsored activity. In the event that the absence is not due to a college-sponsored activity, faculty should handle possible conflicts at their own discretion.
V. Religious Academic Scheduling Conflicts
It is the policy of Macalester College to make every reasonable effort to allow students to observe their religious holidays without academic penalty. Absence from classes or examinations for religious reasons does not relieve students from responsibility for any part of the course work required during the period of absence. Students who expect to miss classes, examinations, or other assignments as a consequence of their religious observance shall be provided with a reasonable alternative opportunity to complete such academic responsibilities. It is the obligation of students to provide faculty with reasonable notice of the dates of religious holidays on which they will be absent, ordinarily within the first fifteen days of the semester.
---