International Students at Macalester
Students from all over the world welcome you to the Mac community and share their favorite things about Macalester. You'll learn about support from International Student Programs and hear about the many ways you can enjoy the Twin Cities.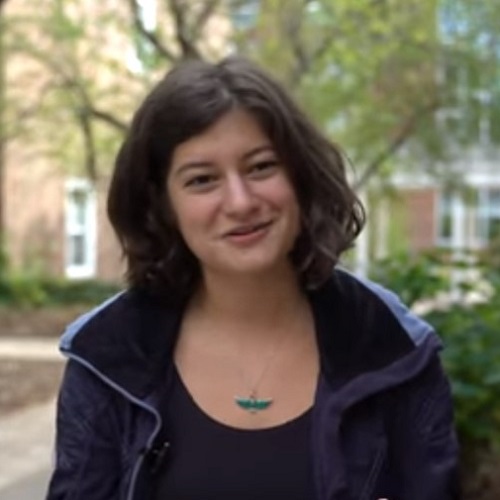 Masa Holocsi '25
(she, her, hers)
Budapest, Hungary
Majors – Undecided
One more thing to know – Calls Singapore a second home
How did you find a sense of belonging and community at Macalester?
I think ISP, the International Student Programs, does a good job. We have mentors at the beginning of the year when we start out, who check on us every week, we have meetings, and also I think international students really know each other. We have quite a strong community.
I came here in the middle of the year, but I found immediately my people. And I'm living with two of my best friends now, which is amazing. It really feels like going home in our suite. Also, our other friends are always in our suite too.
So you keep looking. Everyone is searching for their place. I feel lucky, I have my base friends, but also there are just so many interesting and valuable people around. And I meet new people every single day, and there are new faces to say hi to at breakfast, or just talk about our day.
I think our student body is just very open to each other and also we can ask for help, even if we don't know the other person. I feel like there is a certain caring in the community.
---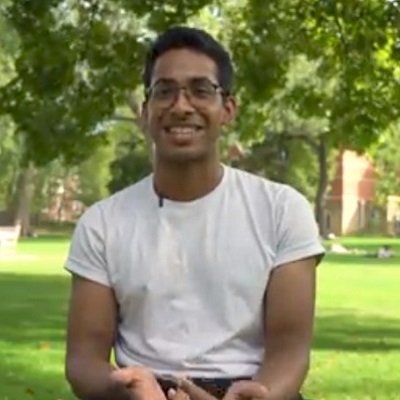 Is it hard transitioning to college?
There are a lot of things that happen when a student first comes to a new place, like having to meet new friends, maybe as an international student learn a new language, or maybe getting adjusted to every socio-economic or political thing that happens. Macalester makse that process fairly easy. There's often a lot of support, both from other international students or from the more administrative level. From offices like International Student Programs or Department of Multicultural life, they helped me with that transition. I felt a lot more at home, and I felt more comfortable even though I'm thousands of kilometers from home, from India.
And that's what I've come to appreciate about internationalism at Mac. It's not something they want you to figure out on your own, but it's something they will help you figure out. At every step of the way, whether it's through classes, or through students organizations, or through internships, there is always someone to support you and make you feel like what you're doing and what you're feeling is valued.
---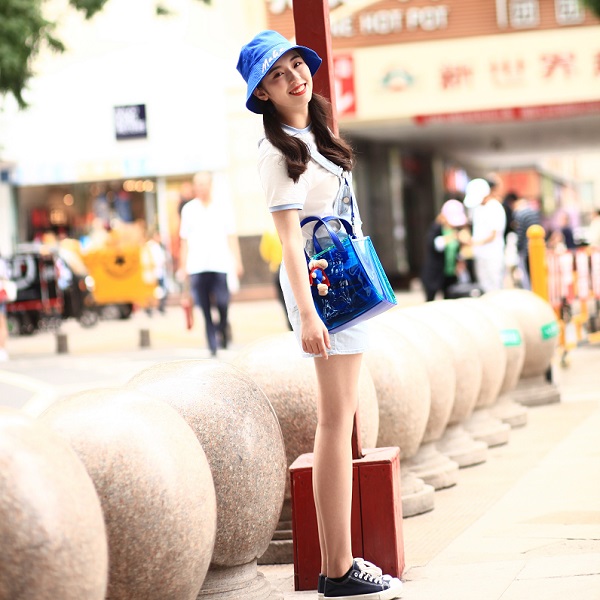 Jiayi Sun '22
(she, her, hers)
China
Major – Psychology
Minor – Japanese Studies
One more thing to know – Volunteered at local Jie Ming Mandarin Immersion Academy
Who is your favorite professor at Macalester?
I didn't visit campus before I actually got here, and I believe that's the case for many international students.
The main reason I chose Macalester is that I preferred a liberal arts college with small-sized and discussion-based classes.
Also, I was very interested in different cultures, and Mac drew me with her diversity, internationalism, and multiculturalism.
I've had a lot of great professors at Macalester, but my favorite one is Joan Ostrove from the Psychology Department, because by the time I took Introduction to Psychology with her, I was not so sure of myself with college writing and everything, but she was very understanding, she was super supportive, and eventually helped me to establish that confidence. So I really appreciate everything she has done.
Honestly, this is based on my personal experience, I feel like most professors at Mac are super great. They're amazing.
MORE STUDENT EXPERIENCES
Tell us how the International Student Programs office has helped you.
International Student Programs (ISP) is one of the most special parts about Macalester for me because it's who you first meet when you arrive at the airport. Whether it's your first time in the U.S., or not your first time in the U.S., it's who you first interact with when you arrive at Macalester as an international student.
They pick you up from the airport. They help you settle in. They take you to your room. They take you shopping to buy anything that you need. And they're just honestly one of the most resourceful and friendly people on campus who have so much experience working with different situations and people from very different backgrounds.
They help with paperwork for taxes, for visa documents. They help with getting students all the paperwork that they need to have an internship. They help you find a place over winter break or summer break if you don't have a place.
They also organize events every Friday to make sure the international students not only get to know each other, but get to know important people on campus and people they can reach out to if they need anything.
If you have a personal problem, if you have some sort of challenge in your classes, if you have trouble with the landlords, trouble with transitioning to living at Macalester or just U.S. culture in general, ISP always knows how to help or who can help.
They go out of their way to make sure that first-year and second-year students and all the international student body feel comfortable, welcomed, and part of the Macalester community at all times.
It's an effort that never stops, and it's always there. It's just a group of very heartwarming, very hardworking people that you get to know on a personal level.
Why did you choose Macalester?
When I applied to Macalester I had never visited the college campus, and I'd never been to the U.S. either. I decided that I wanted to go to a small liberal arts school in the United States and so I applied to several schools.
When I got my acceptance from Macalester I got really excited. First of all, because of the international community that there is at Macalester College. Second of all, because of the big UWC community that is on campus. As a United World College alumni from UWC Costa Rica, I was really excited to be surrounded by classmates that are from different backgrounds and different countries that can bring different perspectives to the classroom.
The reason in the end why I decided to choose Macalester over other schools was because of its location. I think being in the Twin Cities is such a big advantage. Being able to get out into cities, experience different things such as sports events, going to museums, going to bars and restaurants in the Twin Cities, as well as having the opportunity to intern during the semester at one of the big organizations her is a big plus for me.
So, I decided to come to Macalester because with the location and the international community that there is on campus, I would be really happy here and have a good four years of college.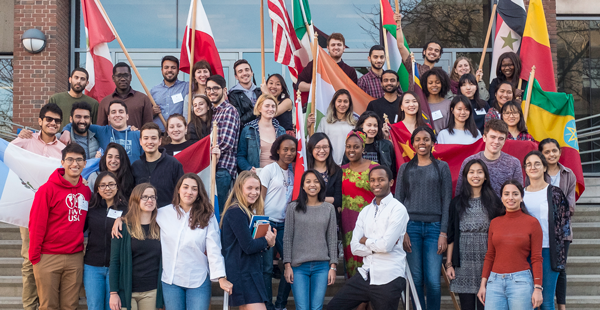 International Student Programs
Discover ISP! This office has staff and students ready to help you with academic and regulatory questions. Plus, they'll connect you to the Mac community in meaningful ways.