Scheduling with the MAX Center with the AIM System
Faculty and students should discuss early in the Module how exam accommodations will be provided:
Will faculty manage additional time/proctoring and how (on Moodle, in person, proctor via Zoom)?
Is this a take home exam?
If faculty are not able to proctor the exam, schedule with the MAX Center for remote or in-person proctoring
What is the agreed on date and length of the exam?
If testing cannot be provided within the class, schedule with the MAX Center
Faculty Instructions:
Faculty Testing Using the AIM System
Student instructions:
Once logged in, you'll be in the Dashboard view. 

To schedule an exam, click

Alternative Testing

in the

My Accommodations

section in the lower-left navigation bar.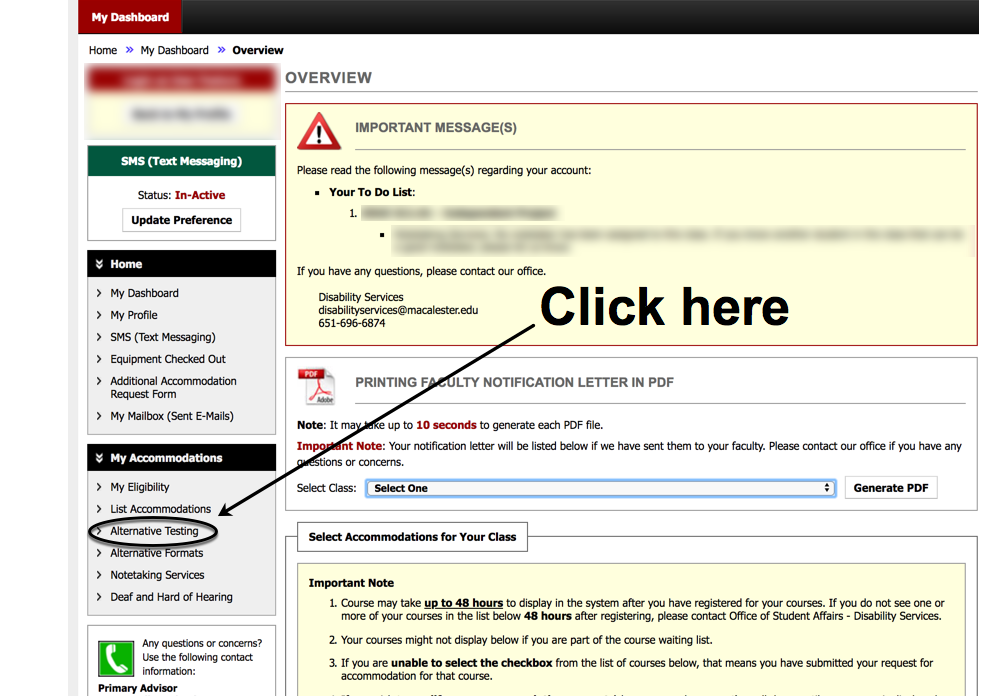 Next, click on the drop-down menu to select the course, 

then click the

Schedule an Exam button

(highlighted)


Enter your exam details: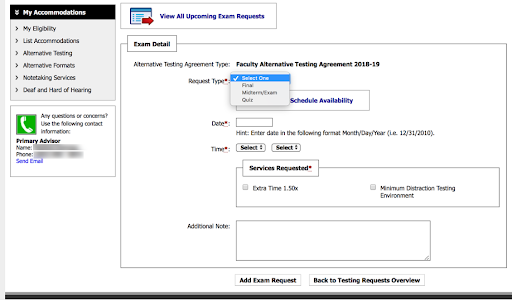 Request the type of exam:
Midterm/Exam

(the

most common exam scheduled with MAX Center)

refers to an assessment which a professor schedules for entire class period to complete.

  

Final

refers to longer, end-of-semester assessments. 

Quizzes will most likely be done in classes/remotely.
Then,
select the time and date 

you and instructors have agreed on for the exam.

Select the accommodations you have been approved for under "Services Requested".
"Additional Notes" is a space to provide additional information 
What happens next:
You will receive a confirmation email. 

The faculty member will complete a testing agreement, which outlines their expectations for exam proctoring (remote or in person). 

You will receive confirmation of the exam being approved. 
How do I know my exam has been scheduled?
Log back into AIM.   
Go to "Accommodations" and then "Alternative Testing". Your exams will be listed along with the exam status. 
If you need to modify an exam, click "modify".  Your faculty member and the MAX Center must be notified/approve exam modifications. 
If your exam is not listed in AIM, you have not completed the process and will need to request the exam again.