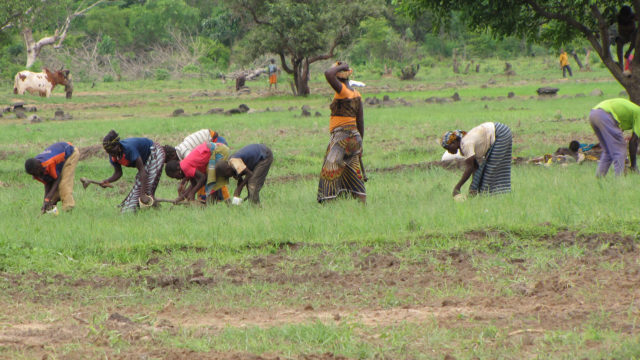 Why Mac for Food, Agriculture, and Society?
The interdepartmental program in Food, Agriculture and Society offers a six-course, interdisciplinary concentration involving core and supporting courses as well as an internship. The program exposes students to the social and biophysical aspects of complex food and agricultural questions. It aims to produce graduates who: 1) understand the fundamentals of food and agricultural systems; 2) have broad interdisciplinary training on the theme of food, agriculture and society; and 3) are able to connect their interdisciplinary training on food, agriculture and society to real word experiences and application.
1. Burgeoning student interest in Food, Agriculture Society.
Student, alumni and faculty interest in food and agriculture at Macalester and other colleges and universities has grown dramatically over the past 15 years. Student organizations devoted to food and agriculture on campus abound, including the Macalester Urban, Land, and Community Health (MULCH) group, the Veggie coop residential floor, and MacFeast. At the 2012 International Roundtable devoted to food and agriculture, students drafted a call to action which called for the creation of a food systems and agricultural concentration. The following summer, the college's alumni college focused on food and agriculture, attracting over 35 participants with interests or connections to the topic, including alums running farms. Finally, multiple faculty on campus teach courses related to food and agriculture or undertake research in this area.
2. Capitalize on Macalester's Twin Cities Location, Global Standing, and Agrarian History.
The location of Macalester College makes it ideally situated to offer an interdisciplinary program in Food, Agriculture and Society. Minnesota long has been considered an agricultural producer and processor of global import, with several international agro-industrial firms headquartered in the Twin Cities.  The state is also a hotbed for the organic and local foods movements, hosting one of the greatest concentrations of organic farms in the nation.  Macalester's own Kofi Annan leads an organization, the Alliance for a Green Revolution in Africa, that receives funding from the Gates Foundation to promote agricultural development in Africa.
3. Civic Engagement.
Related to the Macalester's location are a number of civic engagement opportunities connected to the theme of Food, Agriculture and Society. Common Harvest CSA farm, located within an hour's drive of the college in Osceola, WI, has collaborated with multiple classes at Macalester, including those in Economics, Environmental Studies, Geography, and Political Science. A number of Macalester students have also interned at Stone's Throw, an urban farm established by Macalester alums.
4. Interdisciplinarity.
The concentration in Food, Agriculture and Society is intentionally interdisciplinary and cuts across three divisions at Macalester College. The program's faculty believe that an interdisciplinary approach is desperately needed if we are to develop more socially equitable and ecologically sustainable food and agricultural systems. As such, the concentration integrates thinking from the humanities, fine arts, social sciences and sciences in the student experience. While there is a history of liberal arts colleges not being engaged with agriculture, this is changing. Macalester is at the forefront of providing interdisciplinary training to students who go on to change the face of US and international agriculture.
5. Response to Macalester's Strategic Initiatives on Vocation and Entrepreneurship.
The concentration provides students with the tools and perspectives that help them pursue the two facets or meanings of vocation: a person's calling, mission or life's work; and a career or profession in a particular field. Many students pursue an interest in this area as a fundamental calling or moral cause, and/or imagine future careers in farming, food and agricultural policy, food ethics, food bank management, famine prevention and early warning, international development, crop science and genetics, or soil science. The concentration also intersects in many ways with entrepreneurship. Any farmer, in addition to possessing a sound understanding of crop science, agroecology, entomology and soil science, must also be a business person. Countless social entrepreneurs have also experimented with various innovations in the food and agricultural sector, from food coops, to community supported agriculture (CSA), to savings schemes for farmers in the Global South.