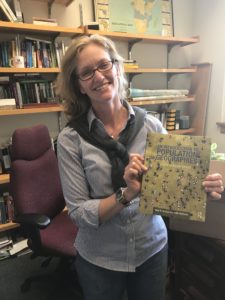 At Macalester, I genuinely enjoy bringing my experiences and research into the classroom.  I do this through in-depth case studies of population issues in my Population 7 Billion course and through civic engagement projects based on partnerships with local community groups in the GIS & Community Partnerships course.  In the Migrants & Migrancy senior capstone course I bring these strategies together and encourage students to develop their senior projects based on fieldwork and grounded in contemporary academic perspectives on migration, and more broadly, community changes resulting from shifting migration patterns.  In the Rural Landscape and Livelihoods course we focus on contemporary issues in Global North rural communities, while in the Contemporary Mongolia course we take an in-depth look at the country of Mongolia, integrating social, economic, demographic and environmental perspectives on this fascinating and rapidly changing place.
I also teach an introductory and advanced (Community Partnerships) course about Geographic Information Systems (GIS).  GIS is a tremendously powerful tool for spatial analysis and mapping and the Geography Department at Macalester offers a range of courses and opportunities for students to engage with this technology.
I'm fortunate to be able to build research-teaching synergies and to have students join me in the field.  Sometimes this works as part of course-based activities or sometimes students join me as research partners on larger projects.  In either case, taking what we learn collaboratively in the classroom and applying these ideas to better understand real-world challenges, is a core driver of my teaching and research.
Publications
Barcus, H.R. & D. Trudeau. 2018. Introduction to Focus Section: Out in the World: Geography's Complex Relationship with Civic Engagement.  The Professional Geographer 70(2): 333-337.  https://doi.org/10.1080/00330124.2017.1365307.
Trudeau, D., L. Smith and H.R. Barcus. 2018. Coda: Making Geography Relevant The Professional Geographer 70(2): 270-276. DOI: 10.1080/00330124.2017.1366790.
Barcus, H.R. and Laura J. Smith. 2015. Facilitating Native Land Reacquisition in the Rural United States through Collaborative Research and Geographic Information Systems. Special Issue of Geographical Research. doi:10.1111/1745-5871.12167
Barcus, H.R. and Birgit Muehlenhaus. 2010. Bridging the Academic-Public Divide in Collaborative Community-University Partnerships. Journal of Geography in Higher Education 34(3):363-378.
YMCA of the Greater Twin Cities
Phillips Community Energy Cooperative
Minnesota Department of Transportation
Saint Paul Public Schools
Saint Paul Parks and Recreation
Saint Paul Mayor's Office
Freshwater Society
Minnehaha Creek Watershed District
Indian Land Tenure Foundation
Minnesota Historical Society
 Courses
GEOG 225:  Introduction to Geographic information Systems
GEOG 254:  Population 7 Billion: Global Population Issues and Trends
GEOG 294:  Contemporary Mongolia: Livelihoods, Economics and Environments (FYC)
GEOG 364:  Geographic Information Systems: Concepts & Applications
GEOG 375:  Rural Landscapes and Livelihoods
GEOG 479:  Migrants, Migration & the Global Landscape of Population Change
Links for Geography course syllabi can be found on our Course Syllabi page.