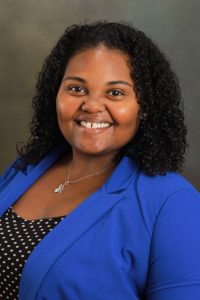 Thursday, March 24, 2022
4:45 PM Central Standard Time
Request Zoom link to attend virtually
Register to attend in person (restricted to current
Macalester students, faculty, and staff)
". . .but not under conditions of our own choosing.": Black livingness as method in geography"
Dr. LaToya Eaves, Department of Geography, the University of Tennessee, Knoxville
As a body of work, Black geographies centralizes Black experiences around the world, elucidating how populations in and dispersed from the African continent engage space and make place. Accordingly, Black geographies approaches unveil the inherent multiplicity of and within the African Diaspora, providing an orientation for distinguishing the conjunctions and departures of Black spatial thought and practice globally. Central to the framework is Black livingness – the ontological scaffolding of Black lived experiences that, in turn, shape methods of Black placemaking. This paper discusses the lineage of Black geographies, with an emphasis on Black geographic thought and praxis as a way to encounter and shift geography's epistemological normativities, asking: (1) What role do the unknowable geographies of Black communities have in/on renovating dominant spatial processes; (2) Can/should Black theoretical and spatial intimacies—focusing on resistance, histories, and, the everyday across space and time—augment geographic thought? The paper uses empirical examples derived from over a decade of research in the U.S. Southeast ("the South") to answer these questions.
Dr. LaToya Eaves, is an Assistant Professor of Geography at the University of Tennessee, and one of the founders of the Black Geographies Specialty Group of the American Association of Geographers as well as a leading contributor to the Black Geographies subdiscipline. Her scholarship centers women of color feminist perspectives in a broader effort to understand social progress and change in the American South.   Dr. Eaves' specialties include:  Black Geographies; Feminist Geographies; American South; Critical Geographies; Black Feminism; Sexuality Studies; Qualitative Methods
Lanegran Endowed Fund
In recognition of David A. Lanegran's commitment to engagement with the community, the Lanegran Endowed Fund supports a range of activities that dissolve the wall between the classroom and the broader world for geography students. David Lanegran '63 was actively engaged as a teacher-scholar at Macalester College for 46 years, from 1969-2015.