This concentration provides students an opportunity to engage in the interdisciplinary study of human rights and humanitarianism. The objectives of the concentration are to cultivate in students:
a familiarity with major developments in the history of human rights and humanitarianism;
an understanding of the institutional frameworks governing human rights and humanitarianism, including international law, international organizations, civil society movements, etc.;
an understanding of the theoretical and philosophical debates about the meanings of human rights and humanitarianism;
a capacity to understand and evaluate practical debates over the methods, motivations, and consequences of human rights and humanitarian action, including but not limited to questions of policy-making, fieldwork, and media and artistic representation;
a familiarity with a range of current and past global (including local, national, and international) human rights problems.
---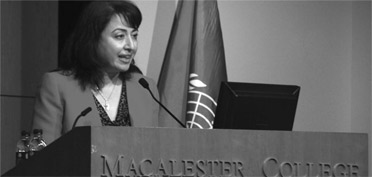 Special Opportunities
Macalester regularly sponsors study abroad opportunities focusing on human rights, collaborative summer research projects with faculty, and student internships with human rights and humanitarian organizations, including the Center for Victims of Torture and Advocates for Human Rights.The college also holds a number of events and discussions each year related to human rights and humanitarianism.
Recent guest speakers have included the following:
Kofi Annan, Macalester Class of 1961, seventh Secretary-General of the United Nations and Nobel Peace Prize laureate
Bill Schulz, Executive Director of Amnesty International USA
Aid workers from Doctors Without Borders
Jan Egeland, United Nations Undersecretary-General for Humanitarian Affairs and Emergency Relief Coordinator
Novelists from "The Duty of Memory," a Pan-African project commemorating the Rwandan genocide
Michael Ignatieff, former director of the Carr Center for Human Rights at Harvard University and now a Member of Parliament in Canada
The Program in Human Rights and Humanitarianism also regularly sponsors student-faculty luncheons and dinners for concentrators, along with an annual spring workshop on pursuing careers in human rights and humanitarianism.