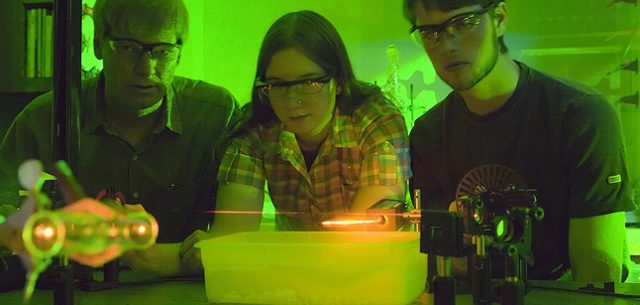 Professors Dan Hornbach and Tom Varberg have received grants exceeding $2.5 million, all benefitting students.
Added together, their proposals to outside funding agencies have resulted in grants exceeding $2.5 million for research and equipment, all benefitting students.
In addition, a $300,000 Mellon grant for the Three Rivers Center, directed by Hornbach, also supports multidisciplinary research.
Hornbach is an aquatic ecologist with a particular interest in freshwater mussel populations in the St. Croix River. Since he came to Mac in 1984, he has involved more than 80 students in hands-on, ecological research—the kind where you get wet. This summer five students are working with him and geology professor Kelly MacGregor to study the effects of the hydroelectric dam at nearby St. Croix Falls on the aquatic life below the dam. The National Park Service helps support this particular work, but other outside funding agencies included the EPA and natural resources departments of Minnesota and Wisconsin.
One of Hornbach's former research associates, Jo Opdyke Wilhelm '96, is now an ecologist with the King County (Seattle) Department of Natural Resources and Parks, as well as a member of the Macalester Board of Trustees. Her research with Hornbach on the St. Croix and Mississippi Rivers she says, "gave me invaluable hands-on experience with a long-term research and monitoring program including exposure to rigorous field and laboratory methods. . . Those days diving in the dark and intimidating zero-visibility waters of the mighty Mississippi were quite an adventure."
"Doing original scientific work is especially valuable [for first-generation college students]. Research—and presenting at conferences—opens windows to students who don't have the same kind of access and allows them to see themselves as the next generation of scientists."
Varberg is a physical chemist who uses lasers to study something a bit less tangible—the fundamental properties of molecules, using molecular spectroscopy and spectacular lasers. Varberg's grants have funded research experiences for 24 chemistry students since his arrival in 1993. By his best count, 18 have gone to graduate school—16 for PhDs—and several more to medical school. The grants have led to 18 published articles with 17 student co-authors.
Varberg cites Hornbach as "the ultimate role model for many of us" when it comes to research. Hornbach has co-authored 13 peer-reviewed articles with students—including two in the just the past year. Publishing is far more than an ego boost; it's the gold standard for research.
Justin Johnson '99, senior scientist at the National Renewable Energy Laboratory in Golden, Colorado, says, "Doing research with Tom was exciting—it was really about exploration and creative problem solving. A good experience like that early in a scientific career has made a world of difference, especially in my confidence to approach challenging projects."
Varberg's father was a professor, so he always saw that career path as an option. "But for first-generation college students," he says, "doing original scientific work is especially valuable. Research—and presenting at conferences—opens windows to students who don't have the same kind of access and allows them to see themselves as the next generation of scientists."