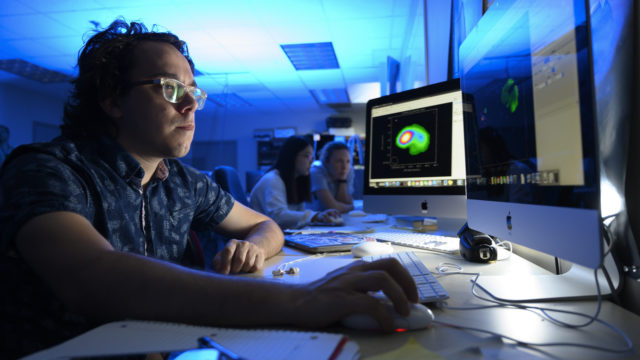 Andrew Mizener '20
Omaha, Neb.
Physics (Astronomy emphasis)
"The research I've done has helped me learn how science is done in the real world and has shown me how beautiful and weird the universe at large is."
This summer, I worked with Professor Anna Williams on measuring the magnetic fields within moderate-redshift galaxies. "Moderate-redshift" refers to both how far away these galaxies are and from how far in the past we are seeing them (since light takes time to travel through space). Even though it's called moderate, we're looking at the universe as it was about 5 billion years ago. We want to understand how the magnetic fields within galaxies were behaving in this epoch because magnetic fields are important to the evolution of structure in a variety of astrophysical environments, galaxies included.
To actually measure the magnetic fields, we rely on a piece of physics known as Faraday rotation. The general idea is that when you pass light through a magnetic field, its polarization angle changes. This change is dependent on the wavelength of the light (and a few other things), so we can get an idea of how strong these fields are if we measure the polarization angle of light across the entire spectrum.
I came to Macalester not knowing exactly what I wanted to do. That changed about 35 seconds into the first session of my First Year Course, which was Extrasolar Planets and Astrobiology with Professor John Cannon. I quickly fell in love with astronomy, and declared a physics major at the end of my first semester. I pretty much dove headfirst into research after that: I worked with John the following semester on a few projects involving the neutral hydrogen component of dwarf galaxies. Then the summer after my freshman year, I got a National Science Foundation Research Experience for Undergraduates (NSF REU) at Louisiana State University to build computer models of a type of unusual star called R Coronae Borealis. The summer after my sophomore year, I did another NSF REU at the University of Wisconsin–Madison using spectra from the Hubble Space Telescope to study the circumgalactic medium. And now I'm here!
I'm not sure any of this would have been possible if I hadn't come to Macalester. The resources available to me here—particularly the high level of access to faculty—have been key not only to helping me discover my passion for astronomy but also to the development of my career. The research I've done has helped me learn how science is done in the real world and has shown me how beautiful and weird the universe at large is. Choosing to receive my education at Macalester was one of the first major life choices I made—and it's one that continues to pay off.