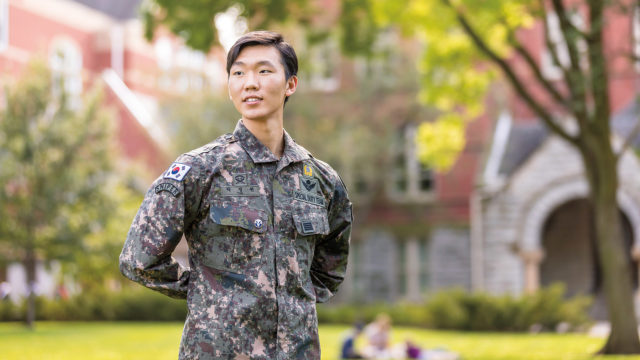 Test Flight
The stall horn blared in Eric's* ear as his airplane began to drop toward the suburban houses below. His flight instructor sat calmly next to Eric, waiting for him to figure out the problem before they crashed into one of the subdivisions of Eden Prairie, Minnesota. The stall horn meant the wings of Eric's training airplane were losing lift.
It was Eric's second time behind the controls after a few weeks of ground school and simulator time. He was up there to answer one pressing question: did he really like flying? The Macalester alumnus needed to know that for sure before he signed a minimum of 12 years of his life away to the U.S. Air Force (USAF). Eric's father, also a Macalester alumnus and a conscientious objector during the Vietnam War, insisted that Eric be sure.
Eric's mind raced through the procedures he'd just learned in ground school and pushed the controls forward while increasing the throttle to gain airspeed. The stall horn stopped. They weren't dropping anymore.
His instructor gave a curt nod. "Let's try a landing now. Think you can find the airport?" Eric smiled a little as he turned the plane. Flying was indeed his thing.
Mac and the Military
Macalester's relationship with the military can be best described as complicated. Its alumni (and even presidents) have served in the U.S. military since the college's founding in 1874. Its international students and alumni have served in their home militaries, either by choice or conscription. Yet Macalester also has a long history of challenging militarism. Perhaps because of this historical tension, Macalester has no overarching programs on national or international security or war and peace studies.
"There's a hunger for that kind of policy-focused course on campus," says political science professor Andrew Latham. His "Regional Conflict/Security" course is always full, often with students who aspire to join the U.S. Department of State, USAID, or the Peace Corps. "We look at the practical policy realities of managing conflict," says Latham. "I say to my students: 'You are going to run the world someday.' And I mean it, because they go on to do that."
Anthropology professor Ron Barrett also touches on these topics in class. "Military issues come up from time to time in my courses," he says. "In 'Stigma and Disabilities,' we focus on PTSD during one segment."
Both Latham and Barrett are veterans. Latham served in the Reserve Forces of the Canadian Army, while Barrett served in an elite Ranger Battalion in the U.S. Army.
Barrett's veteran status comes up in his discussions with students: "And they are curious—quite curious—about veteran experiences regardless of what some of their views are regarding these conflicts. There is a strong feeling of wanting to support veterans regardless of people's views about national security policy or military involvement."
Latham has had several Reserve Officer Training Corps (ROTC) students in his classes (while Macalester has no ROTC program, students participate in programs at the University of St. Thomas or University of Minnesota). "No, no one has pointed a finger at them and cried, 'Warmonger!' Never in 22 years of teaching."
Hyo "Scott" Lim '20 (Atlanta) took a slightly different path than ROTC. He completed Officer Candidate School over the past two summers and will lead a platoon of Marines as an officer in the United States Marine Corps upon graduation from Macalester.
Lim says Macalester is neither pro- nor anti-military. "I would describe Macalester as merely detached and unfamiliar with the military community in general," he says. "Despite this, I feel comfortable at Macalester discussing my path to the Marines, and I never feel afraid to talk about it with new people."
Barrett remembers a time when academia was not as supportive. "I was in grad school in the '90s, and I had a professor who recommended that I not make any mention of my veteran experience, that I keep it hidden," Barrett says. "And I had a problem with that. I wasn't intending to wave it around, but at the same time I didn't feel like I should be concealing it either. I am proud of having served my country. And I don't think that pride is restricted to anyone of any particular political belief."
Small World
Eric walked into the base Officers' Club. He'd made it through initial USAF pilot training, and even student pilots had to take a step back and unwind on a Friday night. Before Eric could place his order, something blue and orange caught his eye at the far end of the room.
His jaw dropped. It was a Macalester College sweater. On a fellow student pilot.
Eric sprinted over and blurted, "Who are you? What are you doing here?" The other Mac pilot was only a few classes behind and had just hit the T-38 Talon part of flight training, learning to fly the same twin-engine supersonic jet trainer that Eric had just mastered. Eric shared that his next step was to start training on an unusual aircraft where he'd eventually have to land on dirt runways in austere locations and provide air support for special operations missions. Neither alumnus could believe the odds of running into another Macalester graduate—here.
A History of Protest
Macalester has a history of questioning militarism going back at least to 1917, when a group of students launched a letter-writing campaign urging Minnesota Congress members and senators not to lead the nation into war. The resulting backlash made national news. Archival records show similar questions have been raised by Macalester students in the lead-up to every major U.S. military conflict, including the 2003 Iraq War. For some of those wars, questions continued at Mac even after the bullets started flying overseas.
"I can't think of any significant student protests against U.S. military engagement during my time at Macalester," says Karinna Gerhardt '20 (Seattle), a political science major and Truman Scholar who has taken security-focused courses and debated military issues in Ethics Bowl. "However, I do believe many Mac students embrace a peaceful world view and are critical of military and law enforcement institutions, particularly in the U.S."
With a recent string of 50-year anniversaries, the Vietnam War and Macalester's intense opposition to it have been covered in depth elsewhere, including at recent alumni Reunions. One question posed by some returning alumni who graduated during the '60s: Where is the Macalester antiwar movement today?
American studies professor Karín Aguilar-San Juan has an explanation after hosting several symposia and editing a book on the Vietnam antiwar movement. "How do students discern when something is enough of an emergency to protest?" she asks. "Does the increase in militarization abroad measure up to the killing of Philando Castile? There are just so many more specific issues now. How do you choose? That to me is one of the factors behind a lack of an antiwar movement or peace movement. It is the compelling nature of the many terrible things happening right in your face."
This generation doesn't hate authority, Aguilar-San Juan adds. "They've always assumed there will be a military and there will always be war, because for their whole lifetimes, there's only ever been war. So this is a given for them."
Instead, Aguilar-San Juan sees the seeds of the next antiwar movement being planted by the veterans of Iraq and Afghanistan, not students. She hopes to bring Macalester alumni veterans into her classroom to share these experiences and perspectives.
Five-Year Reunion
Three years into his service with the Air Force, Eric had finished all of his flight training. Macalester Reunion happened to occur three weeks before his first overseas deployment, and he decided to attend.
His Mac friends were stunned when they found out about his military career. After a few beers, they became even more blunt in their questioning about why he joined. Methodically, Eric talked with his friends one by one and explained his thinking.
Eric said he felt that what he learned at Mac might help him influence military decisions for the better: "We can't just complain about our decisions and actions abroad and not try to at least be there to understand what is happening and try to make things better…would you rather have me doing this, having gone through a liberal arts education at Macalester, or somebody more likely to think of things in black and white? People who might not speak their mind or who will simply follow orders without question?"
Choosing to Serve
Less than 0.5 percent of the U.S. population serves on active military duty today. Why Macalester students and alumni choose to join them is often personal.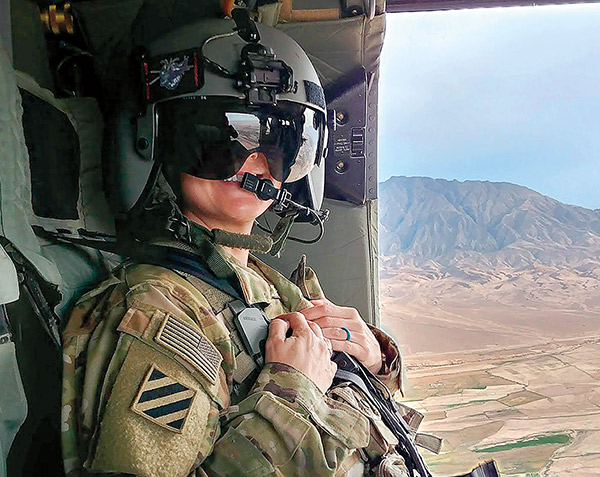 "We had a friend from my neighborhood who had died in Iraq in 2007, when I was actually at Macalester, and so it had hit our neighborhood pretty hard," remembers U.S. Army Major Stephanie Nelson Pagano '07. "And so any time I talked about joining, it would kind of throw my family for a loop."
"I know there aren't that many service members from Macalester," she says. "But something that really is fostered in the education we got at Macalester was serving the underserved. There was a plethora of ways people did that: Teach for America or what have you. I always felt like me choosing to join because there weren't enough mental health providers in the Army fit perfectly with what had been fostered in me at Macalester."
Pagano was the third generation of her family to join the Army when she took a commission as an officer. Both grandfathers had served (one in the Navy, the other in the Army), and her father was a Vietnam War veteran. His struggles with PTSD drove her interest in psychology. While working on her psychology major at Macalester, Pagano planned to later work with veterans in the Veterans Affairs health system.
"But hearing that there was a shortage of psychologists in the Army serving active duty bugged me and bent me out of shape," she says. "I had numerous friends come back from Iraq with PTSD, and I had a father who experienced PTSD symptoms on and off throughout my life, so it was something that didn't sit well with me." Pagano joined the Army's Medical Service Corps as a doctoral candidate, completed her pre-doctoral internship while on active duty, and works now as a clinical psychologist.
Not everyone at Macalester has the choice of serving voluntarily. Twenty-eight nations currently require some form of national service from their citizens. Because of this mandatory service, a number of international students arrive on campus as veterans. Others must take a leave of absence to serve because of their country's requirements. Jeong-Won "Jackson" Tak '21 (Seoul, South Korea) returned to Macalester this fall after taking two years away from his studies to meet his service requirement as a sniper and senior team leader in the Republic of Korea Army Military Police Special Duty Team.
"When I told friends, swim teammates, classmates, and professors about my [service], I remember a lot of them being worried mostly because of the heightening tension in the Korean Peninsula," Tak says. "At the end of the school year, it was not easy to say goodbye to my friends, knowing that they would all graduate by the time I [would] come back to Mac.
"Thankfully, my close friends visited me multiple times in South Korea during my service," Tak recalls. "I am forever grateful for Macalester for allowing me to make such amazing friends. Throughout my entire service, I kept in touch with my friends through social media."
See You in Africa
Eric was in a restaurant in Minneapolis with two Mac alumni from his graduating class. He was deploying to Africa again the following week, but for now, he was as close to being home as he ever got these days.
One of his friends revealed that he, too, was going to Africa, to film a documentary on refugee camps for a project he was working on for his film production company, co-owned with an East African entrepreneur and refugee. In fact, he'd be in a country that bordered the one where Eric was deploying. The third alumnus was heading to the same region of Africa, too, as part of a business trip for a market-research firm.
They shook their heads at the amazing coincidence of three Macalester classmates going to the same region of Africa at the same time, all in different capacities.
Thinking Outside the Box
"I've had the FBI in [my office] many times for [security-clearance] background checks on former students. At least once a year," says Latham. He is pleased to see Macalester students, armed with a rigorous liberal arts education, enter national and international security careers: "I would rather Mac students run the world—being the colonels and the generals."
Barrett echoes the sentiment. "Critical thinking—a liberal arts education—can prevent a lot of tragedies and inform policy in a military setting," he says. He believes that any type of social service, from military to public health, can also "open students' eyes to new perspectives."
As for the students who have served, they agree that Mac students are uniquely equipped to serve in their home militaries.
Lim, the soon-to-be Marine officer, found the Macalester community to be very involved in and knowledgeable of the world: "I'd say Macalester is a good place for someone like me to learn about various perspectives that I hadn't considered and for Macalester students to learn more about the military. For some of my friends, I am their first contact with the military at all."
"Macalester taught me how to think outside the box and stay curious rather than just taking in information," says Tak of his service in the Republic of Korea Army. "I tried to get everyone to express their feelings and ideas instead of just following superiors' commands. In training, I always told my teammates to think and ask 'Why?' when doing drills, exercises, and anything so that they could become a better leader."
Overflight
The night-vision goggles were locked in place over Eric's eyes, allowing him to see the moonlit wilderness beneath the roaring engine of his aircraft. He was flying over Africa, again, on his third deployment there in two years.
Part of why Eric had joined the Air Force was to see parts of the world that were less traveled. He hadn't anticipated it would be so warzone centered. After consecutive deployments to Iraq and Afghanistan, he requested to deploy to Africa instead for a
change of pace.
That, and so he could blast "Africa" by Toto inside his headset while flying across the savannahs, forests, and deserts of the vast continent. On slower nights with a tired crew, music helped to fill the silence as the hours ticked by.
Instead of music, Eric had something for his crew to consider that night. Special operations personnel (like him) attended classes on regional culture, history, and politics before deploying. They were expected to consider all the facts without being tied to a single narrative. That openness and holistic thinking, which he'd also encountered at Macalester, suited Eric well.
While chatting to pass the time, he heard some dehumanizing comments about the local populace. Eric's mind flashed back to the Mac students he had met from the very country now under his aircraft. With a few of them, he'd studied, played soccer, and shared countless meals at Café Mac.
"Well, there's probably a bit more to it than that," Eric said over the headset. That was all he had to say to get the others to bite. They started asking him questions, and Eric helped them to see that maybe the people on the ground were like them—just trying their best to live a good life under the circumstances into which they were born. That maybe they weren't the enemy.
*Eric's last name, class year, aircraft type, and specific deployment locations were omitted to protect his identity as a U.S. Air Force Special Operations Command pilot.
Number of countries that require national service: 28
Number of current U.N. peacekeeping operations: 14
Number of countries where the U.S. military is actively engaged: 80
Percent of U.S. population serving in active duty military: 0.5
Percent of U.S. population who are veterans: 7.6
Number of Macalester alumni records that show military employment: 695
Non-U.S. militaries for which alumni have served: Canada, Cyprus, Finland, Greece, Israel, Republic of Korea, United Kingdom,United Nations
By Bryan Barnes / Photos by David J. Turner
Bryan Barnes works on the Macalester website. Long before that, he served in a non-combat role with the Wisconsin Air National Guard from 1996–2002.