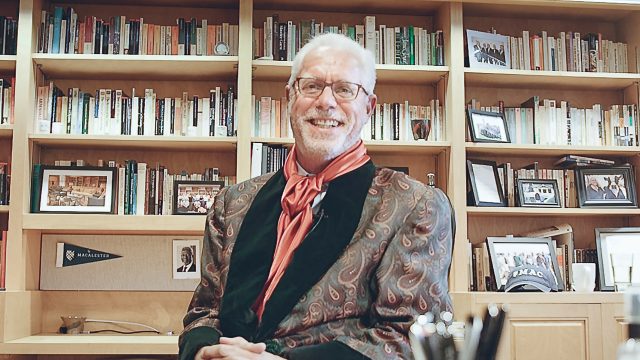 The passage through my seventeenth and last year as president at Macalester has been undeniably strange. This is not to say that it has been better or worse than the 16 other not-my-last years, but it has been odd and different, colored by the awareness virtually every day that I am doing something for the final time. Move-in Day. Opening Convocation. Family Fest. The November faculty meeting.
Among the most peculiar aspects of my runway to "retirement" has been its sheer length. Between the announcement of my impending departure and the thing itself will be a period of 14 months. This is done to allow for a presidential search process that is deliberate, inclusive, and more or less interminable, but it is, to be honest, really weird. My personal preference would have been to behave like people in most professions, give a couple of months' notice, and gracefully depart. Maybe some balloons. Since my announcement last April, more than a few people have given me that "is he still here?" look, and a few have even openly expressed surprise that I am, in fact, still here. I don't blame them; occasionally I am myself surprised that I'm still here.
Most of the questions I get asked these days are ones to which I have no easy answer. What do I plan on doing next? (I have no idea, though I do have more empathy with our graduating seniors.) Where do I plan to live? (Ditto, though the absence of snow would be a strong selling point.) What do I consider my most significant accomplishment as president? (Persisting.) How do I explain the fact that the Red Sox have won four World Series and the Yankees one during my presidential term? (And how many, exactly, have the Twins won, hotshot?)
Recently a fellow president whom I like a good deal saw me enter a meeting room and said, wryly, "dead man walking." Harsh, perhaps, but I didn't argue with her.
One of the highlights of my year has been reading the new book by Tim O'Brien '68, his first since 2002. Do read it: it's entitled Dad's Maybe Book and is chiefly about a father's love for his two sons but also about Minnesota, writing, Hemingway, war, aging, memory, and magic—the Harry Houdini kind, not the Harry Potter kind. There is a photo in the book of the author of The Things They Carried in a top hat and tails, which is not something I ever expected to see.
Tim is older than I am—I am quick these days to note when anyone is older than I am—but his reflections on aging capture much of what I am feeling in this winter of the year 2020. Somehow without my really noticing it I went from being a youngish college president to being the one to whom everyone turns when they are looking for a remark from an elder statesman.
Tim writes about "the pitiless voice of my own mortality, bubbling up from somewhere in my belly, jabbering away as I wash dishes and polish the kitchen counter." I hear that voice, too. (Along with another voice that says, mockingly, "on your best day you could never write a sentence that good." That voice also jabbers at me a lot when I read Marlon James.)
I try to take comfort in the fact that I will carry from Macalester nearly two decades' worth of memories, but Tim messes with that bit of reassurance as well. "What we call memory," he observes, "is failed memory. What we call memory is forgetfulness….Memory speaks, yes. But it stutters. It speaks in ellipses." If I sometimes can't remember whether I just shampooed my hair or what I had for breakfast last Tuesday, how can I possibly recall with any reliability things that happened in 2009? As I write this, I have no idea who spoke at Commencement that year, though this is less a reflection on the quality of the speech than on my own faulty synapses. (Fortunately there is the internet: Tonderai Chikuhwa '96, who does some of the world's most difficult work at the United Nations, and he was compelling.)
Still, I do retain many memories, and I will cling stubbornly to the belief that they are accurate. Many of them are good—inspiring students, grateful parents, generous donors, that same Tim O'Brien reading in the chapel in 2008 and bringing the audience to tears—and some are less good—funny how many of those seem to involve The Mac Weekly. All hold meaning and are important markers in my path since August of 2003.
Now that I am nearing the end of that path, I can say with confidence (not certitude, but certitude about our choices seems to carry a whiff of arrogance) that I am glad I followed this one. That is, I think, a thing from which to draw no little pleasure.
Brian Rosenberg is president of Macalester College.
---
By the time my presidency at Macalester concludes, I will have attended nearly 300 faculty meetings during my career as a professor, dean, and president. Sometimes it's okay for things to end.
---
I actually don't plan on "retiring," as in, "I'm not going to work any more and might move into one of those senior communities where people ride around in golf carts. That's why I put the word in quotes. Plus there's no good word for "I'm going to stop doing this thing and do some other thing."
---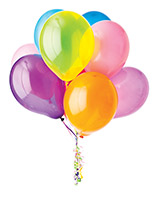 ---
"Plastics…There's a great future in plastics." Those of you who've seen The Graduate will get it. Those of you who've not seen The Graduate should see The Graduate.
---
I was born in the Bronx. Sorry.
---
To be fair, one of the definitions of "dead man walking" is "any person in a doomed or untenable situation, especially one about to lose his or her job." So, why not?
---
What is the best Tim O'Brien book?
a) Going After Cacciato
b) The Things They Carried
c) In the Lake of the Woods
(Hint: The correct answer is c.)
---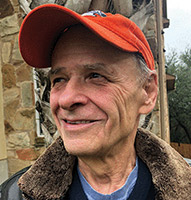 This is Tim O'Brien in a baseball cap. Now imagine a top hat instead of the baseball cap and you have it.
---
When I began at Macalester in the fall of 2003, most of our current first-year students were watching Blue's Clues—which, by the way, has been rebooted by Nickelodeon. Nothing can replace the original.
---
I swear I have shampooed my hair twice at least 20 times, just to make sure, which is particularly silly given how little hair I actually have.
---
In my own defense, 2009 was the last year the Yankees won the World Series, so I was probably distracted by the anticipation of euphoria.
---
I love The Mac Weekly. Really. I look forward with great anticipation to their May headline: "Rosenberg Farewell Party Sparks Campus Pushback."