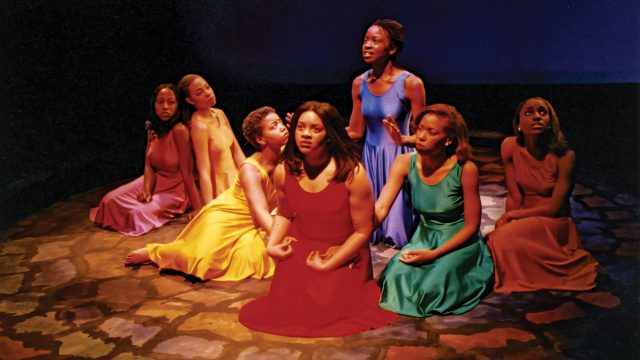 Theater professor emeritus Dan Keyser is recounting a story from a Merry Wives of Windsor rehearsal that starts with a memorably long missed cue—think minutes, not seconds—involving former students whose names he's ticking off on his fingers as if they graduated last spring. "While the two actors on stage waited for the third actor to finally make her entrance, they just started adlibbing Shakespearean dialogue!" he says, laughing so hard that you can't help wishing you'd been there, too.
When did this happen? "That was 1980." Forty years ago.
Keyser is a bank of details and memories that he holds dear from 41 years at Macalester. When he entered the college's phased retirement program in 2015, he wanted to find a way to give back—and he developed the perfect project. Over the past four years, Keyser has created a digital catalog of more than 100 years of Mac theater and dance—more than 600 productions—thanks to countless hours spent combing newspapers, yearbooks, programs, and other items in the college's archives.
The Theatre and Dance Collection site is a timeline as well as a database (searchable by name, show title, and date) that weaves in directors, designers, and stage managers as well as the cast. Decade by decade, you see productions directed by people whose Macalester legacies loom large, names like Grace Whitridge (who founded the department in 1900), Mary Gwen Owen and her Drama Choros, Doug Hatfield, and Sears Eldredge. The department's home shifts over the years, from Old Main's fourth floor to the Little Theater (where the Joan Adams Mondale Hall of Studio Art is now) to the current Janet Wallace Fine Arts Center, recently renovated for a new era of theater and dance. And through the decades, Keyser says, you can see the production choices often reflecting what was happening in the world at the time, such as 1987's Runaways, a show about homeless young adults.
The database still lacks a comment field, but that's one big dream for the project's next phase: Keyser wants alumni to be able to view an image and share their own stories from that production ("things that I'll have no idea happened!"). And he wants the database to be a time capsule illustrating how theater shaped the college. "Theater doesn't exist at Macalester just for the majors," Keyser says. "It's here for our whole community."
Read on for a small—very small—sampling of the images Dan Keyser collected.
By Rebecca Dejarlais Ortiz '06