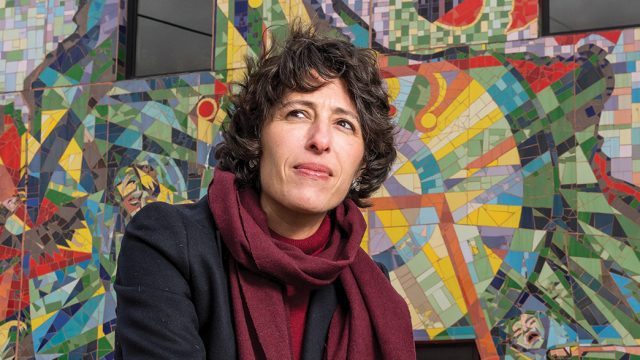 During almost 20 years as an immigration attorney, Michelle Rivero '94 heard many heartbreaking stories from clients who were seeking safety and the potential for a better life for themselves and their loved ones. Many were fleeing violence and unimaginable threats. Although she had to know the details, she was often reluctant to ask clients to tell their stories and relive their trauma.
For Rivero, the immigration experience is personal. "My mother is from Sicily, Italy, and my father is from Colombia," she says. "They came to the United States as adults and met in New York City. They migrated again to New Orleans when I was six. I know that without their immigrant story, I wouldn't be doing the work I'm doing now."
Today Rivero leads the City of Minneapolis's Office of Immigrant and Refugee Affairs (OIRA). As the OIRA's inaugural director, her responsibilities include helping to keep the mayor and other city officials current on federal immigration policy, helping the city develop policies to support and empower immigrant and refugee communities, and ensuring that community members have access to immigration legal resources.
Rivero speaks Italian and Spanish (her parents' native languages) as well as French and English. After majoring in French and international relations and earning her law degree, she began work as an immigration attorney. She no longer works directly with clients in her current role but draws on years of experience with the challenges facing the city's immigrant population.
In the late 1800s, an estimated 37 percent of Minnesotans were foreign born, and today people still come seeking safety and the opportunity to work for a better life. The OIRA opened in July 2018 to ensure that everyone feels welcome in Minneapolis. As part of the larger Neighborhood and Community Relations Department, she collaborates with legal services organizations and cultural community specialists. The OIRA also offers information sessions in person and on Spanish-, Somali-, and Hmong-language radio stations.
Rivero speaks at gatherings about immigration, citizenship, legal assistance, and resources, often bringing along immigration attorneys or law enforcement representatives. She shares City of Minneapolis welcoming policies, including that the Minneapolis Police Department does not conduct investigations based on immigration status alone and does not participate in immigration enforcement-only operations with Immigration and Customs Enforcement (ICE).
It's an octopus of a job. Rivero is a connector between many affected people, and the immigration landscape is endlessly shifting. "My career as an immigration attorney spanned four presidents," she says, "and yet I never experienced the consistent onslaught of encroachments on a person's ability to enter and remain in the U.S. as I have seen during this administration, from increased processing time for citizenship applications and applications for work authorization to restrictions on the ability to apply for asylum."
Other current challenges, she explains, include the Attorney General's restrictions on who qualifies for asylum, the denial of routine employment-based applications like H-1Bs, and the ongoing reduction of refugee resettlement numbers. Under President Obama, the refugee resettlement cap was raised to 110,000 people. President Trump lowered the cap to 45,000, then 30,000. This year, the cap will be 18,000 refugees.
In 2014, Rivero went to Artesia, New Mexico, as part of the Artesia Legal Defense Project to help women and children who were being detained during the Obama administration because of concern about the sheer numbers of women and children arriving from Central America. The typical asylum process, she says, is that after a person passes their credible fear interview and pays bond, they're released into a family member's custody. Then they appear in court and ultimately receive the decision.
But in Artesia, she saw a different system because of the bond cost. "It was an exorbitant amount of money—$30,000 or $40,000—that people couldn't pay," Rivero says. "So people would stay in custody while pursuing their asylum cases, incarcerated with their children in substandard conditions. Some of the stories I heard were horrific. It was incredible to me that the awesome power of our government was being used against the most defenseless people, who were just claiming asylum to pursue a pathway that is established within our laws. While that was during the Obama administration, things have gotten so much worse."
What keeps her going? "It's the realization that there are people who are very seriously impacted and they have so much more courage than I do," Rivero says, "including people who take a stand and challenge the injustice of the immigration system and openly state that they themselves are undocumented. Many are leading organizations and being very visible and vocal, regardless of the risk to themselves."
She also finds inspiration in how Minnesotans have become advocates for the new immigrants among them. People who speak a foreign language, for example, volunteer to translate at asylum interviews. Mental health providers offer free services. Even a simple driver's license is a valuable tool: people can provide transportation to asylum interviews and medical appointments.
"It's very meaningful for people to dedicate energy to what's happening at the border," Rivero says, "but it's also important to understand that Minnesota has had the largest refugee resettlement population per capita in the United States. There's a lot to do at home, too."
By Jan Shaw-Flamm '76 / Photo by David J. Turner
Jan Shaw-Flamm '76 is a Twin Cities freelance writer and editor.