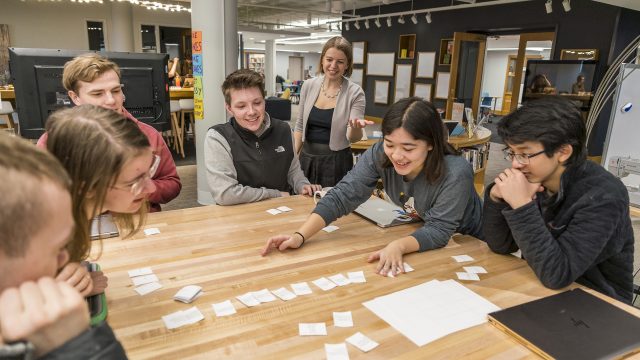 Professor Maria Fedorova
City partner: Nasha Shkola K-8 Russian-American Charter School

Course Description
A survey of the development of Russian social and political institutions from Peter the Great (1682-1724) to 1917. The course will explain the growth of the tsar's authority, the origins and outlooks of Russia's major social/gender groups (nobility, peasants, merchants, clergy, women, minorities, Cossacks) and the relations which grew up between the tsar and his society. The course will conclude with an appraisal of the breakdown of the relationship in 1917, and the tsarist legacy for Russia's social and political institutions in the Soviet Union and beyond.
What do you hope students will learn?
"I want students to learn more about Russian history to understand the current political situation in Russia and Russia's relationship with the world. I also want students to see that you can do history beyond the classroom and teach history to the public in a way that is accessible to everyone."
What project are you doing in the city?
"We are creating an educational card game. Students develop a timeline of Russian history from 1689 to 1917 and use playing cards to place historical events in chronological order. It's a fun way to test your knowledge and learn more about history. At the end of the semester, we will host middle-school students from Nasha Shkola, a Russian-American charter school, to play the game together."
Theo Britton '22
(Duluth, Minn.)
History major, political science minor
"I have particularly enjoyed learning about Catherine II and Peter I. These two leaders have had such a profound and long-lasting impact on Russia and the rest of the world. By creating this game, I hope to teach young people about important events across Russian and Soviet history so they will be more informed about one of the most significant nations in the world. History does not have to be memorizing facts and dates. I hope they will take away from our game that studying history is fun."