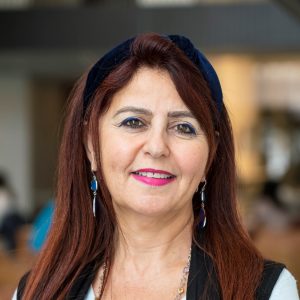 St. Paul, Minn. – Afifa Benwahoud, Department Coordinator in Spanish and Portuguese and Latin American Studies, has been awarded the 2020 Staff Outstanding Service Award.
Macalester President Brian Rosenberg announced the award and read from this citation:
"In celebration of the ways in which your work has made this campus more welcoming to all students, faculty members, staff, and visitors, we are proud to recognize you, Afifa Benwahoud, with the 2020 Staff Outstanding Service Award.
Afifa, for 17 years as coordinator of the Department of Multicultural Life (DML), you 'worked every day to create and maintain an environment that values the diverse cultures of our world and recognizes our responsibility to provide a supportive and respectful environment for students, staff, and faculty of all cultures and backgrounds.'
When you took a new position in January as coordinator of the Spanish and Portuguese Department, and Latin American Studies Department, your great competence and kindness followed you, as did your accolades. This citation includes heartfelt support from students, faculty, and staff in both your current and former positions.
Throughout your tenure at Macalester, you have been known as an advocate for diversity, equity, and inclusion, long before this was commonplace on campus. One colleague writes that you educated the campus about gender pronouns. A DML colleague describes you as 'a foundational element to our office and the work we do in providing service to students. I've not worked with another person who so authentically cares about our students in their holistic experience.'
Students have noticed your care and concern. They appreciate how you treat your student workers as colleagues who contribute equally to the work. They mention times when you offered advice on how to take better care of themselves—with tea, ginger, honey, and lemon. 'Afifa has been incredibly understanding of my status as an international student," writes one student, 'and has contributed tremendously to creating a safe space for students with marginalized identities at the college.'
You are always at the ready. From 'meticulously color-coded spreadsheets to multiple Post It notes,' your organizational skills and 'steadying presence' have been noted by old and new colleagues and students alike. One writes of the task you were given on your first day in your new job: a 'many-faceted logistical puzzle' of organizing student tutoring calendars in a short period of time, which you managed with timely aplomb. At the DML, a complex department with many constituents dealing with tough, emotional topics, colleagues describe you as the face of calm and organization and someone who 'embodies the college's commitment to internationalism, multiculturalism, and service in everything she does.'
This spring, faculty members write that you are helping to keep the Spanish and Portuguese Department functioning in these uncertain times, and that they feel lucky to have you. 'One thing we all agree on is that Afifa has always been, and continues to be, a colleague who brings her all to every interaction, be it with students, staff or faculty, and she leaves everyone and everything enhanced by the Afifa touch,' writes one nominator. 'She is a true gem of the Macalester community.'