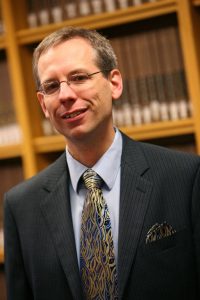 St. Paul, Minn. –  Erik Larson, a professor in the Sociology Department, has been awarded the 2020 Jack and Marty Rossmann Excellence in Teaching Award that recognizes "a faculty member who has been identified by colleagues and students as exemplifying the teaching goals of Macalester College."
Macalester President Brian Rosenberg announced the award and read from this citation:
"We are grateful and proud to present you, Erik Larson, with the 2020 Jack and Marty Rossmann Excellence in Teaching Award. The current students, alumni, faculty members, and staff who submitted the many glowing letters in support of your nomination all wrote of your extraordinary dedication, enthusiasm, thoughtfulness, and inspiration as a teacher, and of their delight in your being so recognized and honored.
Erik, since 2004, you have taught multiple classes at Macalester, including Social Science Inquiry (SSI), one of two required methodology courses in the Sociology Department's core curriculum. Students write that you teach them how to 'do sociology.' In SSI, they learn social science research methods and engage in meaningful, ethical, and real-world research for campus and nonprofit partners. Your colleagues at the Office of Institutional Research write that they have regularly observed the effects of your excellent teaching in two ways: 'as clients for and/or recipients of information produced by students in his SSI course, and as employers of several research assistants whose passion for applied research was ignited in this course.'
Now chair of the department, you are described as 'meticulously prepared' for every class. 'He always shows up to class with extensive notes and plans for the class session, and carries out his plans with grace,' writes one student. Students and alumni also celebrate your inclusiveness—your consistent use of preferred pronouns, your insistence on holding classes in the computer lab so all students have equal access to software, and your ability to ensure that all students take part in class discussions.
Virtually everyone describes you as exceedingly kind. One former student writes about the first time he met you: 'I happened to be walking by the department lounge when I caught the smell of waffles and a kind voice asked if I wanted to "come have a bite and learn about how to change the world." Erik stood behind a table, smiling, with a spatula in hand and began to introduce me to the department's faculty and staff. I have been a sociologist ever since.' Waffles After Finals—in which you make two different kinds of waffles to honor your time spent in Fiji and Iceland—and Pickle Fridays are noted as beloved department traditions, and subtle methods of community building that you have developed and championed. All students continue to be touched by emails from you on their birthdays, sometimes long after they have graduated.
Students and colleagues write that you never stop perfecting the courses you have constructed. You are comprehensive and thorough in your feedback to students while continuously soliciting feedback on your own courses, lectures, and meetings. You listen. You implement. After students drew comparisons between one of your courses and a history course, you reached out to the history professor and came up with a plan to co-teach a new interdisciplinary course in spring 2019. Your teaching colleague describes this as 'without question the most exciting, engaging, and educational experience I've had in my time at Macalester.'
During your 16 years at Macalester, you have served as an advisor for 48 student honors projects, many of which have won top awards from the Midwest Sociological Society. You are co-director of the Legal Studies Program. You are on the editorial board of Law & Society Review. You have published numerous scholarly articles; conducted summer research projects with students; served as a member of the International Roundtable planning committee. Yet, despite all of these commitments, your office hours, according to your students, are "eternal," and you have offered those hours on Saturdays more than once when students needed your good and generous advice.
A former student now pursuing a PhD in sociology put it this way: 'A key part of what makes Macalester special is its dedicated and accomplished professors. I cannot imagine a professor more deserving of the Rossmann Excellence in Teaching Award than Erik.'"