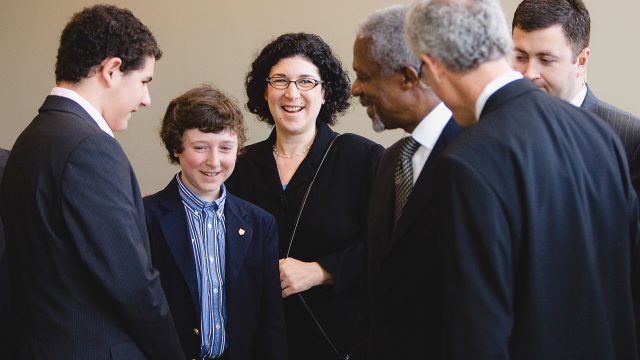 I sought a theme and sought for it in vain,
I sought it daily for six weeks or so.
Maybe at last, being but a broken man,
I must be satisfied with my heart…
–W. B. Yeats, "The Circus Animals' Desertion"
To be honest, I don't feel especially like a broken man (though my back and my knees ache more than they used to), but the quote from Yeats was otherwise too good not to use for the final edition of "Household Words." After 17 years and close to 70 columns about everything I could think of and some things I couldn't—see Spring 2012, "A Column About Nothing"—I am done.
The challenge of leaving, I have found, is captured in a single question that has been haunting me for the past several months.
What do I do with all my stuff?
This might appear to be a relatively trivial question in the context of ending a college presidency, but, after all those years of living in a big house, of inhabiting an office larger than many apartments, of raising two children in St. Paul, there is in fact nothing trivial about it.
What do I do with all those books? Lining the shelves behind my desk are hundreds of paperbacks—novels, poetry, plays, literary criticism—that measure out my years as a student, teacher, and scholar, years that now seem long ago but that defined in a profound way who I became. The copy of Dante's Inferno that was the first book I read in college; the copy of Dickens' Little Dorrit, held together by a rubber band, that I used in writing my doctoral dissertation; the copy of Mary Shelley's Frankenstein, covered with notes, that I assigned in perhaps a dozen different classes over the years: where do they go? A box, to grow even more brittle? Half Price Books, for a few dollars or some store credit? Maybe Books for Africa. The thought of a child halfway across the world reading Shakespeare or Toni Morrison pleases me.
Anyone out there want a 40-year-old copy of Edwin Morgan's translation of Beowulf? One of my three copies of A Portrait of the Artist as a Young Man?
Then there are the photos and memorabilia. Me with Walter Mondale '50, Paul Farmer, the Dalai Lama, that same Toni Morrison, Hillary Clinton (too bad!); Carol and me with Kofi Annan '61 in his office in Geneva and at a dinner on campus; me in a nightcap with a cow (check out YouTube); drawings and prints created and given to me by faculty and students; a football signed by the members of the team that won the Midwest Conference Championship in 2014.
I have no room. I must make some room.
And then, at home, there are the toys. A whole closet full of toys. Disposing of these might be the hardest of all. Boxes of Playmobil sets opened on Christmas and assembled (with no little frustration and some cursing) over hours; pounds of Legos, once organized and now tossed together in giant plastic containers; games and action figures and dozens and dozens of Beanie Babies. Hard to believe that we once thought they'd be valuable.
They will go to children less fortunate than mine who have no toys. That softens the pain.
We still have the stuffed animals that Adam ("Doggie") and Sam ("Spot") kept close as infants and toddlers. I wonder if they want them.
The boxes that we moved into 1635 Summit Avenue in 2003 and have never opened? The pants that I wore when I had a size 32 waist (I had that size 32 waist for a long time)? Those will be easy.
If I had to choose one item in my office with which I will never part, it would be a photograph, framed in black, taken in 2006 during Kofi Annan's visit to campus while Secretary-General of the United Nations. He sat at lunch that day with Carol and Adam and Sam and me, and Sam, then 12 and growing about an inch a month, was worried because his sport coat was very obviously too small. Carol mentioned this, in some small talk, to Kofi, and the photo shows one of the most famous and influential men in the world complimenting my 12-year-old son on how nice he looked in his sport coat. The look of pleasure on Sam's face, the look on all of our faces, the kindness of a great man: all are captured in that moment.
To all who have been a part of granting me the profound and unexpected privilege of being president of Macalester College for a quarter of my life, of gifting me such moments: thank you.
Now it is time to go.
Brian Rosenberg will conclude his tenure as president of Macalester College on May 31, 2020.