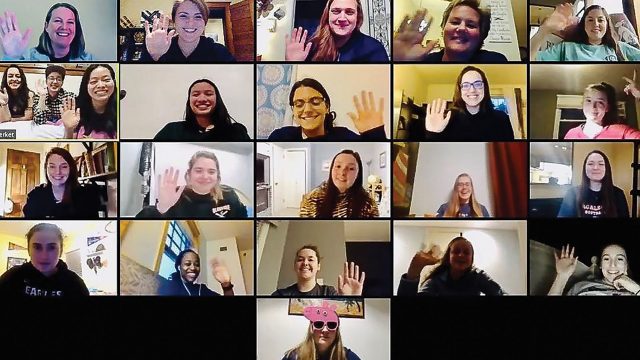 In a few ways, Bergen Schmidt's sophomore year routine continues unchanged: she's doing the New York Times crossword puzzle with friends, trying out karate, and working on The Mac Weekly as the newspaper's features editor.
But now all of that happens online via the virtual meeting platform Zoom, with Schmidt back home in Revelstoke, British Columbia, 2,000 miles away from St. Paul. "I've been trying not to let the distance interfere, because if this were a normal semester, I'd be seeing my friends every day," Schmidt says. "I'm trying to keep those connections going as if we were in school."
Most of her classmates are in the same position, along with millions of other students in colleges and universities around the country. As the COVID-19 outbreak accelerated in March, Macalester joined other institutions by announcing its decision to move to remote learning, part of a nationwide effort to slow the virus's spread and prevent overwhelming the healthcare system.
With the exception of a small number of students with extenuating circumstances who petitioned to stay on campus, the college instructed students to go home and stay home. "I was on a plane 24 hours later," Schmidt says, her decision driven in part by fear of the Canadian border closing. "The morning of my flight, I got the notification on my phone that travel was being restricted between the U.S. and Canada."
Macalester's decision came five days after President Brian Rosenberg had announced that classes would be canceled for the week following spring break, to give faculty time to prepare for the possibility of remote instruction. In that time span, the COVID-19 outbreak surged nationwide, the Minnesota Department of Health announced community-transmitted cases, and Governor Tim Walz temporarily closed Minnesota's K–12 schools.
On March 18, Rosenberg told the community that plans needed to change. "It was our most profound hope to maintain at least some semblance of normalcy on campus while protecting those in the community who are most at risk from serious illness," he wrote. "It is clear now, given the most recent events, that we simply do not have the capacity to do this while keeping students in residence halls and classrooms and other public buildings. We want both to keep the community safe and to deliver a Macalester education as effectively and equitably as we can under these circumstances.
"We make none of these decisions easily or without a deep sense of sadness about what is, at this moment, necessary. We will do everything in our power to make it as easy as possible for students and their families to adapt to this new reality. We will not allow any student to be without food or a safe place to live. We will take care of our employees."
Around the world, all but a handful of the 163 students studying away chose to return home. Kat Lewis '21 (Arlington, Va.) left their semester in Jordan with only a few hours' notice, forgoing most goodbyes to friends after the government announced that flight cancellations were imminent.
Following the CDC's March 15 direction for Americans to restrict large gatherings for at least eight weeks, Macalester's senior staff also made the difficult decision to replace the traditional in-person Commencement ceremony with a virtual celebration to honor the Class of 2020. Reunion, scheduled for June 5–7, will also move to a virtual format.
That emotional decision was part of a tumultuous stretch for students, faculty, and staff. For the graduating seniors, Karinna Gerhardt '20 (Seattle) says, the wave of changes hit especially hard. "It really is the rug being pulled out from under you," she says. "All the preparation to have this emotional goodbye, which you've really earned, and the opportunity to find closure
on the campus that's been your home for four years—that's all gone. I fully support the college's decision to go online, and overall, Macalester has handled this crisis really well. But it's still disappointing."
Navigating remote teaching
Amidst sweeping changes that seemed unimaginable when the semester began, faculty across all divisions, as well as academic technology and library staff, grappled with the unexpected and immediate challenge of switching to remote instruction.
"We're already having to learn to do things that many of us didn't know how to do—or even think about—a week ago," Joan Ostrove, psychology professor and director of the Jan Serie Center for Scholarship and Teaching, wrote in a message to faculty on March 13.
She relayed a colleague's message to her students before spring break, when remote teaching was not yet a reality. "She told them that she loves being with them in the classroom, all together, in real time. She told them that she doesn't feel very capable with technology: she knows she will fumble and make mistakes, but they will all figure this out together.
"Years from now, I told her, your students may or may not remember many specific details of what they learned in your class, and they'll very likely not think at all about the content they missed out on because of the changes required by the shift to virtual teaching. They will, however, no doubt remember how real and honest and human you were when you shared how you were feeling about the possibility of having to teach via Zoom."
Maintaining community
After a month marked by uncertainty, the focus for the rest of the semester will be on adapting to new technology, supporting one another, and maintaining community as much as possible, in creative and new ways. Through a Student Affairs-created online hub, students can connect and find community through student organizations, chat rooms, and programming, including wellness activities like yoga and fitness classes. The Civic Engagement Center created Mac Solidarity, an initiative to encourage mutual aid and other support efforts. The biology and chemistry departments donated gloves to M Health Fairview hospitals and clinics.
Students are also mobilizing, individually and collectively. On March 24, Macalester College Student Government passed a resolution via Zoom to redirect some of its own remaining budget and ask student organizations to do the same, to support students with unexpected expenses and needs because of the COVID-19 crisis. Instead of immersing themself in Jordan during study away, Lewis hopes to reconnect with Macalester's Voices on Mental Health chapter, which they co-chaired in the past. "With all the added stress, mental health becomes a huge part of the equation," Lewis says. "I know when I'm struggling with mental health, it's hard for me to know how to reach out to get help. And right now, it would be so easy to not reach out. There's definitely room for action."
Connecting from afar
Like Schmidt and her friends doing crossword puzzles together, students—spread out unexpectedly all over the world—are finding new ways to stay connected despite the difficult circumstances. Back at home in Sarasota, Fla., Sy Schimberg '22 has been keeping in touch with friends via texting and Snapchat, with one unexpected effect. "There are a lot of people who I'm closer to now than I've ever been," he says. "With my friends, I'm keeping up almost out of necessity because I just miss them like crazy and can't wait to live with them again. But I've been talking to people I wasn't that close with before this, and that's surprised me. One thing I'm looking forward to: knowing how excited we're all going to be to see each other again."
In the meantime, students, faculty, and staff will support one another as best as they can from afar. "I hope that we can cultivate a spirit of compassion and patience and flexibility to get us through this situation, and that on the other side of this current crisis—and there will be another side—that spirit is what remains," Ostrove wrote in a message originally directed at faculty but applicable more broadly. "We'll need it, and one another, for whatever is next."
"The World Will Never Be the Same"
Q&A with Dr. Steph Walters, Medical Director at Hamre Center for Health & Wellness
This spring, COVID-19 mitigation efforts swept across daily life like a blur, but medical director Steph Walters remembers exactly when everything began to change at Macalester. "That day will be forever burned in my brain," she says. "I woke up and said, 'This is coming, and we have to do something.'"
She walked into the Hamre Center that February morning—when just 53 COVID-19 cases had been diagnosed in the United States, according to the Centers for Disease Control and Prevention—and asked director Denise Ward who she needed to talk to about starting an infectious diseases task force. The group that quickly assembled included representatives from all over campus, including residential life, facilities, and health services.
In the weeks that followed, the group discussed challenging questions and decisions, advising senior staff on what became a total shift to remote learning for the rest of the semester. Shortly before Minnesota Governor Tim Walz issued a statewide stay-at-home order in late March, we asked Walters for her perspective on COVID-19.
When a task force forms, what are some of the areas of concern?
The task force has focused on identifying areas of weakness, pressure, and stakeholders. Can we safely house students here, and if so, how many? What are the financial implications if we send people home? If there's literally one empty room on campus, how do we plan for quarantine?
How did the task force assess the question of whether to close campus?
The decision to not close campus completely was evidence-based, but it showed some of the challenges in this pandemic and in our own microcosm: How do we hold up all of these different groups of vulnerable people and support them? Who is the most vulnerable to the illness? What students are most vulnerable to a "you have to go home" message? Who among our faculty and staff are at highest risk?
And I totally agree that we can't kick students out. But if we stay open, who does that put at risk? The issue of who this impacts, who has the most skin in the game, is playing out all over the world. Medical providers are heroes in a pandemic, you bet, but society recognizes and appreciates that for the most part. The people who are cleaning residence halls or working in food service or stocking shelves at Target are as heroic, but are just feeling it and facing it differently. These aren't easy decisions.
What misconceptions are you working to correct?
After we notified the community about confirmed cases on campus, everyone wanted to know if they had been exposed. I understand that urge. No one likes uncertainty. But we need to start thinking of this virus as everywhere—not to instill panic, but because this is exactly why social distancing and staying home when you're sick are so important. Sometimes it will be about when and where and how someone was exposed: we would, for example, contact people who shared a household with someone who got sick. But it's also just a lot about limiting. The risk for these campus cases was probably quite low for the majority of us, but that doesn't mean we didn't just get exposed at Target last night.
What's the best way to navigate information, especially as false information and rumors circulate?
I have two tabs open at all times on my computer. Right now, it's the CDC and Minnesota Department of Health. I've been saying [University of Minnesota epidemiologist] Mike Osterholm's name probably six times a day—he's one of the primary voices I want to hear on this. That's basically it. I don't really want to hear hive mind stuff right now. For me, that's not helpful.
What do you want our readers to keep in mind?
The world will never be the same as it was when this is done. There will probably be loss and suffering and challenges that will touch each of us differently. But this will also shine a light on practices that weren't sustainable: how we talked about health care, who put themselves on the front lines of this pandemic without the luxury of working from home, what we asked of our most vulnerable populations, where disparities in access and resources are most glaring. I hope that the way we're forever changed by this is also somewhat positive: that people realize that there are pieces of our society that are not sustainable, just, or healthy.
How to Support Students
Alumni Engagement offers advice on how alumni can help students—and find comfort for themselves in the Mac community.
Support the college's Macalester Student Relief Fund.
Created to help students with unexpected expenses, this fund will help pay for transportation, housing, distance learning, and support of Open Pantry, the student-run organization to address food insecurity at Mac.
Share career advice during this tumultuous time.
Update your profile in MacDirect, our online alumni directory, and turn on your CareerHelper badge to show students you are open and willing to connect.
Hire a graduating Mac senior.
Have an opening at your organization, even for part-time work? Email Toni Phelan at

[email protected]

.
Show your Macalester pride.
Share your love for students and each other. Reach out to friends and classmates through your local or class-year social media channels as well as through MacDirect. Cultivate and find reassurance in our community: visit MacTogether for more ideas and virtual gatherings.
By Rebecca DeJarlais Ortiz '06 / Additional reporting by Rebecca Edwards '21
This story is updated from an earlier version that was published on April 1, 2020.