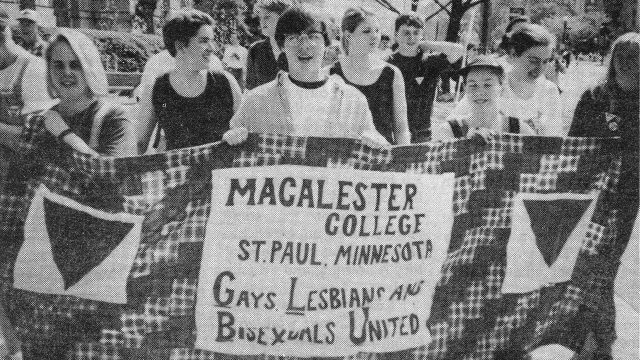 By Hillary Moses Mohaupt '08
From almost the first moment I stepped on campus as a first-year student in 2004, I knew two things: that I was thrilled to finally be at Mac, and that I was pretty sure I was a lesbian.
A few years later, in 2007, the Princeton Review ranked Macalester as the most welcoming campus in the nation for lesbian, gay, bisexual, transgender, intersex, and asexual (LGBTQIA) students, but Mac has not always been a haven for queer students. Like me, generations of first-years have arrived on campus and embarked on the exciting project of growing up from a teenager to a young adult and learning, in the process, how to be queer.
For this story, I spoke with alumni who identify as LGBTQIA to chart Macalester's queer history from the 1960s through the 2010s. For many of these alumni, Macalester was a pivotal place to figure out who they were and what they wanted to be. Some of that discovery was related to sexuality and gender, but just as often, it also involved learning how to be a critical thinker, advocate, activist, leader, party-goer, writer, and friend.
Another common theme among alumni: the enduring need for safe space and positive role models before commencing adulthood in a world that does not always recognize or celebrate intersectional identities. I spoke with two of my own college mentors for this piece, program associate for vocation and reflection Eily Marlow '97 and psychology professor Joan Ostrove, whose input on this story and my Macalester journey I gratefully acknowledge.
1960s
"The prevailing cultural tenor on campus reflected society at the time. In addition to earning a college degree, it was the job of the co-eds, the female students, to find a husband. It was extraordinarily traditional and extraordinarily heterosexual." –Phoebe Wood Busch '64
"I arrived on campus in 1967 and from what I could tell gayness on campus didn't exist. It was completely invisible to me and I thought that I was the only one."  –Bruce Fisher '71 
"Prior to 1962, sex between two men was a felony in all 50 states. A family friend was arrested in a raid on a gay bar in Minneapolis in 1961. I was 14 and immediately decided on a plan: I'd go to college, move to New York, see a psychiatrist, and be cured." –Glenn Peterson '68
1970s
SUMMER 1971
University of Minnesota law student Jack Baker and Michael McConnell are married in what is believed to be the first gay marriage ceremony. In May 1974, Macalester students attend the Gay Rights Conference at the U of M. Anonymous letters to the editor promote the event in The Mac Weekly, noting that posters on campus have been torn down. The following year, Mac students invite Jack Baker and Karen Browne, co-founder of the Lesbian Resource Center, to speak on campus. About 20 students attend.
"Jack Baker was my personal hero at the time, without knowing him. He was saying things we didn't think we'd see in our lifetime. We didn't think that marriage was going to be something that was possible. He was a radical for his time. I think that was the first time that Macalester hosted an openly LGBT event." –Roberto Ochoa '76
OCTOBER 1975
In October 1975, the Gay Student Collective receives funding from the Community Council. In December, Minneapolis passes the nation's first protections for trans individuals. In February 1976, Mac's Feminist Organization opens the Women's and Gender Resource Center. In late 1978, St. Paul voters approve the repeal of the city's Human Rights Ordinance, making it legal to discriminate against gays and lesbians, and the Macalester Lesbian and Gay Coalition (the group's new name) holds a dance at 30 Macalester Street. Approximately 40 people attend. The following year, November 14, 1979, is declared Gay Blue Jeans Day. Gay students and allies are encouraged to wear blue jeans to demonstrate awareness of discrimination faced by gay and bisexual students at Mac.
1980s
OCTOBER 1980
The new decade is marked by repeated vandalism to the MLGC's bulletin board—fliers are slashed and burned. October 14, 1980, is declared Gay Awareness Day.
"When I first arrived at Mac, the gay student union met in the Women's Center. I was afraid to come out, but decided to go to a meeting one Sunday night. The lights were out on the second floor, but the lights were on in the center. The door was ajar and I could hear people laughing. Sadly, I was too afraid to step into the room. I didn't come back until junior year. What a metaphor for why coming out matters—all I needed was to step out of the dark hallway into a room full of light and laughter, but fear held me back." –Marc Purintun '85
DECEMBER 1982
MLGC hosts Gay Men's Films night. About 150 people attend. The following October, the group organizes the Gay Men's Support Group and Lesbian Support Group.
"In 1989 there was already a strong impetus to have the gays and lesbians be the party people. I think we were intentional about throwing great visible parties that straight people came to. It helps to have great dance music." –Rachel Gold '93
"I spent second semester of my junior year in Kenya and I came back feeling better about myself than I ever had. And I met this woman and had the self-esteem and the strength and the bravery to come out." –Julia Wolfe '86
APRIL 1985
Macalester adds "sexual orientation" to its non-discrimination policy, after lobbying from the Macalester Lesbian and Gay Coalition with support from the Staff Advisory Council. On October 11, 1987, 15 Macalester students join 500,000 people in the March on Washington. National activists organize the first National Coming Out Day on October 11, 1988. The following fall, MLGC changes its name to Gays, Lesbians, and Bisexuals United (GLBU).
1990s
Rachel Gold '93 (they/them) is teaching "LGBTQ Literature in America" at Macalester this year.
"This year is exactly 30 years since I started as a first-year," they said. "I keep feeling like I'm going to run into myself on campus." For Gold, seeing and learning from out faculty played a huge role in helping them understand how to have queer identity. "Now that I'm one of the out professors, I can show people that you can be a successful queer and trans adult."
Three books on Gold's "LGBTQ Literature in America" syllabus:
Queer: A Graphic History
The Gilda Stories
The Stars and the Blackness Between Them
FEBRUARY 1990
GLBU hosts a campus dance in Doty Hall. Later that year, St. Paul reinstates its ordinance protecting gays and lesbians from discrimination. In October 1991, GLBU members chalk campus sidewalks to celebrate National Coming Out Day, including a "Walk of Flame." They clash with MacConservatives and are taunted with anonymous notes and verbal harassment. Controversy erupts on campus over free speech.
"I decided to come out on National Coming Out Day, fall of 1992, slick my hair back with hair gel, and put on a new outfit I'd bought. I walk outside and overnight someone has chalked some really violently homophobic stuff on the sidewalk." –Erik Christensen '95
APRIL 1993
Macalester students take part in the March on Washington for gay, lesbian, bisexual, and transgender rights. In February 1994, the GLBU changes its name to Queer Union (QU) to reflect the political mood after the march.
"In 1996 I stopped by the alumni office. I mentioned that my partner and I recently had a commitment ceremony, and the alumni director asked if I would send him a picture. It was published in the wedding section of Macalester Today. I believe it was the first. Macalester was ahead of the curve—the New York Times didn't publish same-sex unions until 2002." –Glenn Peterson '68
SEPTEMBER 1996
Students can major in Women's and Gender Studies, which had been available as a minor since 1987. In the mid-'90s, Bruce Fisher '71 and his partner at the time establish the Fund for Lavender Life, to underwrite campus activities and resources related to gender and sexuality.
"When we set it up, Macalester Today interviewed just me because my partner was not out at work. It was a little bit of an event to have something gay on the cover." –Bruce Fisher '71
2000s
APRIL 2000
Queer Union cancels the QU Dance; the campus observes its first Day of Silence to "protest the silencing of Queer voices throughout history." An estimated 150 students participate. The college hires its first professor of LGBT studies, and the QU Dance returns in October 2000. In 2002 the Queer People of Color Collective is formed in the Department of Multicultural Life. The Queer Cabaret debuts in April 2003, featuring a drag show, music, and poetry. In 2003 the Lealtad-Suzuki Center creates the Allies Project to train campus faculty, staff, and students to support multiple social identities. That fall an unprecedented 90 students attend QU's first meeting of the year.
"I didn't land at Macalester expecting to get support. The Mac chapel funded us to attend these gay Christian conferences, where I would meet amazing people. Making the shift from the Spotlight to Facebook made it easier to keep up with gay folks at other Minnesota schools." –Dan Murphy-Cairns '07
"There were definitely lots of queer kids at my high school. But Macalester was more nuanced. Taking a queer studies course with Scott Morgenson was amazing. To take some of that academic language and break down homophobic arguments in literature, to understand my lived experience as valid—that was really important for how I was thinking about myself then and continue to think about myself now. I learned that we don't all approach it in the same way." –Stephanie Kobbe '08
OCTOBER 2004
The Mac Weekly reports, "Gender-blind housing at Macalester is back on the table nearly a year after a blitz of media coverage sparked widespread disagreement and stalled discussions on the issue." In spring 2005, the administration approves gender-blind housing for George Draper Dayton Hall, Grand Cambridge Apartments, college houses, and cottages. Commencement that year includes the first Lavender Graduation to recognize LGBTQA students. Macalester comes in second in Princeton Review's list of LGBT-friendly colleges. In September 2005, Women and Gender Studies is renamed Women's, Gender, and Sexuality Studies. The following fall, the college hosts its first Scots Pride Reunion, including a keynote address by political science professor Adrienne Christiansen, an intergenerational panel discussion, and oral history recordings with alumni.
"The fact that the Scots Pride reunion in 2006 even happened—I don't think that would have been possible in the early years. The institution has embraced the notion that this is an important part of who Macalester is." –Jeremy Kurtz '86
NOVEMBER 2007
The feminist student organization hosts a gathering to discuss gender-blind bathrooms. Five students and two staff members attend. That same year, the Princeton Review ranks Macalester as the most welcoming campus for LGBT students. In February 2008, Macalester denies tenure to one of the two full-time professors in the Women's, Gender, and Sexuality Studies Department; students protest. Open Gender Housing Area is established in Kirk. In 2009, the Gender Variant Collective is formed.
"I didn't feel like I needed to hide myself, which is partly why I chose Mac in the first place. No one asked questions about my sexuality, it just was. It finally felt like I could just be myself." –Will French '13
2010s
OCTOBER 2010
Coming Out Week activities include a Candlelight Vigil on Bateman Plaza, to remember those who have died nationwide from suicide due to anti-LGBT harassment. In 2011, the Women's and Gender Resource Center is renamed the Gender and Sexuality Resource Center. The first all-gender bathrooms appear on campus in 2012, in the Campus Center, the Kirk computer lab, and some academic buildings and residential halls. That November, Minnesota rejects Amendment 1, which would have banned marriage between same-sex couples.
"I remember people being excited about the all-gender bathroom but I also remember people being like, 'It's about time.'" –Jordan Vesey '12
"I got to read about performances by queer gay black men so I left Mac feeling very self-assured in this new knowledge about the legacies of folks who shared my identities." –Will French '13
"There are things you learn in the classroom and there are things you learn outside of it. I came into my queerness through the Free Cece [McDonald] campaign my junior year. It's impacted everything I do, from teaching to being an organizer." –Raynise Cange '14
"My position as a working class person of color wasn't represented in the discussion in QU. Who is prioritized in queer spaces at Macalester? To understand gender and sexuality, you have to see a person as a whole person, incorporating different facets." –Ariel Estrella '15
MARCH 2014
A Macalester student government resolution calls for greater transgender inclusivity across campus; students of color continue to urge campus to strive for the inclusion of queer students of color, too. That summer, bathrooms on the fourth floor of the library, the second floor of the humanities building, and the basements of Doty and Dupre Halls are converted to all-gender bathrooms.
"I joined the Alumni Board and said I'd love to have another Scots Pride Reunion. They came up with this new thing to make it part of the regular reunion in 2015. The events were hugely popular; one of the panels was so much in demand that people were overflowing from the room." –Adrian Moran '91
"I was asked to be on the 50-Year Reunion committee. I inquired about specific efforts to reach out to members of our class who were LGBTQ. The alumni director at the time suggested that we do a decade by decade panel on LGBTQ life at Macalester and I said I would be happy to chair it. What stuck with me was how forthright everybody on the panel was." –Phoebe Wood Busch '64
OCTOBER 2018
A charter for Queer Faith Community—written by co-leader Amelia Gerrard '20—is approved by the student government's student organizations committee. The following fall, all-gender locker rooms are added to the Leonard Center.
"Queer Faith Community has been one of the most important formative spaces for my time at Macalester. We want people to feel comfortable being their true full selves." –Jessi-Alex Brandon '20
"I came to campus last semester and talked to the Bonner scholars. Every one of them said their pronouns. That was not the case when I got to Mac. Even before I was out as trans, I kept pushing. And Sedric [McClure, currently assistant dean for College Access, Retention, and Success] said pronouns are so easy now because of you." –Ariel Estrella '15
2020
"We're challenged in the classroom to have hard conversations about our identity. Like every place, Macalester has the things they do right and things they struggle with—especially supporting trans students on campus. Macalester is a place where we can learn about ourselves through the stories of other people. So many people are in transition coming to college and questioning—does this space resonate with me? It's a wayside for people to go back into their history and figure out what their identity means to them, then and now." –Amelia Gerrard '20
Hillary Moses Mohaupt '08 is a freelance writer based in the greater Philadelphia area.