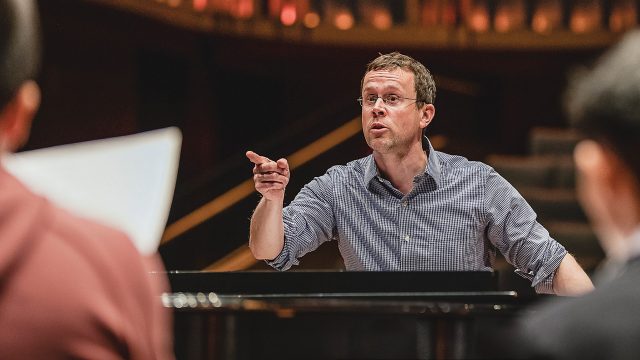 Michael McGaghie is a music professor and director of choral activities.
Any standout books you've read recently?
The Courage to Teach, by Parker Palmer, is about how teachers must cultivate their own inner identity and integrity in order to be truly present in the classroom. Both of my parents are educators, and this book was a gift from my father that's been sitting on my shelf. I only just read it, and I wish I'd done so a long time ago.
What's one of your all-time favorite reads?
That would be Søren Kierkegaard's Works of Love. A little backstory: one of my favorite college professors was a man named Peter Gomes. Shortly after his death, I re-read all his books. One of them mentions Works of Love's influence on his own thought, so I read the Kierkegaard next, and I was floored. It discusses love as a virtue by which and for the sake of which we exist for others. As a choir director, I'm constantly thinking about things like community and belonging, so it's become one of the foundational texts that informs my work.
What book is crucial to understanding your academic niche?
This one is hard, but I'll choose Hearing Bach's Passions, by Daniel Melamed. I teach a class on J.S. Bach and his influence on modern settings of the Passion story. It's some of my very favorite music.
Any guilty-pleasure reads?
I love cookbooks, and I was a chemistry major in college, so I get a huge kick out of Harold McGee's On Food and Cooking: The Science and Lore of the Kitchen.
What one book would you recommend to everyone at Macalester?
Elaine Scarry's On Beauty and Being Just is this tiny treatise about how beauty inspires our search for truth and urges us to act on behalf of justice. Her argument has to do with how beauty incites us to create, and how justice requires creative acts of human intervention. I love it, and I have a lot of questions about it. I'd love to discuss it with other folks.