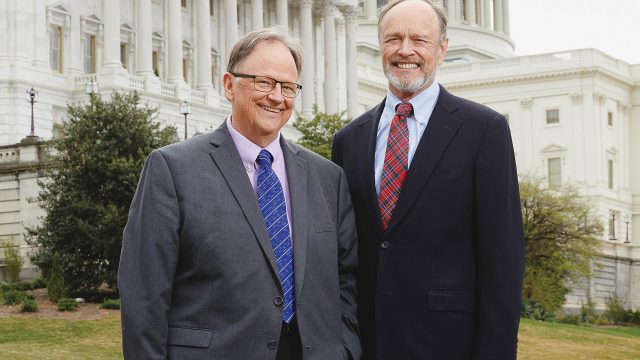 The story of Mel Duncan '72 and Bob Van Heuvelen '72 starts on Dupre 4, then spans from Capitol Hill to South Sudan—and back to St. Paul.
As sophomore political science majors, they went east for congressional internships, sharing a cramped Washington, D.C., efficiency. Back on campus in 2017, at their 45th Reunion, the two reconnected for the first time since graduation. Standing in the big tent's beer line, Van Heuvelen and Duncan swapped stories about their work and the world.
Both alumni had launched successful organizations. In Washington, Van Heuvelen founded the lobbying and public advocacy firm VH Strategies LLC, grounded in his extensive experience as a federal prosecutor with the Department of Justice and Environmental Protection Agency, then as chief of staff to former North Dakota Senator Kent Conrad. Duncan co-founded Nonviolent Peaceforce , an international peace corps that uses unarmed strategies to protect civilians in violent conflict. Based in Geneva and St. Paul, Nonviolent Peaceforce has trained 5,000 unarmed civilian protectors, building relationships and trust that prevent injuries and deaths. In 2016, Nonviolent Peaceforce was nominated for a Nobel Peace Prize; the organization received the Luxembourg Peace Prize in 2018.
A major shift for many countries, unarmed civilian protection is effective from the bottom up, rooted in community engagement. In South Sudan, for example, Nonviolent Peaceforce has trained more than 2,000 national and international civilian protectors since 2011. Now, South Sudan has 16 unarmed civilian protection teams plus 60 women's protection teams.
Nonviolent Peaceforce trains local women to protect themselves and their communities. Before the teams were trained, government and opposition soldiers often raped women who went to collect firewood. Teams also protect young boys from being abducted and forced to become child soldiers. Duncan says soldiers are less likely to attack people accompanied by trained protectors: "Most people do not want to commit atrocities. Our presence reinforces that internal inhibition. People don't like to fight in front of the neighbors." Over half of Nonviolent Peaceforce protectors come from the host country—they are the neighbors.
In her new book The Dissent Channel: American Diplomacy in a Dishonest Age, Elizabeth Shackelford—a former diplomat assigned to South Sudan—calls Nonviolent Peaceforce "a plucky international organization that goes to the most dangerous places on earth and deploys civilians to help locals stay safe." In one instance, she describes how two Nonviolent Peaceforce staffers protected more than a dozen women and children from militiamen. Threatening them with rifles and an axe, the militia repeatedly ordered the peacekeepers to leave. The peacekeepers stood firm, guarding the civilians in a mud hut until the gunmen left. Armed with nothing more powerful than their Nonviolent Peaceforce badges and a commitment to nonviolence, two peacekeepers saved the lives of 14 people.
At Reunion, Duncan and Van Heuvelen kept talking about the unarmed protectors, and by evening's end, Van Heuvelen knew he wanted to help rally support among fellow Mac alumni and beyond. And as someone who once dreamed of joining Doctors Without Borders in retirement, he jumped at the chance to serve instead, in his son's words, as a "lobbyist without borders."
By summer 2018, Van Heuvelen's team was working pro bono with Nonviolent Peaceforce. They began what Duncan calls "a little effort" to get unarmed civilian protection into the fiscal 2020 Appropriations bill.
Although UN agencies and governments including the Dutch and the Swiss are increasingly supporting Nonviolent Peaceforce, the United States has been slow to respond, now providing a little over $1 million per year. Together, Duncan and Van Heuvelen were seeking an additional $25 million—funding that would help Nonviolent Peaceforce develop new projects in countries like El Salvador, Nigeria, and Yemen.
Before Nonviolent Peaceforce could get new appropriations, Congress needed to include policy language backing unarmed civilian protection. By last spring, VH Strategies managed to get Duncan testifying before a crucial House Appropriations subcommittee. After three VH staffers prepped him, Duncan testified and the subcommittee voted to support the bill and unarmed civilian protection. By December, the Senate passed the Appropriations bill with language recommending the State Departmentsupport unarmed protectors of civilians. Duncan and Van Heuvelen achieved their first goal: Congressional approval of unarmed peacekeepers.
Their next goal: securing the requested $25 million. "Funding for all unarmed civilian protection carried out in the world is a pittance, less than $40 million, compared to the Pentagon's more than $700 billion," Duncan says.
As the climate crisis worsens, and more people are displaced or become refugees, there's growing urgency for effective ways to protect civilians and encourage nonviolent behavior. In Kenya, Somalia, Sudan, and Nigeria, Nonviolent Peaceforce is already doing online training with youth teams as unarmed protectors. Duncan envisions a worldwide culture of peace in which conflicts are managed using nonviolence instead of weapons.
And three years after their Reunion reconnection, Duncan and Van Heuvelen stand behind those unarmed protectors, striving to build more support for that culture of peace.
By Kate Havelin '83 / Photo by Tracey Brown
Kate Havelin '83 is a Minneapolis freelance writer.