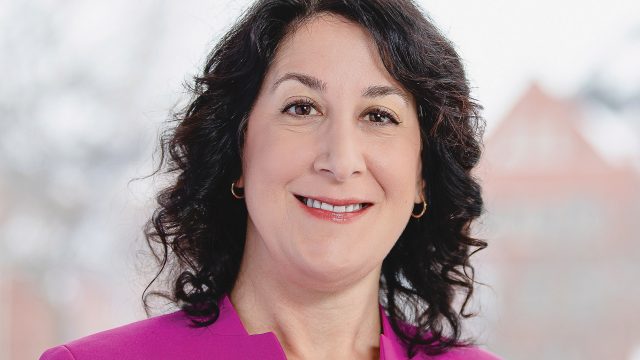 "There are unanimous votes and then there are unanimous votes," Board of Trustees chair Jerry Crawford '71 told Mac Weekly editors Hannah Catlin '21 and Abe Asher '20 in February. "This was a unanimous vote where everybody's hand shot into the air."
He's describing the board's final vote to approve appointing bioethicist Dr. Suzanne Rivera as the college's 17th president, nearly a year after current president Brian Rosenberg announced that he would leave Macalester in May 2020 after 17 years of service.
Rivera—who will begin her term as president this summer—comes to Macalester from Case Western Reserve University (CWRU), where she is serving as Vice President for Research and Technology Management. She is the first female president and first Latinx president in Macalester's history.
In her role at CWRU, Rivera oversees the university's $400 million research enterprise. She has also served in administrative and research leadership roles at the University of Texas Southwestern Medical Center and the University of California, Irvine. She is active nationally in research policy and in a range of social justice and equity initiatives.
Rivera holds a BA in American civilization from Brown University, a master of social welfare degree from the University of California, Berkeley, and a PhD in public affairs from the University of Texas at Dallas.
She carries with her a deep belief in a liberal arts education's transformative power. As a child, Rivera says, she dreamed of going to college but didn't know exactly what that meant, nor that someday working in higher education was a possibility. "When I started college, I was one of very few Latina students in the entering class. I was on financial aid, I had a work-study job, and I had to turn over my summer earnings—it was very difficult to make ends meet," Rivera says. "Despite all those difficulties, the liberal arts education I received was absolutely transformative for me, not only because it opened up a world of intellectual possibilities for me that I wouldn't have otherwise, but it also changed the trajectory of my life and opened up a new path for my entire family.
"When we talk about a college like Macalester having an impact in the world, it's not only what the students who leave a place like this can do when they enter the workforce, but it's also in that personal transformational power, to take someone who started with one set of circumstances and open up for them the possibility of completely different circumstances. That's really powerful stuff. It's very profound. And I look forward to helping to write Macalester's next chapter."