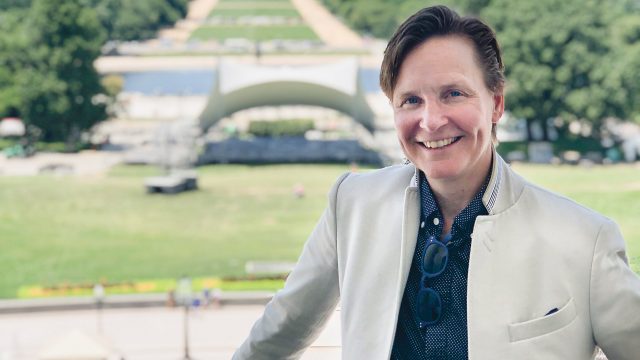 A record number of women were elected to Congress in 2018, and more women than ever before are serving in state legislatures across the country. But as the nation marks the centennial of women gaining the right to vote—the 19th Amendment was signed into law in August 1920—Kristin Hayden '92 still isn't finding parity in politics, so she's thrown herself into making it become a reality.
"The public narrative is that it's an amazing time for women in politics," Hayden says. "And of course, there has been progress, especially for young, diverse women. But the increase of women in politics has been incremental across local, state, and federal government and we have a long way to go if we are going to see equal representation in our lifetime."
Based in San Francisco, Hayden is the chief partnership officer at IGNITE, which works to build political ambition in girls and young women. She also served recently as the interim CEO of ReflectUS, a nonpartisan coalition working to increase the number of women in office. We talked with the international studies and Russian language major about her initial reluctance to get into politics, what changed her mind, and how women can take action.
Lightbulb moment
"In my first year at Macalester, a group of my soccer teammates painted signs and then caravanned across the country to attend the historic and massive Women's March on Washington. It was my first march, and it was a powerful experience. That was my political awakening. I remember thinking, 'Oh, wow, there are rights I still have to fight for as a woman?'"
The roadblock
"I've dedicated my life to change-making, but for a long time, I always perceived that being involved in politics was the slowest, most bureaucratic, ineffective way to go. There are so many negative stereotypes about political leadership that keep women from wanting to get involved."
Change of heart
"When I got involved with this work, my perspective totally changed. I now realize when you're sitting at the table where policies are being made, you can impact thousands of people's lives, and that's a very significant way to make incredible positive change. And if you're not sitting at the table, other people are making policy decisions on your behalf—and not always with your community's lived experience in mind."
Nonpartisan movement
"At ReflectUS, we bring together women across the ideological spectrum in an effort to get more women elected. We want to see equal representation of women in political office in our lifetime. All the research shows that women are more likely to reach across the aisle. They're more willing to collaborate and compromise and therefore pass more legislation and make better lawmakers. More women in office therefore strengthens our democracy."
Power at the polls
"Our main message at IGNITE in this important election year is to exercise your political power by voting! The number one thing you can do is vote. And get your friends to vote, too. Young women don't realize the power they have: if every young woman voted, they could determine the outcome of the election."
The next step
"What else can you do? You can run for local office. Don't wait. Do it now. You have your lived experience that is representative of many others. If you don't see political leaders that seem to represent you, make a seat for yourself at that table. We're here to support you along the way."
By Tom Kertscher / Photo by Chantel Bermudez
Tom Kertscher finished a 35-year career as a newspaper reporter at the Milwaukee Journal Sentinel and now works as a freelance writer based in Milwaukee.