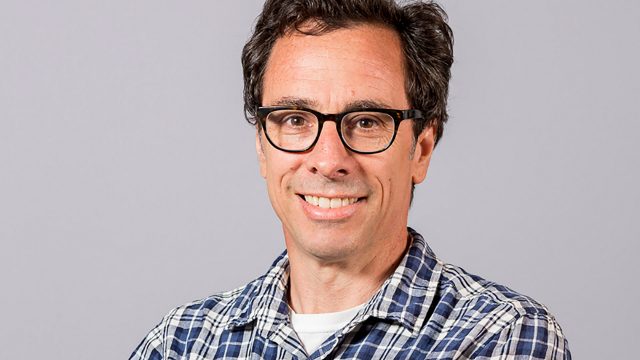 St. Paul, Minn. – Professor Tom Halverson is the recipient of the 2020 Thomas Jefferson Award. The award was established in 1961 by the Robert Earll McConnell Foundation to honor members of the Macalester community who exemplify the principles and ideals of Thomas Jefferson. Dr. Halverson was selected by a committee of past Jefferson Award winners.
"I am so delighted to have the honor of bestowing this award on Tom," said Macalester College President Suzanne Rivera. "He embodies all the attributes that make Macalester special: He is a distinguished scholar and teacher, a beloved mentor, and a devoted campus citizen. It is a joy to celebrate his many accomplishments and contributions."
Prof. Halverson arrived at Macalester as a visiting professor in 1993 after earning his doctorate from the University of Wisconsin, Madison. He received tenure in 2001 and served as chair of the Mathematics, Statistics, and Computer Science (MSCS) department from 2013-19. Under his leadership, the department expanded course offerings, increased fall enrollment by nearly 50 percent, and nearly doubled the number of seniors graduating with MSCS degrees. He also oversaw the hiring and mentoring of nine new tenure-track faculty.
"Those numbers about growth in our department, you can't attribute the interest in computer science to me," said Prof. Halverson. "But I think, if anything, we focused on making it a welcoming place for students with all kinds of interests and a warm place for new faculty to join and thrive."
Dr. Halverson's expertise is in algebraic combinatorics, specifically combinatorial representation theory, where he uses objects from discrete math — such as graphs, diagrams, partitions, and tableaux — to give concrete descriptions of abstract phenomena from algebra. His research, which has wide-ranging applications in physics and chemistry, has appeared in 31 leading journals with more than 830 citations and has been supported by grants from the Keck Foundation and the National Science Foundation.
Particularly adept at finding important research questions that are accessible to undergraduates, Dr. Halverson has partnered with Macalester students on 33 research projects and co-authored 12 papers that were published in prominent research journals.
"The collaborations with Macalester students are just amazing," he said. "To be able to do research with them, both in the classroom and out of the classroom, has been one of my proudest achievements at Mac."
Prof. Halverson's past awards include the Macalester Trustee Award in 2014 and the 2011 Distinguished Teaching Award from the North Central Section of the Mathematical Association of America. His service to the college has also included two terms on the Faculty Personnel Committee and one term on the Resources and Planning Committee.
Previous recipients of the Jefferson Award include Professors Galo González (2018) and James Laine (2017), former Registrar Jayne Niemi (2019), and Laurie Hamre (2015), former Vice President of Student Affairs. Prof. Halverson said it was humbling to be added to such an esteemed list of past awardees.
"It made me think about the great people I get to work with," he said. "It's the only job I've had, really, and it's a great one because I've worked with so many wonderful staff, faculty, and students."