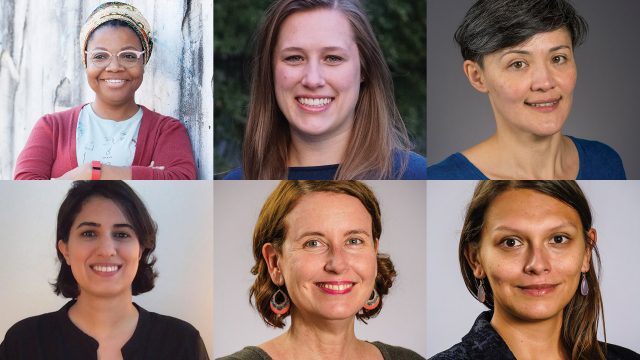 St. Paul, Minn. – Six new tenure-track faculty members representing a broad range of disciplines have joined Macalester this fall. They are: Tia-Simone Gardner, Media and Cultural Studies; Kelsey Grinde, Mathematics, Statistics, and Computer Science; Mina Kinukawa, Theater and Dance; Ahoo Najafian, Religious Studies; Megan Vossler, Art and Art History; and Pamela Klasova, Classical Mediterranean and Middle East.
Professor Gardner is a practicing visual artist who works primarily with photography and video. Her work explores ideas around Black geography, the racialization of space, and the ways in which geography shapes power relationships and creates coalitions and solidarities within communities. Dr. Gardner's current project involves constructing a floating camera obscura that will be anchored at the confluence of the Minnesota and Mississippi Rivers near Fort Snelling to draw attention to the site's colonialist past. This year, she will teach Introduction to Cultural Politics of Difference and a course on contemporary Black art with the hope to archive Black art and artists from the Twin Cities area. Originally from Alabama, Prof. Gardner earned her BA from University of Alabama at Birmingham, her MFA from University of Pennsylvania, and her doctorate in Feminist Studies from University of Minnesota.
Professor Grinde is a biostatistician whose work focuses on data applications related to public health, biology, and medicine. Her current projects involve developing statistical methods for genetic studies in populations with diverse ancestry, including collaborating with a Mac student to develop efficient software for analyzing large genetic datasets. This year, Dr. Grinde will teach Introduction to Statistical Modeling and Mathematical Statistics. She believes that being able to understand and think critically about data is a useful skill for every student, regardless of their interests or major. Prof. Grinde was a postdoctoral fellow at Macalester in 2019-2020. She grew up in Minnesota and received her BA from St. Olaf College and her doctorate in biostatistics from University of Washington.
Professor Kinukawa is a practicing theater designer with expertise in scenography. After working in film and television in Los Angeles, she moved to the Twin Cities and has been involved in the region's rich theater community for a decade, with her work appearing at the Jungle Theater, Penumbra Theatre, Park Square Theatre, Mu Performing Arts, Stages Theatre Company, Steppingstone Theatre, Pangea World Theater, and Interact Center for the Visual and Performing Arts. A visiting professor at Macalester last fall, Prof. Kinukawa will teach Fundamentals of Scenography and Advanced Set Design. Born and raised in Tokyo, she studied interior architecture in Milan before receiving a BFA from the University of Michigan and her MFA in Scenic Design from University of California, San Diego.
Professor Najafian studies Persianate Islam and religion and literature in contemporary Iran. Her current project is a book about 20th Century interpretations of the works by Hafez, the famed 14th Century Persian poet, entitled "Poetic Nation: Iranian Soul and Historical Continuity." Dr. Najafian will teach Introduction to Islam, Gender Relations in Islam, and Arts of Islam. From 2018 to 2020, she taught at Carleton College as an Ira T. Wender Postdoctoral Scholar in Middle East Studies and Religion. Born and raised in Tehran, Prof. Najafian earned a BA and MA in English literature from Tehran University, an MA in Women's and Gender Studies from University of British Columbia, and a doctorate in Religious Studies from Stanford University.
Professor Vossler is a practicing artist with expertise in drawing and illustration. Her work focuses primarily on large-scale drawings and has been exhibited nationwide, including at the Minneapolis Institute of Art, the de Young Museum, and the Wooster Art Museum. Her recent work entitled "Storm Surge" explores human interaction with the environment, particularly with catastrophic climate events such as floods. A solo exhibition is planned for 2021 at the Soo Visual Arts Center in Minneapolis. She has been teaching drawing and illustration at Macalester since 2009, and previously has taught at University of Wisconsin, River Falls and Minneapolis College of Art and Design. Originally from southern California, Prof. Vossler received her BA from Brown University and her MFA in Visual Studies at Minneapolis College of Art and Design.
Professor Klasova is an expert in Classical Arabic literature and early Islamic history. Her research focuses on how public speech and oratory traditions helped shape the Islamic empire and its relationships with other cultures, including Judaic, Christian and pagan. Dr. Klasova will teach Arabic language and a survey course on Islamic history, and plans to teach courses on Arabian myths and traditions of magic. Prior to her arrival at Macalester, she was an Andrew W. Mellon Postdoctoral Fellow in Arabic at Bowdoin College from 2018-2020. Born in Bolivia and raised in Prague, Prof. Klasova earned the equivalent of a BA and MA from Charles University in Prague, an MA in Arabic Studies from Leiden University in The Netherlands, and a doctorate in Arabic and Islamic Studies from Georgetown University.