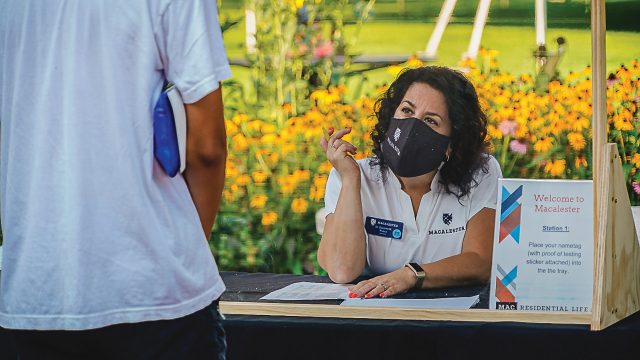 I have a friend who, upon being confronted with a change, often says, "Same, same. But different." That expression has been rattling around in my head since we reopened the campus to students at the end of August.
In many ways, the start of the fall semester has felt familiar. Eager new students, arriving with parents whose faces registered a mix of travel fatigue, pride, and sadness. Energized faculty and staff, excited to share their knowledge and eager to reconnect with one another. Campus grounds, tended lovingly, displaying a final burst of color to signal the end of summer. Same, same.
But, in other ways that will not come as a surprise to any reader, it also has been the most unusual and challenging fall opening any of us ever has experienced. We have been pushed to our limits, and many in our community have felt overwhelmed by change, by fear, by pressure, and by grief.
We started the fall with fewer students in residence halls and implemented a two-week "quiet period," during which community members underwent COVID testing and limited contact with others. Face coverings, plexiglass shields, stickers indicating six feet of distance, grab-and-go meals, classes delivered by Zoom—all of these and many more adjustments made because of COVID-19 have transformed the campus into something that looks very … different.
All of these changes were made to reduce the risks of virus transmission. And, indeed, the work involved to reimagine virtually every aspect of campus life—in and outside of the classroom—has been an extraordinary undertaking. Even at our lowest moment, when we lost a beloved member of the community, we mourned together while adjusting our familiar rituals to comply with the state's public health mandates. Every change we've made this fall has been with a deep commitment to preserving the aspects of a Macalester education that makes this place so special.
So, what does it mean that we are operating very differently than usual but still delivering a uniquely Mac experience? Here's what the pandemic will not change:
Students will be nurtured. Macalester provides an intimate living-learning experience that will support students, help them, and encourage their dreams. Despite the pandemic, Macalester provides assistance to address a variety of student needs—from academic advising to help with starting a company. From forming a new club to finding a good therapist. From help with research to assistance creating a study-away experience. Our staff and faculty are here to make sure Mac students get the most out of their education.
Students will be challenged. Through exciting coursework, exposure to new ideas, creative co-curricular activities, and opportunities to engage in service, each Mac student will finish the year having stretched and grown in ways none of us can quantify today. These challenges will forge them and help them along the path to figuring out who they will be in the world and what legacies they will create.
Students will build relationships. They will bond with hallmates, teammates, classmates, professors, coaches, librarians, advisors, the people who prepare their meals, the groundskeepers, RAs, chaplains, and many others on campus and via Zoom. They will make friends with the members of an orchestra or choir, they will write plays, they will organize protests, they will get jobs, they will fall in love. All the relationships that develop out of these experiences will form each student's particular branch of the Macalester family tree.
Macalester will have impact. Macalester is not merely about ideas; it is about action. Everything we study, practice, create, invent, design, innovate, and discover will make important contributions: to our campus, our cities, our country, and our world. That is both a thrilling opportunity and an awesome responsibility.
Yes, the surface elements have been adjusted to keep each other safer. And we may create new traditions that expand what it means to be a Scot. But, in all the respects that really matter, in good times and in hard times, dear old Macalester remains true to its mission. And the lessons we all are learning in this moment—about resilience, tenacity, flexibility, and compassion—will serve our students well as they face the challenges ahead.
Dr. Suzanne Rivera is president of Macalester College.