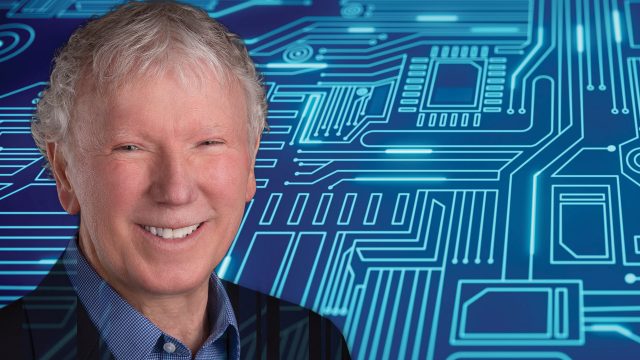 To truly appreciate the life and career of Dale Johnson '69, it might help to brush up on your knowledge of the ancient practice of alchemy, especially the part about turning "base" metals into "noble" ones. While those long-ago alchemists never succeeded in their quest, Johnson's Greene Lyon Group, Inc., where he's president and CEO, is currently succeeding in a feat that surely would be applauded by famous alchemists like Robert Boyle and Sir Isaac Newton. The Boston-based startup is revolutionizing the precious metals recycling business with innovative technology that provides a cheaper, faster, and more environmentally friendly way to recover precious metals from base metal scrap.
To acknowledge how he's reclaiming precious metals in entirely new ways, Johnson named his company after an early English poem about alchemy, "The Hunting of the Greene Lyon." "Many people know about alchemists wanting to turn cheap metals like lead into gold," Johnson says. "But they also sought an elixir of immortality, and we do both for our target scrap. Metals like copper are never degraded by recycling, so by separating silver and copper from silver-coated copper wire, the low-value scrap becomes high-value silver plus copper that can be used over and over. We like to say: 'It's not actually alchemy, but it might as well be.'"
Johnson's career has experienced an alchemy of its own. The high-stakes world of startups, technology, and precious metals weren't a part of the first two decades of his career. After growing up in Mankato, Minnesota, he was attracted to Macalester's diversity and international scope. A member of the school's first group to study abroad at the College of Europe in Bruges, Belgium, he went on to become an attorney, representing high-net-worth individuals investing in the U.S. and domestic firms doing business overseas. In those years, Johnson was a relentless road warrior: "On one business trip, I went all the way around the world in a matter of days, traveling to Hong Kong, Singapore, Valencia, London, and then back home to Boston," he says.
A pivotal request from a client is what transformed the globe-trotting attorney into a hard-charging startup entrepreneur. "One of my clients came to me with an electronics industry startup, Manufacturers' Services Ltd. (MSL)," he explained. Johnson began as the firm's legal counsel, but says that "when it became too expensive to pay me by the hour, they hired me, but they insisted I had to be an executive, not just a lawyer."
MSL went public in 2000, with revenues of nearly $2 billion. After that, Johnson worked for a year at a venture capital firm. "It was the combination of those two experiences that helped me realize the difference between giving objective legal advice as a lawyer and making business decisions that would be affecting others' lives as an entrepreneur," he says. "I found that I liked the edginess, the accountability, and the rewards of being an entrepreneur."
It was not, he admits, a life without a new set of worries: "I often was up at 4 a.m., wondering what I'd gotten my family and myself into by leaving a relatively safe legal career. When I look back at that time, I think of that quote by Kobi Yamada, 'Sometimes you just have to take the leap and build your wings on the way down.' That's pretty much what I was doing."
After making one leap, Johnson tried another, going on to cofound MaSeR Corporation, which mechanized a process to recycle electronics. As he was building that business, he learned that circuit boards averaged only about 5 percent of a product's weight, but they represented 98 percent of its value. Determined to find a way to reclaim precious metals like silver, gold, and palladium, he founded Greene Lyon Group in 2007. The company subsequently developed and sold a circuit board-recycling technology focused on a big problem: Each year, Johnson explains, more than 900 million pounds of copper scrap with a thin layer of plated silver is recycled simply as contaminated copper, because there has been no efficient process for separating the silver and copper, even though the silver value is in excess of $1 billion. "It's an economically significant market that previously has gone largely unaddressed," he says.
This fall, Greene Lyon is launching silver/copper recovery operations at its Ohio site. "When metals have to be mined, it's time-consuming, expensive, and not good for the environment," he says. "What we're doing now is being described as 'urban mining.' It has the potential to make a positive impact on the environment, and that matters very much to me." Even so, it may be time for him to call it quits on creating new startups: "This is my third company, and I've promised my wife, Gail, that it's my last," Johnson says.
By Julie Kendrick
Julie Kendrick is a Minneapolis-based writer whose work appears in HuffPost, Delta Sky, and the Minneapolis Star Tribune. Follow her on Twitter: @KendrickWorks.