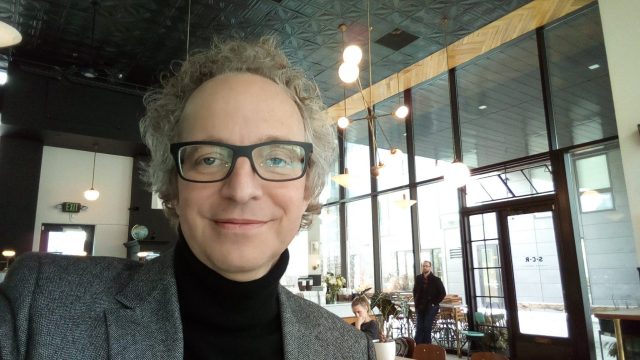 German Studies Professor David Martyn has been awarded a Mercator Fellowship to spend a semester in residence at the University of Bonn in Germany. Funded by the German Research Foundation, Mercator Fellows receive a 10,000 euro stipend and housing accomodations. The Fellowship aims to foster new ways of looking at research topics by facilitating cooperation between German and international researchers. 
"David Martyn is recognized internationally as one of the outstanding scholars of German literature today," says Professor Christian Moser, head of the Department of Comparative Literature at the University of Bonn, who helped select Dr. Martyn for the Fellowship.
Prof. Martyn's research examines the relationship of literature to an author's native language. "Against the common view that authors write in the language into which they were born, their so-called mother tongue, Martyn shows that the very concept of the mother tongue is a historical construct that changes over time," Prof. Moser says. 
The research holds personal significance for Dr. Martyn — though most of his publications are in German, he only began learning the language at age 20.
"The idea that anyone writes in their mother tongue really only took hold in Europe and North America in the 19th century," Prof. Martyn says. "I am trying to show just how weird the idea of writing in a native language is, how culturally specific it is, and ultimately how contrary to fact it is." 
In addition to his own research, Dr. Martyn will work with 13 doctoral students.
"It is a great enrichment of our program if our doctoral students can get feedback on their projects from prestigious international scholars," Prof. Moser says. 
Prof. Martyn spent five years teaching German literature at the University of Bonn before coming to Macalester. "I'm a completely different scholar because of the time I spent in Germany," he says. "I found ways of being not just an American scholar, but an international scholar. This Fellowship will give me a chance to renew that internationalism and be submerged again in this cutting-edge academic culture where people are working on different questions, where they have different methods." 
Some of these differences relate to literary form. For example, beginning a paper with a thesis is rather unique to America, Dr. Martyn explains. "In Germany, you don't write that way. You start with a topic and you explore it. Or you start with a question." 
Prof. Martyn incorporates the German perspective into his teaching at Macalester. His course Short Forms: Novella, Essay, Aphorism is "a very German topic," he says. "That's something I bring to the college out of my ongoing experience with the study of German literature as it's done in Germany."
While in residence, Dr. Martyn will give a lecture and hold a workshop on the resistance sparked by the 1996 reform of German spelling and punctuation. "The episode provides a case study in the relationship between literature and its medium and the different but complementary ways both change over time," he says.
With more than 40,000 students, 545 professors, and seven Nobel Prize winners, the University of Bonn is one of Germany's top universities. In 2019, it was recognized as a "University of Excellence" by the German Council of Science and Humanities. 
"We are happy that we were able to recruit David Martyn to contribute his specific scholarly excellence to our university," Prof. Moser says.
Prof. Martyn will be in residence at the University of Bonn from April 1 to June 30, 2021, during his sabbatical.