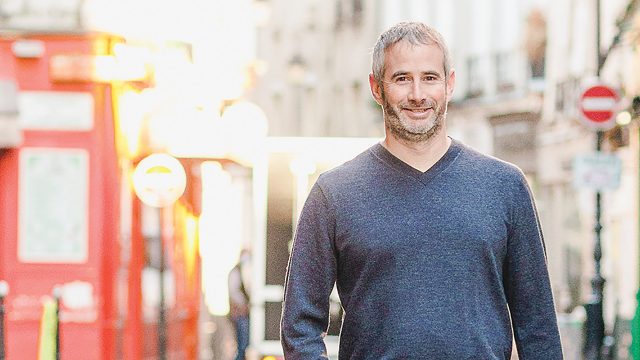 Josh Timberlake's Macalester education prepared him for a career helping companies find new space all over the world. Last year, he, his wife, and his two preteen children found their own new space in Paris, where Timberlake works for Google's global infrastructure team.
He grew up in Urbana, Illinois, and came to Macalester to play soccer and major in economics. After taking "Human Geography" with Jerry Pitzl, Timberlake—a self-described "map geek" added a geography major. He also got his first passport, to study abroad in Australia. "I hadn't traveled much and had little exposure to much outside of Illinois," he says. "Macalester changed all that for me. Going to school with people from all over the world made me want to explore as much as possible." For two years after graduation, Timberlake worked in employee benefits consulting.
He found his professional calling in 1998 when he began a 17-year run with Deloitte's corporate site selection practice. Drawing on his studies in economics and geography, Timberlake helped companies evaluate spots for new manufacturing facilities, R&D centers, and corporate headquarters. Sometimes clients gave him specific parameters, asking for a site in the southeastern U.S., China, or Mexico, for instance; other times, clients only expressed a general need for more capacity. "Every new project was different—industries, clients, and geographies—and I was constantly challenged to create thoughtful recommendations," he says.
Based in Chicago, he traveled often for work, while also embarking on global adventures with his wife, Dawn. In Bolivia, the couple encountered two Austrian families with four school-aged children among them traveling together through South America. The group divided their time between traditional school activities and experiential learning. "That stuck with us and planted the seed that we could expose our kids to different perspectives, cultures, landscapes, foods, music, and experiences from an early age."
The couple had a daughter, Lily, in 2008 and a son, Gabe, in 2011. The consulting life's grinding schedule and Timberlake's desire to be more present with his family ignited thoughts of a career shift: "Coming home on a Thursday evening and telling my wife I was heading to China on Monday for the next 10 days was tough," he says. "I never got tired of the work, but the consulting lifestyle can be all-consuming."
In 2015 he joined Google's global infrastructure team, a job in which he evaluated sites for data centers, expansive industrial complexes that power the tech giant's vast services: "Whenever you're using Search, Maps, or YouTube, those queries are being routed through one of our 21 data centers throughout the world."
He worked on data center projects in Virginia and Ohio, finding an improved work-life balance alongside energizing professional activities. "It's cool to think about a vacant piece of land becoming a technology campus that creates jobs for the local community and runs on renewable energy," he says. "The tangible aspect of these projects is incredibly rewarding."
Still, something gnawed at him, namely the desire to introduce his children to global cultures and experiences. When Timberlake discovered an opening with Google's data center team in Paris, the family considered relocation. That position would allow him to carry his U.S. activities—investigating potential data center sites, supporting site selection and negotiations, and aligning data center growth with business needs—abroad. It also meant a move to France.
The family traveled to Paris last June to assess the viability of relocating—and "we decided we were in by the time we got back on the plane." They sold their home and cars, donated goods, and stored key belongings.
They moved to Paris two months later. They enrolled the children—now 12 and nine—in a bilingual school, found a gymnastics training gym for Lily, and began absorbing Parisian life through trips to markets, the pervasive scent of fresh bread, and train rides around town. Passing the famed Notre-Dame cathedral while walking his children to school one morning, Timberlake felt the enormity of the act: "This wasn't a vacation, but our new reality."
In time, the family settled into a fourth-floor walk-up apartment, while the children's French language fluency exploded and Timberlake embraced his new Google role with a multicultural team of colleagues. The family even endured a mini-crisis when an enthusiastic Gabe hopped on a train before his father and sister could join him. "But one stop later, he was there waiting for us with a smile," Timberlake says.
The family explored Paris and other parts of France while also trekking to Sweden, Portugal, Seychelles, and Qatar. COVID-19, however, halted travel as government mandates limited the family's outings to within one kilometer of their residence. "Fortunately, just about everything we needed was nearby," he says.
Moving to Paris has opened the family's collective eyes to different cultures, spurred new skills, and heightened appreciation for what they have—and had. "Paris is a beautiful city, but it's dense and I understand the value of green space now more than ever," he says. "Plus, I could really use a good deep-dish pizza and a Chicago-style hot dog every now and then."
The family will return stateside—eventually. "There's no firm end date, but we'll have a couple years to soak this in," Timberlake says. "I'm incredibly grateful for this opportunity and what it's giving our family."
By Daniel P. Smith / Photo by French Grey Photography
Daniel P. Smith is a Chicago-based journalist.