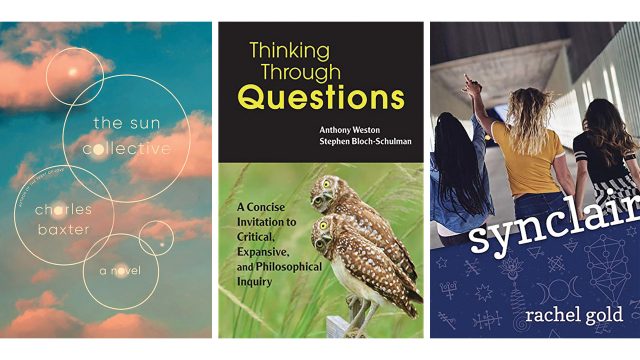 Charles Baxter '69, The Sun Collective (Pantheon, 2020)
"Tense, wry and ultimately touching . . . There is plenty of artful subtext in The Sun Collective, and a burning house or two . . . But Baxter's true gift is in describing the tender complexities of a relationship. Here, it's the wistful, at times contentious, "post-love" of Harold and Alma, whose real problem might not be the times, but time, and their own senescence and mortality." –The New York Times
Rachel Gold '93, visiting assistant professor of English, Synclair (Bella Books, 2020)
"Synclair targets young adults in its depiction of one extraordinary summer in the lives of a group of 17-year-olds, in a story filled with diverse and humanely-drawn LGBTQ characters. As the editor of the book, during the review process I wondered what my life would have been like had I found this novel when I was 17. I kept telling myself: Just imagine," Katherine V. Forrest wrote in a Lambda Literary column in October. "Synclair is a novel of expectations and possibility and self-actualization extending to every one of its young characters."
Cassandra Hartblay '06, I Was Never Alone or Oporniki: An Ethnographic Play on Disability in Russia (University of Toronto Press, 2020)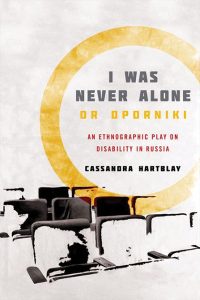 "I Was Never Alone is a stage play based on ethnographic research with adults with disabilities living in northwestern Russia, centering personal narratives of quotidian daily life. I adapted each scene from transcripts of interviews that I conducted, in Russian, so the work is a documentary representation of life history stories, edited into a cohesive theatrical narrative. It also offers six main roles for disabled actors. Along with the script, the book includes a reflection on performance ethnography and disability studies, and the experience of staging the play in North America, and echoes my broader work to develop a global approach to disability studies research.
This work's foundation comes from my time at Mac, where I majored in anthropology and Russian studies, and studied abroad in Russia. Mac professors Dianna Shandy, Arjun Guneratne, Joan Ostrove, and Jim Von Geldern advised my honors thesis, which led to a dissertation on a related topic, and ultimately, the research for this play.
The play's second title, oporniki, is a play on the Russian word that means central support. Sometimes this word is used to refer to people with spinal injuries, but it also refers to other kinds of flexible but strong points of reaction, like a central column in an engineered machine. Extending this confluence of meaning, I follow disability justice advocates and feminist theories of interdependency in suggesting that disability situates people with disabilities not as peripheral, but as nodes or points of flexion in social relations."
---
Anthony Weston '76 and Stephen Bloch-Schulman, Thinking Through Questions: A Concise Invitation to Critical, Expansive, and Philosophical Inquiry (Hackett Publishing Company, Inc., 2020)
"The world spectacularly exceeds our knowledge. It's not only young children who have so very much to learn—it's all of us. Indeed, there is far more to know than we ever can know. (Probably—but can we know this either, for sure?) There are many, many things that we don't even know that we don't know. The world exceeds not only our knowledge but also our ignorance. Questions are sometimes no more than flashlights in a vast dark—but at least we have them."
---
David Hoppe '73, Midcentury Boy: My Suburban Childhood: From Ike to the Beatles (Victory Dog Books, 2020)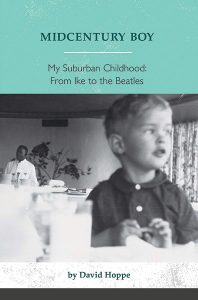 "Although so many of us lived through it, the postwar middleclass suburban experience in towns like Mt. Prospect has been shortchanged, relative to stories and cultural analysis originating in cities or the countryside. It's possible the suburban story has been passed over for the same reason I avoided my hometown over the years—there have always seemed like more interesting places to go.
Meanwhile, virtually everyone agrees that America's middle-class is now in crisis, an endangered social species. Where, in John Kennedy's era, politicians talked about raising people out of poverty, today they campaign on trying to salvage what's left of the middle-class. Many older voters, who grew up during the postwar suburban boom years, are frustrated they can't pass on to their kids the notion of progress their parents inculcated in them—that prosperity grows with each passing generation.
What's fascinating is that, as soon as they were able, these same folks began dismantling almost everything about the experiment that made the world they grew up in possible. It was like they couldn't help themselves.
There is a story in this."
---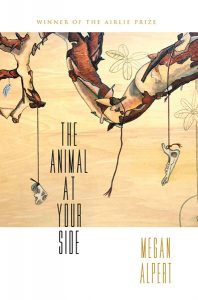 Megan Alpert '02, The Animal at Your Side (Airlie Press, 2020)
Kevin Anderson '87, Organization Design Made Easy: Structure, Process and People (independently published, 2020)
Nathan Rubin '12 with Daniel R. Rubin, Boomers to Millennials: Moving America Forward (Bardolf & Company, 2018)
Frederick Hale '69, translator and editor, California, Nevada, and Mexico: The Travels of a Technical Student (Masthof Press, 2020)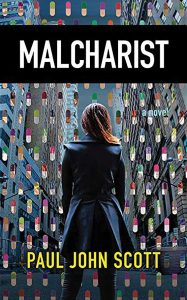 Paul Scott '86, Malcharist (Samizdat House, 2020)
Claudia Setzer '74 and David Shefferman, The Bible in the American Experience: The Bible and Its Reception (SBL Press, 2020)
Janet Kay Chalupa Jenson '68, Rainy Lake Rendezvous (Kindle Direct Publishing, 2020)