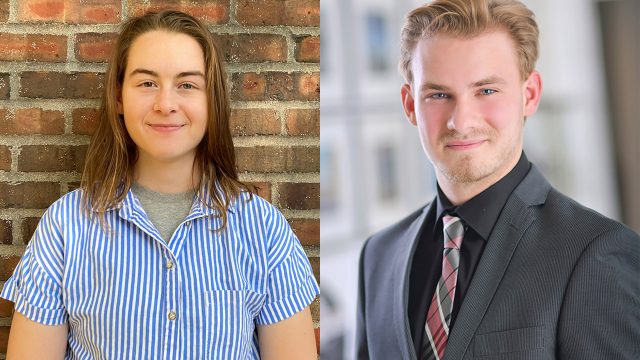 St. Paul, Minn. – Dana Gustafson '22, from Arlington, Mass. and Frank Marquette '21, from Little Falls, Minn. are this year's recipients of the Harold S. Geneen Charitable Trust Scholarship. The annual $30,000 award is for students majoring in economics or political science who are interested in studying and promoting responsible corporate management and governance.
Gustafson is a member of the women's soccer team and a dual major in political science and economics. "Both of my fields of study have given me essential knowledge about the role of public and private institutions in civic life, and they have motivated me to work towards helping those institutions better serve their stakeholders," she said. "I value responsible corporate management because it allows corporations to consider the impact of their decisions and work towards inclusive growth without sacrificing the goal of commercial success." 
Marquette is an economics major who spent a gap year abroad before enrolling at Macalester. "Properly placed private investment, overseen by an equitable board of directors fueled by responsible corporate management, can manifest in incredible growth," he said. "Placed in the wrong hands though through irresponsible corporate management, it can be the tool of oppression. While travelling the world before coming to Macalester, I saw both sides of this coin over and over again. Inspired by this, I chose to pursue an economics major." 
To be eligible for the scholarship, students must (a) be a U.S. citizen or permanent resident, (b) be a rising junior or senior, (c) be a political science or economics major, (d) have documented financial need, and (e) demonstrate a strong interest in promoting responsible corporate management. Professor Sarah West, chair of the economics department, and Patrick Schmidt, professor of political science, select the recipients from Macalester. 
"We look for students with exceptional academic records, some experience in business and finance, and a strong commitment to ethical corporate governance," said Dr. West. 
In addition to alleviating some of the immediate financial burden of attending college, the Geneen Charitable Trust Scholarship may help position students for careers after they graduate. 
For Gustafson, she said she plans to explore a career in public policy research or community economic development with a focus on small and minority-owned businesses in the Twin Cities. 
"I also have an intention to pursue a law degree after Macalester, and I'm excited for the many opportunities this would create for me in corporate or securities law," said Gustafson. 
Marquette has already accepted a position in the healthcare investment banking group at Piper Sandler in the Twin Cities. 
"I am extremely excited for this opportunity and will strive to play my part in ensuring that proper corporate governance permeates throughout the firm," he said. 
About Harold S. Geneen
Harold S. Geneen was the former chairman of ITT from 1959 to 1977. When he stepped down as chief executive at the end of 1977, ITT was the 11th-largest industrial company in the United States with more than 375,000 employees and $16.7 billion in revenue. According to the New York Times, Geneen's management style and practices were widely imitated.