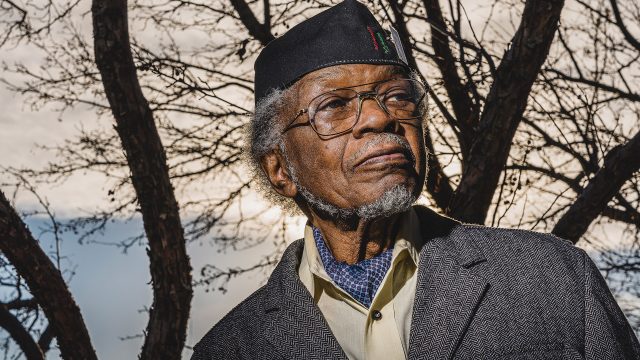 By Tinbete Ermyas '08 / Photo by David J. Turner
When you speak with former history professor Mahmoud El-Kati, you'll find yourself needing a pen. He has a book recommendation for almost any topic—and drops references with an ease that can be intimidating. I know this firsthand: When we spoke for this article, he wasted almost no time. "Man's Most Dangerous Myth by Ashley Montagu did a lot for me to understand that race is in fact a myth; it has no scientific basis at all," he says. "But a myth can create reality."
His deftness is inspiring, but it's also something more: For generations of Macalester students, especially Black students, it's been a lifeline. Professor El-Kati introduced them to themselves—through ideas and activism—igniting a kind of self-discovery that's hard to articulate.
El-Kati came to Macalester in 1970, in the early days of the college's Expanded Educational Opportunities (EEO) program. That was a multi-year effort to expand access to Macalester so the campus would be "more representative of the economic, social, cultural, and racial diversity of the entire nation," according to the 1968 program proposal.
It brought scores of students of color from across the country to Macalester each year. The student body quickly diversified—by some estimates, leaping from 2 percent students of color from before the program to 15 percent in 1969, when the first EEO class arrived. "In the heyday, we had a Hispanic house. We had a Black house. We had a Native American house…We didn't have one cultural space, we had three," says Kathleen Pinkett '75. "And so it was really a community. Because in classes—not all, but some—professors didn't know quite how to deal with us."
Melvin Collins '75 has similar memories, recalling the breadth of diversity among the student body, but also tension. "There were clearly some people who didn't feel as comfortable with the presence of students of color on campus," Collins says. "And for us, being on campus was like a culture shock. It was like we existed in two different worlds."
Enter El-Kati, whose presence on campus also represented a shift of sorts. He began teaching at Macalester through the college's efforts to recruit faculty from diverse backgrounds, like activism: "The people who came out of the movement brought, partly, a new set of knowledge from the Black community."
That knowledge came from deep ties to the community, which he built over years of activism in the Twin Cities. The bulk of it centered on The Way, a north Minneapolis community center that became a hub of Black activism and thought. It was a physical space, but it was also something more: "We considered ourselves part of the Black Power Movement, plain and simple," El-Kati says. "The Way was a comprehensive movement to make the lives of Black people better."
El-Kati ran The Way's educational programming, which took him all over the region. He was involved in educating school-aged children, university students, and prisoners about African American history, which was itself a radical act: "We had an unabashed respect for Black people," he says. "We were telling the white supremacist doctrine—not the people, but the doctrine—to go to hell."
El-Kati says this was The Way's broader mission—addressing all the ways in which Black people experience injustice, which meant thinking about the totality of their lives. This ethos—a deep love and appreciation of the African diaspora and dismantling white supremacy—undergirds much of what El-Kati does, which he attributes to his lifelong struggle for Black liberation: "Movements define you; you don't define movements."
The Head and the Heart
El-Kati brought to the classroom not just learnedness but passion. What he knew, he learned through struggle, so you could feel something in his courses: "He was one of those professors where you didn't want to miss a class, because whether we were discussing a book that we read, or we were just having a conversation, there was always a memorable experience that we would get," says Matthew Reid '01.
Now an educator himself, Reid is in awe of all the responsibilities El-Kati juggled. "He taught two courses with us at Macalester, but then he would spend hours also going to teach high school students in north Minneapolis," he recalls. "I think he had the nickname of the mayor of St. Paul at the time as well. Everybody knew him."
That connection—between academics and activism, the head and the heart—comes up a lot for alumni reflecting on his legacy. He was a mentor—an intellectual home that grew into something more.
In my conversations with alumni, we reminisced about what brought us to Macalester—that critical time in a young person's life, where you're thinking about your place in the world. But for Black students, something almost always hung over those questions: What does it mean to become an adult in a country where you're framed as a problem? Crossing that threshold into adulthood can be especially tricky, and they often had a mountain of questions. El-Kati would help navigate the treacherous terrain.
"All individuals are coming into their own in college," says Collins, "but there was also a Black, Hispanic, Native American dynamic as well, in terms of how we operate in this environment. El-Kati began to fill in the missing pieces of history. He would always provide us with information, but he also taught us to think critically about what you read because there's a lot of misinformation out there that fits a white supremacist narrative. And so, he provided texts and perspectives that I found helpful right away."
Reid found that reframing useful, too. "One day, we talked about lynchings across the South, and El-Kati made a point to say the oldest terrorist organization is the Ku Klux Klan. And some folks in class challenged that. He said, 'If you think about it, what did they do? They inflicted terror. They targeted people. They had the power.'"
Reid says that was radical at the time, but shifted his understanding of how we think about white supremacy. "Even now, when folks talk about the white nationalist movement—that's terrorism," he says. "I keep saying—El-Kati, God bless him, has been saying this for 60 years."
El-Kati's classes centered the experiences of people of African descent—and in a way that became a teaching tool itself: "The American ideology of white supremacy: that's what we've always been fighting," he says. "We insisted that the history of African people from the continent to slavery to now be reflected in the curriculum—that's what the Black Studies movement was about."
For Pinkett, that logic meant El-Kati's lessons were spaces of freedom, equal parts education and self-discovery. "El-Kati's classes were my first real history classes on the truth about American history," she says. "If you remember American history from 11th grade, you heard about slavery for a hot minute, and that's it. There was no Black History Month back in the early '70s. I felt like I was finally learning about an America that had not been taught before."
In this way, unlearning was central to El-Kati's teaching. He challenged students to not only think about how to dismantle white supremacy, but also how to bring that vision to fruition: "He would introduce us to significant folk in the African American community—people who work for the Urban League or The Way, places where folks could volunteer. He was always about connecting academics to the community. It's not like we live in isolation," recalls Collins. "El-Kati would say you're going to go to school to have an impact on the community where you live. He was good at exposing us to that."
Growing up in north Minneapolis, Stanley M. Berry '75 knew El-Kati at the peak of the professor's work with The Way. "As kids, our knowledge of Africa and Africans was rooted in Tarzan movies, and the clownish images of our people in the media and as mascots for products and other entities," he says. "Mahmoud El-Kati was my introduction to Black consciousness along with a kind of self-awareness previously unknown to me and many others in my community."
That connection strengthened at Macalester, where El-Kati's classes helped Berry gain confidence through education that stayed with him: "Mahmoud taught us about Africa's pivotal role in mathematics, science, and governance. By dispelling the negative stereotypes that burdened our healthy development, Mahmoud guided the immeasurable elevation of our self-esteem," he says. "He taught me to bring Black awareness and consciousness into all aspects of my personal and professional life."
El-Kati not only instilled a sense of duty in his students, he led by example. He says his Macalester colleagues supported his activist work in the community: "The people in the History Department were really good to me. They said that I could do whatever I want to do, so long as I'm teaching our classes and engaging the students and being of service to the school. I enjoyed my colleagues."
His time at Macalester wasn't without tension, however. When we spoke, I asked what it was like when the EEO program was stopped—and with it the large number of students of color who came to campus. It took years for the number of students of color to approach EEO levels again, and the lack of diversity was palpable. At the time, El-Kati says it felt like Black students were expendable, but that he always felt the need to stay—in part to support Black students, but also to change the institution: "This is work. We came to transform a community. I want a confrontation with wrong and injustice."
Continuing a Legacy
The fervor El-Kati brought to his teaching and activism lives on in an endowed lectureship. In 2008, Berry, Bertram M. Days '74, and Ava B. Days established the Mahmoud El-Kati Distinguished Lectureship in American Studies. According to former department chair Professor Duchess Harris, the lectureship is a way "to celebrate that El-Kati had been the vanguard, and that he had opened the doors for us to enter."
The lectureship brings to campus public intellectuals who engage race. El-Kati says it's been exciting to see the speakers who've come to Macalester, like Jelani Cobb, a historian and staff writer at The New Yorker, who has become a prolific voice on race and justice in recent years. "He even lectured in the community when he came to speak at Macalester," El-Kati says. "For me, those who lecture at Macalester should also lecture in the community."
Given his decades-long involvement in the struggle for racial justice, El-Kati says the need for this type of intellectual engagement is crucial, especially given the spate of racial violence in recent years. "Pandora's box has been opened in a way that it never has been," he says. "All the best and the worst about America is out of the box. You've got a chance to make this country whole or continue along the same line to being governed by the doctrine of white supremacy."
On Freedom
I have a confession: I've been covering El-Kati with journalistic distance—and it's been difficult. That's because I came to know him early on in my Macalester career. I would often run into him in the MAX Center, in the office of Sedric McClure, who was then the head of the Emerging Scholars Program. I learned early on that El-Kati had three adult children and that one of them, Stokley, was the lead singer of Mint Condition—the R&B group I spent hours listening to as a child. I had to learn more.
Over the years, I came to cherish those impromptu run-ins with El-Kati, which would inevitably turn into a lecture I didn't know I needed, complete with book recommendations and names to Google later in my dorm room.
But something happened in those encounters—a thing that came up over and over in my discussions with alumni: I gained a better sense of the world, and as a result, my place in it. My mind began grasping a language to articulate things I'd always felt but didn't know how to express. And that proved foundational as I began my ascent into adulthood.
Even though I began college after El-Kati had stopped teaching, his presence on campus lingered—and he would even regularly attend campus events. A favorite moment of mine came during my senior year, when feminist activist Angela Davis came to speak. She was talking about the American prison system and its connection to slavery, and she asked the audience to define slavery.
A voice in the crowd was slight but powerful: "It was a social death." It was El-Kati, in true form. Davis turned her head toward him, picking up the ball he just threw her: "Yes, Orlando Patterson says slavery was a social death…" I remember her saying, citing the Harvard sociologist's seminal work. Did El-Kati just drop a book reference to Angela Davis? I thought to myself.
I recall that moment often—less because of the starpower that propelled it and more because of the way it changed how I thought about slavery. It wasn't merely a discrete historical event; its legacy impacts so much of the inequities we see today. So many of the things I had experienced. That changed everything.
When I relayed the anecdote last fall, El-Kati chuckled, as if to suggest he'd recommend the same book if that moment happened all over again. Then, he became professorial in a way that was cathartic: "And that's what Black people suffer from—a kind of invisibility, that's a kind of social death. The way I think of it, a social death is when you were slaves and segregated and you weren't reflected in the messages and images and symbols of what America was."
I then confessed it was that logic that brought me to storytelling: I wanted to see the world and say something about it as a Black person. And not just to say something, but do something in the process: Shift our understanding of the world by making people of African descent central to it.
He agreed: "That's the definition of freedom."
Despite having stopped teaching at Macalester in 2003, El-Kati rejects the word "retire"—when you're engaged in dismantling white supremacy, your work is never really done. When asked how he defines this chapter in his life, there was some contemplation: "I keep doing the same thing, just a little bit slower." He paused for a second, then quickly added: "But that's about it."
Reading List
Professor El-Kati is known for his deep understanding of African American history and his book references. We asked alumni to share the formative books he introduced to them.
Stanley M. Berry '75
The Souls of Black Folk, W.E.B. DuBois
Narrative of the Life of Frederick Douglass, an American Slave, Frederick Douglass
Melvin Collins '75
Before the Mayflower: A History of Black America, Lerone Bennett, Jr.
The Destruction of Black Civilization: Great Issues of a Race from 4500 B.C. to 2000 A.D., Chancellor Williams
Matthew Reid '01
The Great Black Jockeys: The Lives and Times of of the Men Who Dominated America's First National Sport, Edward Hotaling
I Never Had It Made: An Autobiography, Jackie Robinson
Kathy Pinkett '75
Fight for Freedom: The Story of the NAACP, Langston Hughes
The El-Kati Lectureship
The Mahmoud El-Kati Distinguished Lectureship endowment was launched in 2008 by Dr. Stanley M. Berry '75, Bertram M. Days '74, and Ava B. Days, and has grown into a continuing effort by alumni and friends to honor Mahmoud El-Kati's career as a lecturer, writer, and commentator on the African American experience. The lectureship is grounded in the American Studies Department, which the college created in 2003 as an academic focal point for studying race and ethnicity after El-Kati stopped teaching at Macalester. That marked a key step toward a new era, professor and former department chair Duchess Harris says: one that recognized both the centrality of race in U.S. social life and the need for institutional support of scholarship on racial categories and racialized experiences.
With funds from the lectureship's endowment, the American Studies Department brings distinguished scholars to campus—building crucial opportunities for theory to meet practice. Each scholar's extended engagement includes a public presentation, classroom appearances, and candid conversations with students, faculty, and the local community about history, race, and equity issues.
Previous years' scholars include:
Jelani Cobb, "The Half-Life of Freedom: Race and Justice in America Today"
Cathy Cohen, "Democracy Remixed: Black Youth and the Future of American Politics"
Margo Natalie Crawford, "Experimental Blackness: When 'Black' and 'Post-Black' Meet"
Harry Elam, "Struggling with Racial Legacies: Adrienne Kennedy and the Power of African American Theatre"
E. Patrick Johnson, "Going Home Ain't Always Easy: Southern (Dis) Comfort and the Politics of Performing History"
Marc Lamont Hill, "From Ferguson to Gaza: Reimagining Black-Palestinian Transnational Solidarity"
Mark Anthony Neal, "Looking for Leroy: (IL)Legible Black Masculinities."
For more information on the lectureship and how you can get involved, visit macalester.edu/el-kati.
Tinbete Ermyas '08 is an editor at National Public Radio in Washington, D.C.