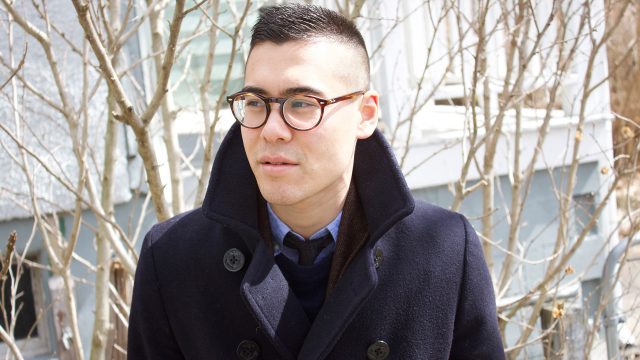 St. Paul, Minn — Poet Michael Prior, assistant professor of English and a Mellon ACM Faculty Fellow, has been named one of 60 recipients of the 2021 Jerome Hill Artist Fellowship. The fellowships are awarded annually by the Jerome Foundation to early-career artists based in Minnesota and New York City. 
"This year's cohort represents an extraordinary social and aesthetic range, advancing their practices and engaging their community in exciting ways, even in these difficult and unprecedented times," said Jerome Board Chair Linda Earle in a press release. 
Each Jerome Hill Artist Fellow receives $50,000 over two years, as well as professional development guidance. 
"I'm very grateful and it was a wonderfully validating moment when I found out," said Prof. Prior, whose most recent book of poems entitled Burning Province was published in March 2020 by Penguin Random House. Described by Prof. Prior as an "elegy for memory," the book examines his mixed-race identity and how the internment of Americans and Canadians of Japanese descent during World War II has shaped his family's legacy. 
"My maternal grandparents were forcibly incarcerated during the Second World War at a camp in British Columbia," said Prof. Prior, who teaches creative writing, poetry and Asian American literature. "And so, that legacy resonates a lot in my family mythology. I'm interested in exploring the ways in which that event and its aftermath have shaped my family and therefore who I am."
The Fellowship will provide Prof. Prior with the crucial resources and support to complete his next manuscript, which will continue to explore Japanese internment camps in North America and intergenerational memory, cultural trauma, and his own mixed-race identity. 
"The next book I'm working on is going to require a lot of traveling, which right now isn't feasible. But hopefully by this summer or shortly after, I'll be able to go to many of the places I need to for research," he said, adding that he is aiming to visit some, if not all, of the ten "relocation centers" scattered across the United States where Japanese Americans were forced to move during the Second World War. 
The fellowship also comes at an especially timely moment, given the focus of Prof. Prior's work. 
"Right now, the last generation that lived through the internment are passing away, and so with them go all these particular memories of the camps," he said. "It becomes less a thing about living memory, and more a thing about collective memory, which is also part of what my new project is about."
About the Jerome Foundation
Artist and philanthropist Jerome Hill created The Jerome Foundation with the goal to contribute to a dynamic and evolving culture by supporting early-career artists and the nonprofit organizations that serve them in Minnesota and New York City.