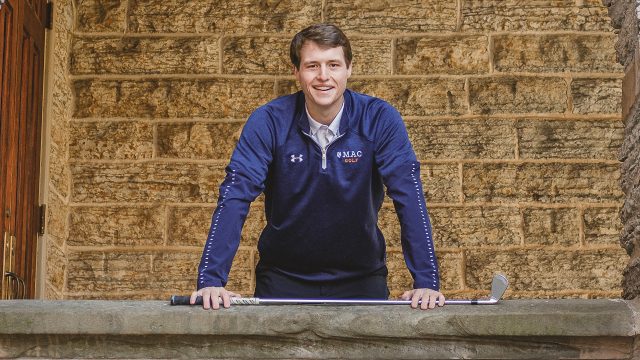 Photo by Kurt Stepnitz
When Jim Smith '21 is on the golf course, some may find his key to success a little unconventional: he likes to make conversation with his competition. "We might be out there for up to nine or ten hours, and it's all competition time, even though that may look different from an intense basketball or football game," says Smith (Shippensburg, Pa.). "Finding things in common with people from other teams helps me stay present and energetic."
Smith carries that spirit into community-building in all of his Macalester roles, from Kirk RA to Geography Department student leader to Student-Athlete Advisory Council (SAAC) president. That's no easy task this year. "It's extremely challenging when people can't be together in person—we all know this by now," Smith says. "But there are also opportunities for communities to flourish, as unique members share different parts of their identities. There's tremendous opportunity for growth."
For SAAC, that includes hosting a networking event to connect alumni athletes with more than 100 student-athletes, amplifying MIAC and NCAA initiatives on mental health and diversity and inclusion, and building new interdepartmental campus relationships.
This spring, Smith is finishing his behavioral economics capstone before joining UnitedHealth Group as an advisory services analyst after graduation. He's also a geography major, so naturally, we asked for a tour of his favorite campus places—three spots where he seeks community and conversation (and one where he doesn't).
The Golf Simulator
In the Leonard Center, the golf simulator in Room 36 is a hidden gem. You hit the ball into this floor-to-ceiling five-sided box, and cameras and sensors pick up data: how fast the ball's going, how much spin it's carrying. This connects to a computer system and shows you in real time on a projected screen where that ball would end up. In the winter, we use the golf simulator several times per week, and it's a great time for concentrated instruction from Coach Greene. When we're on the driving range in warmer weather, sometimes we're all clamoring for attention at the same time. This room is really where we work on our swings and improve.
Geography Lounge
There's plenty of stimulating conversation, collaboration, and hobnobbing among students and professors here. It's where I held office hours when I precepted "Contemporary Mongolia," a first-year course taught by Professor Holly Barcus, a leading scholar on migration and rural livelihoods in the region. That class hooked me on the topic, and this winter I finished my geography capstone, "Competing Sustainabilities: Air Pollution and Mitigation Initiatives in Ulaanbaatar." This spring, I'm collaborating with my GTU [geography honors society] co-president, faculty, and staff to host the Midwest Undergraduate Geography Symposium. We're grappling with figuring that out in a virtual environment.
The LC Atrium
I like really solid multiuse spaces like the Leonard Center Atrium. I've worked there, I've napped there, I've socialized there, I've led SAAC meetings there. It's also been transformed into a dining area this year, so it's one place where I find community right now. And people don't always notice this, but by the big window looking out over Shaw Field, the old center court of Macalester's basketball court is right there. I think that's pretty neat.
Old Main
I love exploring Old Main's nooks and crannies. On the fourth floor, there's a tiny wooden folding desk that must be from the 1920s. I'm a taller guy, and boy, it's uncomfortable. But when you really have to crunch and get something done, if you force yourself to sit in that 100-year-old desk, you can usually find a little success.