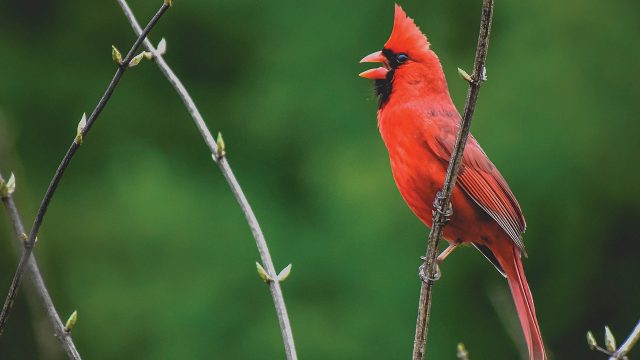 A beautiful cardinal has taken up residence in the tree outside my bedroom window. It sings in the morning as I prepare for work, reminding me that spring is coming. My spouse, Mike, and I have learned that Minnesotans like to joke about the inordinate length of winter, but the cardinal doesn't seem to mind the cold. The persistence with which it sings each morning causes me to think about the tenacity, resilience, and hope we all have had to cultivate in this most challenging year.
And there is much cause for hope. Every day, we inch closer to being able to gather with loved ones as the number of people receiving COVID vaccinations continues to climb. In our family, we anticipate the (rescheduled) summer wedding of our firstborn. On campus, signs of life are evident at every turn—from the crocus poking up through the ground to seek sunshine, to the students assembling around the flagpole outside my office for plein air choir practice.
In just a few weeks, we will celebrate our 2021 graduates, who overcame seemingly insurmountable obstacles to complete their degrees undaunted. Their plans after Commencement range from pursuing Fulbrights and PhDs to joining startups and taking roles at technology companies like LinkedIn. What an inspiration, to launch a cohort of principled, curious, and deeply compassionate young people out into the world beyond our campus, knowing they will transform it for the better.
In communities near and far, across a vast range of paths and professions, these soon-to-be Mac alumni will apply the lessons, values, and skills they explored at 1600 Grand. They will not be content merely to complain about injustice, violence, bigotry, or suffering. They will assign themselves the tasks required to change what they cannot accept. In so doing, they will make us all proud.
And, coming up behind them, a new class of Mac students prepares to join the campus this fall. Selected from the largest applicant pool in Macalester's history, these students will join a Mac family that has persevered and will emerge stronger, bringing with us into our "new normal" all the recently acquired tools, skills, and strategies that—though learned by necessity—will now be incorporated with thoughtful intention into our classrooms and co-curricular instruction.
These incoming students will begin their Mac journeys at a time when all of us in higher education are focused deeply on access and equity as essential to academic excellence. And I am proud that Mac has taken important steps to advance both of these. Our decisions to drop the application fee and to use holistic, test-optional strategies for evaluating applicants have increased the number of talented students who allowed themselves to dream of becoming Scots, and we know these students are deeply committed to pushing themselves in the classroom, on the field, on the stage, in the studio, and in our community.
Likewise, we have been working tirelessly to ask ourselves (and answer!) difficult questions about what we must do to be sure our campus is one in which every member of the community can flourish and thrive. Toward that end, multiple task forces and working groups are addressing material barriers, such as food insecurity, and leading the kinds of changes that will be necessary to advance the four pillars of a Macalester education: academic excellence, internationalism, multiculturalism, and service to society.
Of course, the college cannot dismantle every form of inequality in our society, nor fix systemic barriers to access that are beyond our control. But higher education remains an important ladder of opportunity. We can, and we must, ensure that a Mac education is within reach for the many talented students who see in this community a place to grow, stretch, and dream—whether those students come from Minnesota or Mali or Mexico or Myanmar.
For this reason, we continue to raise funds for financial aid, to advocate for doubling the Pell Grant program, and to expand our recruitment strategies. These efforts benefit greatly when our alumni volunteers and ambassadors get involved. Your talents, time, and treasure are vital for building a stronger and more equitable Macalester, now and for generations to come.
Like the cardinal outside my window who is undaunted by Minnesota's stubborn and enduring winters, Macalester looks forward with hope and a deep, almost instinctive, confidence that brighter days lie ahead. We send off our graduates with that abiding hope and we anticipate with great joy a new academic year that will look more familiar than the one that soon will end.
Dr. Suzanne Rivera is president of Macalester College.