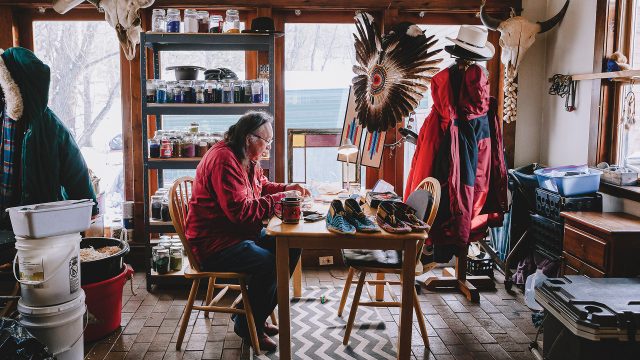 By Diane Wilson / Photos by Theresa Scarbrough
For more than 30 years, Dakota elder Walter "Super" LaBatte Jr. '70 has dedicated his considerable energy to owaŋg'wasté kag'a, making beauty. His work includes handmade beaded moccasins, richly painted powwow drums, and making his own brain-tanned buckskin. LaBatte has not only developed a national audience for his work, he has also earned the respect of his Dakota community as a local historian and culture bearer.
Before LaBatte found success as an artist, he grew up in a traditional Dakota community, attended Macalester, and worked for many years in construction while doing art on the side. While he recognized early on that his greatest satisfaction came from creating his artwork, he wasn't interested in the life of a "starving artist." He continued to work construction until he retired at 53 and devoted himself full-time to his projects. While deeply passionate about his art, LaBatte is equally committed to preserving Dakota traditional skills and knowledge that are at risk of disappearing.
While LaBatte is enrolled at the Sisseton Wahpeton reservation in South Dakota, he grew up in the Pejuhutazizi community near Granite Falls in southwestern Minnesota. His family lived simply, without a phone or television, relying instead on his dad's stories for entertainment. His grandfather, Wanbdi Ska, White Eagle, named LaBatte for his other grandfather, Was'icuŋ Hdinaz'iŋ, Spirit Returns. His parents, both fluent Dakota speakers, chose not to teach him the language because of their experiences growing up under intense pressure to assimilate, including boarding schools. Like many Dakota families who were struggling to adapt to white culture, many of their traditional arts and teachings were also not passed on between generations. In school, when LaBatte observed that people often believed in a romanticized stereotype that all Native people were artists, he rebelled by refusing to make art.
During the 1960s, LaBatte chose to attend Macalester, where he discovered he had a gift for language, declared German as his major, and applied for a study abroad program at the University of Vienna, Austria. While not accepted, it sparked his lifelong interest in travel. While at school, he also tried beadwork but quit when he realized it was not up to the quality he had seen in his community.
LaBatte credits Macalester for teaching him how to think in a critical, logical manner. "I learned to become wary of conclusions without the proper justification for those conclusions," LaBatte says. "With that ability, I was able to solve problems."
After graduation, LaBatte worked for several years at Burlington Northern. After he quit, he found a summer job working construction on a new tribal office building and realized that work "fit like a glove." Unlike his former white-collar job, construction gave him a sense of immediate gratification in seeing the results of his work, without all the travel and internal politics. He moved to the Twin Cities for a job, and fell into a lifestyle of hard drinking.
In 1986, after a bout of pancreatitis, his mother told him that if he wanted to quit drinking, he should ask Wakan Tanka. After a great deal of prayer, LaBatte chose to become sober, a decision that would lead him back to his Dakota traditional ways. "The mind is very powerful," LaBatte says. "It can take you to heaven or hell. It's your choice."
After a year of sobriety, LaBatte realized that he was missing a spiritual aspect in his life. He decided to start dancing at powwows, a community celebration that includes traditional dancing, singing, and feasting. Since he could not afford to buy an outfit or regalia, LaBatte decided that he would try beadwork again and make his own. When LaBatte showed his first pair of moccasins to his father, he became emotional while holding them, stroking the beads and saying, "I thought this was a lost art." Years later, beaded moccasins would become one of LaBatte's most requested artworks.
As he worked on his dance outfit, however, beading conventional leather was hard on his hands. A fellow dancer told him about brain-tanned buckskin that was made using a traditional process that few people remembered. Fortunately, LaBatte's father had learned it from his own mother and taught LaBatte how to make his own buckskin. Soon he was tanning 30 to 50 hides each year and traveling to Montana to sell them. At that time, he was one of very few people who knew how to do this work.
A couple of years later, an adopted brother asked LaBatte if he could fix his broken powwow drum. After looking it over, LaBatte told him it would be easier to make a new one, despite having never made one before. The success of that first drum led to requests for three to four powwow drums each year, as well as hand drums.
These days LaBatte works in his garage studio in Granite Falls, making moccasins with meticulous attention to detail. His favorite compliment, he says, was from a customer who said, "Your moccasins look like what I see in museums." While he entered a few art shows when he first started out—winning first place at a Rapid City, S.D., art exhibition—LaBatte discovered that posting his work on Facebook generated all the commissions he could handle. When a friend showed a pair of his moccasins during an interview on a national television news program, demand for his work skyrocketed. His growing reputation received another boost in 2016, when he received a request for moccasins from presidential candidate Bernie Sanders.
While he considers his beadwork to be traditional, LaBatte creates his own designs. From a wall of shelves filled with glass jars of brightly colored beads, he begins a project by selecting the background color, possibly a bead he hasn't used in a long time. That choice dictates the accent colors, followed by the contrasting outline. "I'm designing as I'm beading," LaBatte says. If he decides he needs a new design, he goes back to his graph paper and colored pencils.
Now, in the midst of a pandemic, protests for racial justice, and volatile national politics, LaBatte finds peace and serenity in his art. "My art feeds my soul," he says. "In times of stress, I go to my artwork. I do what I want to do, what Spirit moves me to create."
As an elder, LaBatte has discovered a gift for storytelling, much like his father. "I've reached an age where the stories just fall out," he says. Three years ago, Pioneer PBS in west-central Minnesota created a short animated film of a family story narrated by LaBatte about a pelican that saved a Dakota village on Lake Traverse from attack hundreds of years ago. The film was selected for the 2018 St. Louis International Film Festival.
He is also working with his niece, Teresa Peterson, on a collection of Dakota stories, including those he heard growing up in his community. That book, Voices from Pejuhutazizi: Stories and Storytellers, will be published in November by the Minnesota Historical Society. "I want to preserve the stories I heard in my youth from the elders of that era and to record my experiences growing up on Pejuhutazizi," LaBatte says.
As LaBatte's reputation as an artist continued to grow, Pioneer PBS also filmed a documentary on his life and work that was a 2018 official selection for the American Documentary and Animation Film Festival in Palm Springs, California. "A person needs to stay busy, to have a purpose in life. My artwork gives me that purpose," LaBatte explained in the film.
At the heart of LaBatte's work is a commitment to ensuring that traditional Dakota skills and knowledge are maintained. "Everything I do," he says, "I'm hoping it doesn't die out." That means teaching classes through Dakota Wicohan, a local organization, and training apprentices. One of LaBatte's other ambitions is to ensure that a traditional corn soup, Pasdayapi, is still available in his community. He learned to love the soup as a child, when his grandfather was responsible for growing the corn and making soup for gatherings. When LaBatte moved home to retire, he realized that no one was making the soup anymore. He began growing the corn, a beautiful multicolored variety, and sharing the recipe.
Several years ago, LaBatte finally made the trip to the University of Vienna—many years after he first applied to study abroad—where he stood on the steps and cried out, "I have arrived!" Until the pandemic restricted travel, LaBatte has tried to visit Europe every year.
When asked what he tells the young people in his life, LaBatte replies, "Get your education." When he considers the issues this country is facing, LaBatte believes that education provides the skills young people need to solve these problems.

Diane Wilson, Mdewakanton/Sicangu, is a Minnesota writer and educator. She is the author of Spirit Car: Journey to a Dakota Past. Her new novel, The Seed Keeper, was published in March by Milkweed Editions.