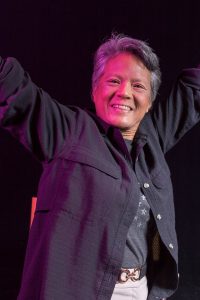 St. Paul, Minn. – Dr. Karín Aguilar-San Juan, chair of the American Studies department, has been awarded the 2021 Jack and Marty Rossmann Excellence in Teaching Award that recognizes "a faculty member who has been identified by colleagues and students as exemplifying the teaching goals of Macalester College."
Macalester President Suzanne Rivera announced the award and read from this citation:
"We are grateful and proud to present you with the 2021 Jack and Marty Rossmann Excellence in Teaching Award.
Your nominator writes that within minutes of asking for letters of support for you, the sound of replies began to reach her inbox with notes such as, 'Count me in—I would love to write a letter for Prof. K!' Those letters from faculty, students, and alumni call you a radical, thoughtful, and enduringly kind educator who approaches teaching with deep empathy and challenges students to think critically about race and society.
An urban sociologist with a focus on Asian American studies, you helped found the American Studies department and currently serve as its chair. You are known for vital collaborations across departments and for several signature and crucial American studies courses about race, place, and space, including Bruce Lee, U.S. Imperialism from the Philippines to Vietnam, and Critical Prison Studies. Your courses are, as one student writes, timely and important if our College and our culture are to change.
In your courses, students are the center of the learning experience. Employing cross-disciplinary teaching strategies, you create radical hospitality in the classroom. Through movement and making, you connect hands, brains, and hearts in learning, and truly give students agency and space to craft their own learning. Your care is similarly radical. Students are encouraged to prioritize their self-care as a liberating act that in turn will extend outward to create communities in which everybody can thrive instead of simply surviving.
Maybe most radical, writes one student, is how hard you work to ensure your students—especially your students of color—know that they belong. You do the hard work of following up and staying in touch. Another student describes you as his 'non-blood-related titas: a Filipino word meaning "aunt," but in a cool way,' and writes of your impact as an advisor to Filipinos at Mac in helping students reflect on their relationships to Filipino and Filipino-American culture. A former student writes that you allowed her to explore not what she should do, but what she wanted to do. This incredible gift of freedom showed her that she really did have the power to figure out what she wanted out of her education.
Your courses are never confined to the classroom. You are called a champion of experiential learning and one of the most effective professors for helping students integrate fieldwork with academic interests. You encourage your students to address challenging issues by partnering with relevant community organizations through internships or directed work in your classes, and you have been the faculty sponsor for dozens of American studies student interns. A student writes that you facilitated meaningful experiences that took students outside the classroom, allowing them to go beyond the theory of the course materials and into the messy, complex space of the real world. Equally important is your commitment to encouraging students to share what they have learned with the wider community.   
Among your colleagues, you are called a gifted teacher of teachers. As associate director of the Jan Serie Center for Scholarship and Teaching, you are a model teacher who develops practices from which other faculty members learn, and an inspirational leader who is generous with your insights, tools, and practices, and encouraging in your support.
One student calls you a coach, mentor, and guide for challenging times. In this long season of incredible challenges, colleagues write of how you created initiatives to foster equitable pedagogical spaces and practice trauma-responsive teaching. This is not to say that you have not done these things all along for more than 20 years. Only that here, in this particular light and moment, your many gifts glow even more brilliantly.
A colleague puts it this way: There is something to learn from everything Karín does. Karín Aguilar-San Juan, Prof. K: We learn something from everything you do. We are inspired by everything you do. We salute you as an outstanding educator who has the deepest respect of your peers and students."