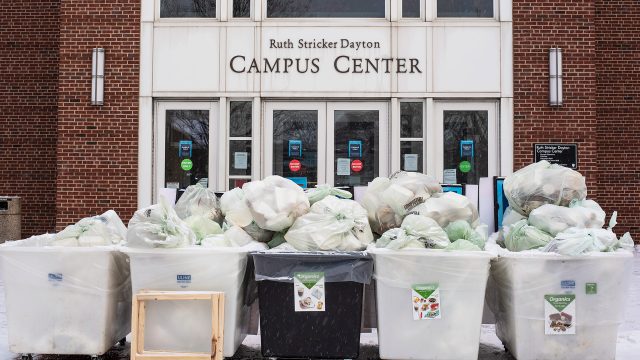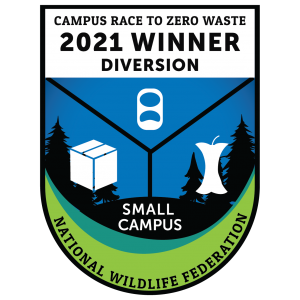 Saint Paul, Minn. — The results of the National Wildlife Federation's 2021 Campus Race to Zero Waste competition are in, and Macalester emerged as one of the top-performing higher education institutions in the nation. The College took the top ranking in the Diversion category for having the highest recycling rate among all 105 participating schools at 78 percent. Macalester was also among the top 10 in the Food Organics category and placed first among small schools. According to the NWF's final report, the cumulative greenhouse gas reductions resulting from the Macalester community's efforts during the two-month competition equaled 15 cars off the road or the energy consumption of six households.  
"It's a big deal because it demonstrates that we're doing a good job on campus of communicating with our community members, and it shows that they all care about this initiative at some level and they're putting in the work to do what they think is right," said Alyssa Erding '17, who has a dual appointment as the Sustainability Office's department coordinator and the waste program implementation manager in Facilities Services. Erding added that continued collaboration between the Sustainability Office and Facilities Services is essential for Macalester to achieve its sustainability goals. 
Karen Maxwell, custodial services manager, agreed. "We have goals that are actually going to change things and be sustainable because we're working together and communicating," she said. 
Regarding those goals, Dr. Christie Manning, director of sustainability, was quick to acknowledge that the College has not reached its goal of becoming a zero-waste institution by 2020. That ultimate benchmark, which was set more than a decade ago, has proven elusive for a number of reasons. 
"I would say, based on the fact that we are doing as well as we're doing compared to all the other institutions in the country, that zero waste in this consumer society we live in is currently unrealistic," she said. "If you buy anything, it produces trash, and all of the infrastructure of daily life pushes us away from zero waste. To achieve zero waste, we need widespread systems change." 
Maxwell also pointed out that the infrastructure in the U.S. just isn't ready to support zero-waste initiatives. 
"Everybody thought that they would be able to get to zero waste, but if you study waste management at all for the last two years, especially when it comes to recycling plastics, we have very little infrastructure," she said. "We were shipping it to China and when China wouldn't take it anymore, we were shipping it to Southeast Asia. No one is going to get to zero waste until we address how we deal with plastics here in the United States."
Under Prof. Manning's leadership, the Sustainability Office is resetting the College's goals and incorporating social justice into its initiatives. One change has been to first-year orientation, when new students are introduced to a Macalester culture that strives to be zero waste.  
"Students rewrote it to focus on environmental justice," she said. "So instead of talking about it in the old ways, which were about saving the earth, we are focusing our initiatives like zero waste as being rooted in care for all communities, particularly the BIPOC communities that have historically — and in present day — borne the burden of unsustainability."
Erding also said the way zero waste has been defined is problematic and cites composting as an example. The volume of the College's compostable containers has been skyrocketing in proportion to the volume of trash, she said, which means the community is actually producing more waste because more single-use containers are going into the compost pile. 
Indeed, despite the exemplary performance in this year's Campus Race to Zero Waste competition that shows Macalester is at the forefront of sustainability efforts happening on the nation's college campuses, Maxwell, Erding, and Prof. Manning are clear-eyed about the challenges that remain. 
This fall, the Sustainability Office will partner with the Post Landfill Action Network to identify a student who can serve as an Atlas Zero Waste Fellow during the 2021-22 academic year. The fellow will be charged with conducting an in-depth audit of the campus' waste infrastructure and creating a report that will help the Office form a new strategic vision for sustainability on campus.
"While I'm ecstatic about our performance, I'm also cautious about it because it kind of gives the impression that you're Number One, congratulations, and now you don't have to try any harder," said Erding. "When actually we're still not doing a good enough job."
Learn more about Macalester at macalester.edu.