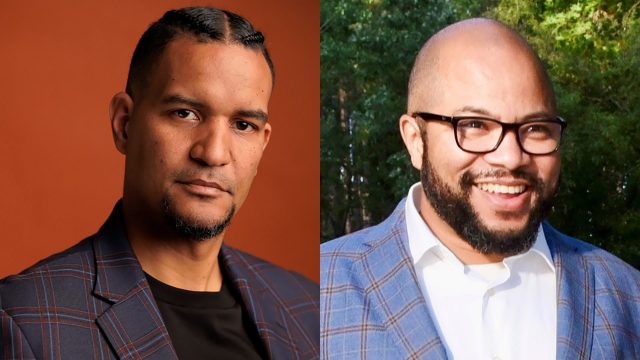 Saint Paul, Minn. — Dr. Brian Lozenski, associate professor of urban and multicultural education, and Dr. Dziwe Willard Ntaba '95, a physician and assistant professor of emergency medicine at the University of Minnesota Medical School, have been selected as 2021 Bush Fellows. 
Bush Fellows receive up to $100,000 over 12 to 24 months to pursue education and learning experiences that help them develop the skills and relationships to foster large-scale change in their communities. Distinctive in its flexibility, the Bush Fellowship allows recipients to define what they need to become more effective and equitable leaders. Fellows can use the funding to pursue such things as education, leadership training, networking and mentorship.
"We believe in investing in people who can address challenges today and who are driven to grow their ability to have even greater impact in the future," said Anita Patel, Bush Foundation Vice President of Grantmaking. "We see past Bush Fellows at the forefront of solving our region's most critical issues, and we are excited to see the impact these new 2021 Fellows will have in the coming years."
In a press release announcing the 2021 Fellows, the Foundation shared profiles for each of the 24 recipients that describe their goals and vision. 
Prof. Brian Lozenski
Prof. Brian Lozenski believes Minnesota must reimagine the fundamental assumptions of education if the state is to eliminate racial disparities and meet the needs of Minnesota's communities of color. He seeks to bring together educators, researchers, activists, policy makers, youth and parents in a central location to share knowledge, exchange ideas, confront inequities in practices and disrupt ineffective education methods. To lead this statewide movement, he understands he must build and inspire a broad community coalition. He will study sustainable movements focused on educational justice and grow his capacity as an historian to structure an education system centered on freedom, struggle and humanity.
Dr. Dziwe Willard Ntaba
Dr. Dziwe Willard Ntaba has learned firsthand, as a physician working in global health and emergency medicine, the profound impact of dignity and respect in health care. As a young physician opening a clinic in Burundi, he experienced how respect towards and among communities helped transform an impoverished village into a premier public health center. While leading teams of Ebola emergency responders in Liberia, he saw how dignified treatment towards communities was essential to ending that complex public health crisis. Now, in his work at the University of Minnesota Medical School, he is working to better understand how historical mistreatment, trauma and patient experience can lead to poor health outcomes. He seeks to bring perspectives from his global experiences to improve health care in the U.S. To advance his vision, he will pursue the knowledge and tools to build networks to advance equitable health care solutions centered on dignity and respect.
About the Bush Foundation
Archibald and Edyth Bush established the Bush Foundation in 1953 with the goal to inspire and support creative problem solving in Minnesota, North Dakota, South Dakota and the 23 Native nations that share the same geography.
Learn more about Macalester at macalester.edu.