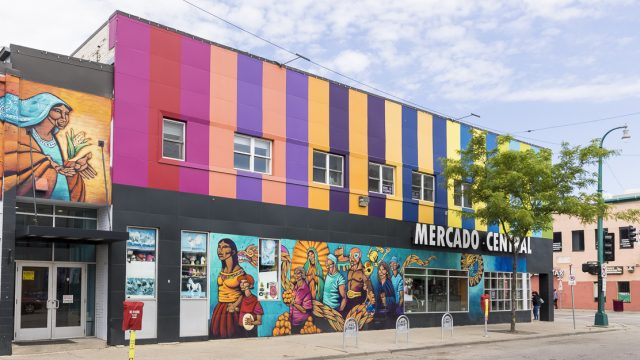 "Our stories cannot be checked into boxes."
–from "Afro-Latina" by Elizabeth Acevedo
"One of the stereotypes about the Latinx population is the perception of it as one homogeneous ethnic group," says Alicia Muñoz. "We talk about the 'Latino vote.' But it's not the Latino vote. There are so many different political ideologies that when you try to simplify it and put it in a big block, you end up neglecting the richness of this particular population."
Muñoz, associate professor and chair of the Spanish and Portuguese Department, has taught "Introduction to U.S. Latinx Studies" since she came to Macalester. The course provides an interdisciplinary discussion of the Latinx experience in the United States with a focus on Mexican, Puerto Rican, Dominican, and Cuban-Americans.
Using fiction, poetry, films, and critical essays students examine issues of race and ethnicity, language, identity, gender and sexuality, politics, and immigration.
The course is taught in Spanish, though some of the readings are in English—and some are in both languages. During a segment on language, the class read and discussed *Lengualistic Algo," a poem by Olga García Echeverría that seamlessly blends Spanish and English words and phrases together.
"[The poem] is about the use of language and how it's connected with the identity of the person," says Alessandra Policarpo '24 (Belo Horizonte, Brazil). "If you are suppressing the language, you are also suppressing the person…It's in Spanglish because that's the way she thinks and that's the way she expresses herself."
Muñoz says that the topic of language has led to some "rich [classroom] discussions about what it means to speak Spanish when you look like me versus what it means to speak Spanish when you are a white person…In the case of white speakers, it's a positive skill, something that's going to help your career. But this other group is marked as ethnic and foreign because they speak the language—moreover, they are encouraged to assimilate by suppressing that language over time."  
Community engagement is a central component of the course. For the last three years, Muñoz had a partnership with a charter school in Minneapolis. Students served as buddies to a group of Latinx fourth-graders, developing and sharing lessons about topics in Latinx history and serving as mentors to the children.
The pandemic didn't allow for that this year, so Muñoz pivoted to a new story map project in partnership with the Lake Street Council in Minneapolis.
"It's an online interactive website tool that's going to highlight some Latinx-owned businesses on Lake Street in Minneapolis," says Ian Witry '23 (Minneapolis), a Spanish and Latin American studies double major, with a minor in Portuguese. "It will provide some history, and you'll be able to scroll down to see maps, timelines, and images to read and interact with." Students work in small groups during some of their class time to develop content for the website.
When in-person classes resume, says Muñoz, she's hoping that the story maps project, too, will expand and continue as an engagement opportunity for students.
Recently, the class has been discussing the U.S. Census, including what options people are given—or, in many cases, not given—to identify themselves and their race and origin by checking boxes. "Even though it's only a piece of paper, it affects how Latinos are perceived and perceive themselves in the U.S.," says Policarpo. "I've learned a lot about the Latino community in the United States, and there is much more to learn."