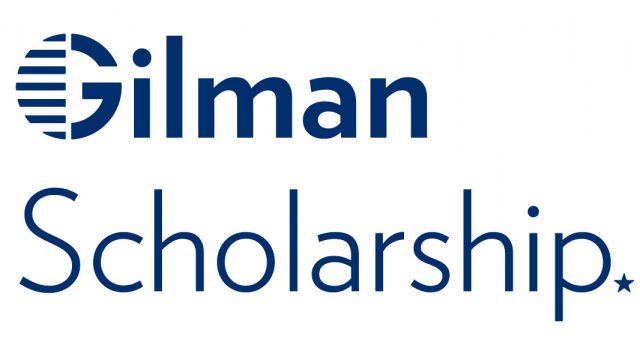 Saint Paul, Minn. — Colombia, South Africa, Greece, and Japan. Those are just a few of the countries where 20 Macalester students will study away during the next academic year with the help of scholarships from the U.S. Department of State's Benjamin A. Gilman International Scholarship Program. The students will receive up to $5,000, or up to $8,000 if also a recipient of the Gilman Critical Need Language Award, to apply toward their study away or internship program costs. The 20-person cohort is the largest number of Macalester students ever to receive the prestigious and highly competitive scholarship in one application cycle since the award's inception in 2001. 
"I think this speaks to the quality of Macalester students and the way they're able to talk about the importance of their study away experience and their aspirations," said Kevin Morrison, director of the Center for Study Away. 
Whether the students will be able to use their awards, given the disruptions in travel caused by the pandemic, is still up in the air. But Morrison said he is much more confident in what the travel landscape will look like when students are set to depart later this summer than he has been since the pandemic began. The College's Travel Advisory Review Committee has assessed all of the programs available to Mac students in terms of health and safety risks and approved study away for every program that is still planning to host students for Fall 2021. Despite this effort, however, uncertainty remains. 
"We continue to see programs canceled because the conditions on-site are not conducive to having students come and study there. And that's unfortunate," Morrison said. "But that is something that is beyond Macalester's control and really is beyond our students' control." 
He also cautioned that since the Gilman scholarships are underwritten by the Department of State, its travel guidelines could restrict the ability of some students to accept their award.  
For its part, the Gilman Scholarship Program, in its press release announcing the latest recipients, acknowledged the potential difficulties and said it was committed to "offering flexibility to participants whose plans may be impacted." 
The 20 Macalester students who were recently named Gilman Scholars are: 
Abdifatah Abdi '22 (Minneapolis, Minn.)—Netherlands
AJ Papakee '23 (Cedar Rapids, Iowa)—New Zealand
Anna Sverclova '23 (Anoka, Minn.)—South Africa
Chanelle Grosbard '23 (New York, N.Y.)—New Zealand
Christian Martinez-Garcia '23 (Los Angeles, Calif.)—Denmark
CJ Denney '23 (Terrell, N.C.)—New Zealand
Dalton Greene '22 (Wheeling, W.Va.)—United Kingdom
Faith Milon '22 (Cottage Grove, Minn.)—United Kingdom
George Wojcicki '23 (Chicago, Ill.)—South Africa
Ifraah Dhegadub '23 (Minneapolis, Minn.)—South Korea
Katie Kelbrants '23 (Minneapolis, Minn.)—Greece
Ryan Kinnucan '22 (Portland, Ore.)—Austria
Saiido Noor '23 (Minneapolis, Minn.)—Spain
Sariya Stowers '23 (Ponder, Texas)—Brazil
Stela Baltic '22 (Rochester, Minn.)—Spain
Tatiana Jimenez-Thompson '23 (Champlin, Minn.)—Japan
Tenzin Nyima '23 (Brooklyn, N.Y.)—Hungary
Ubah Abdullahi '22 (Minneapolis, Minn.)—Colombia
Zahra Jumani '23 (Naperville, Ill.)—United Kingdom
Zully Maya '22 (Dorr, Mich.)—Spain
About the Benjamin A. Gilman International Scholarship Program
The U.S. Department of State's Benjamin A. Gilman International Scholarship Program is a congressionally funded program of the Bureau of Educational and Cultural Affairs at the U.S. Department of State and named after the late congressman Benjamin A. Gilman from New York. The program's aim is to broaden the student population that studies and interns abroad by supporting undergraduates who might not otherwise participate due to financial constraints. Since the program's establishment in 2001, over 1,300 U.S. institutions have sent more than 33,000 Gilman Scholars of diverse backgrounds to 151 countries around the globe.
Learn more about Macalester at macalester.edu.