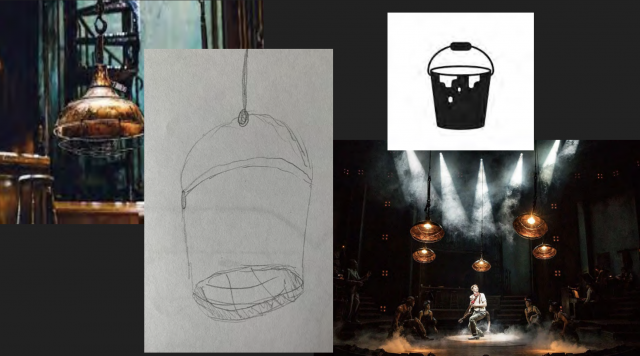 "When they read the play, I tell them to have a pencil and paper and start doodling. I want to see what you feel and from there you might get inspiration."
—Professor Kinukawa
"I've always enjoyed taking courses that make me think in a different way," says Eamon McGuigan '22 (Madison, Wisc.), an environmental studies major and theater minor.
He is taking Set Design, an advanced theater course that explores scenic design in traditional theatrical buildings and alternative sites.
"Design theater courses are a blend between my major and minor work," says McGuigan. "They allow me to get practice with design work, drafting, model building, and rendering, even though we don't have an architecture major at Mac. That's one of the things I'm maybe headed towards."
Mina Kinukawa, a scenic designer and assistant professor of theater and dance, teaches the course. Before students begin design conceptualization and practice, they read the play, analyze the script, and conduct visual research. Each student leaves the course with a design portfolio.
This spring, Kinukawa says, students are reading several Greek adaptations, including Iphigenia 2.0, an open source work by Charles Mee; The Greek Trilogy of Luis Alfaro: Electricidad; Oedipus El Rey; Mojada; and The Great Leap by Lauren Yee. They are also doing group projects on the original plays on which the adaptations are based.
"When they read the play, I tell them to have a pencil and paper and start doodling," she says. "I want to see what you feel and from there you might get inspiration." Assignments called response sketches help encourage that visualization, asking students to note not just what was mentioned in the script, but the shapes, color, movement, character interactions, and space they visualized in their own heads as they read the play.
Maria Arreola '21 (Blue Island, Ill.) is a sociology and political science double major, with minors in theater and Spanish. "I got into theater kind of late in my time at Mac," she says. One of the things she's learned this spring is that set design has "something for everyone." Her training as a sociologist has aided her visual research—learning more about a play's location and sociopolitical context have helped inform her designs.
In set design, something as simple as a chair on stage presents complexity and challenge. "What's the period?" asks Kinukawa. "What kind of chair is it? How much space does that chair take up on stage, and is the scale correct?" Students may design sets for three local theaters—the Guthrie Theater in Minneapolis, the Ordway Center for Performing Arts in St. Paul, and Macalester's own black-box-style theater. They also do a site-specific design of their choosing. In all cases, knowing the exact dimensions of the space is essential so a chair, and anything else that is a part of the set, works in the space.
"As long as there is room for people to move around and perform, I can pick any location I can measure," Arreola says of the site-specific project. "It's really exciting to think about the possibilities of having theater anywhere."
Once students complete the course, they are technically qualified to design for Macalester's Theater and Dance Department productions and can add more creative work to their portfolios.
Kinukawa says that one of her favorite parts of the course is when her students "realize the space is not two-dimensional. What do we do with the depth of the stage and the audience space? Set design is not just what the audience sees through the frame of the proscenium. That's the moment that's very exciting."