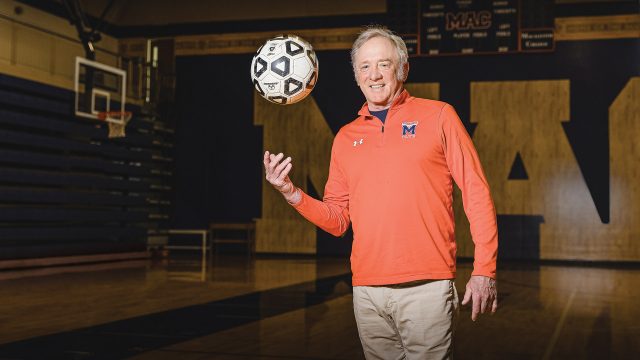 By Charles Buchanan / Photo by David J. Turner
Steve Cox '76 claims he is not the Scots' biggest superfan, but let's review the evidence: He's frequently spotted in the stands cheering, "Go Mac!" He signs emails with blue and orange hearts. And he has rallied support for Mac athletics for more than 30 years as a board member—and longtime president—of the M Club for alumni athletes. 
"Mac athletes give their all, win or lose," says Cox, a Waukegan, Illinois, native who played soccer and hockey while earning a history degree. Initially the high school soccer veteran didn't think he was good enough to make Mac's team, but coaches sought him out soon after he arrived on campus. "I didn't even bring my soccer shoes" to college, Cox recalls. "I had to borrow someone's bicycle to go buy a pair." He added ice skates in his junior year after Coach Leo Collins saw him play intramural floor hockey. 
Cox, like all athletes who complete an intercollegiate season, became an M Club member as a graduating senior. (Varsity head coaches—and athletes who were denied access to varsity sports before the 1972 passage of Title IX—also are members.) In 1990, Sheila Brewer, Mac's athletic director at the time, encouraged Cox to add his youthful voice to the club's board of directors. He became president in 1994 and, except for a three-year break, has held that role ever since. 
The M Club's goal, Cox explains, is to build enthusiasm among alumni and the Mac community for the 21 varsity athletic programs, which include baseball and football—Mac's oldest sports—along with basketball, golf, soccer, softball, tennis, swimming and diving, track and field, cross country, and women's volleyball and water polo. To accomplish that, the club's directors host events to build excitement for athletics, support athletes both on and off the field, honor outstanding athletes past and present, and collaborate with the Alumni Board's Athletics Working Group and the Student Athlete Advisory Committee to achieve shared goals. 
Cox describes his work with the M Club as one way he gives back to Macalester. "Macalester took a chance on me, and it turned out to be the perfect fit for me," he explains. Recently retired from more than 40 years of teaching history in St. Paul's public schools, Cox can devote even more energy toward boosting his beloved Scots. Here are nine of Cox's reasons to stand up and cheer: 
---
1. The Scots have claimed 15 NCAA Division III national championships including the 1998 women's soccer crown, the 2014 title in one-meter diving, and 13 track and field victories. Phoebe Aguiar '19 outran the competition to win the indoor track and field women's 800 meters two years ago.
2. Mac is a powerhouse in the pool: The women's water polo team is a three-time winner (2017–2019) of the Collegiate Water Polo Association's Division III Championship. Cox recalls being awed by the strength and stamina of these student-athletes, who keep moving in the water even during timeouts.
3. Mac athletics supports the college's commitment to diversity. A transgender inclusion policy has been in effect since 2015. Earlier, in 2003, the M Club extended membership to women who played sports—ranging from basketball to badminton—in the decades before Title IX granted them access to varsity programs. "That was a big step forward not only for the M Club but also for being more inclusive with Macalester athletics," Cox says. 
4. The M Club Hall of Fame—which you can visit online—celebrates outstanding Mac athletes and teams from more than 130 years of intercollegiate sports. At a banquet, new inductees share stories with current student-athletes about the lifelong impact of their athletic experiences, Cox says. 
5. Mac soccer fans are known for their colorful—some would say irreverent—cheers. Mental Floss included them in a list of seven memorable sports chants. 
6. Mac's football tradition includes ancient rivalries and unique trophies. The winner of the Mac-Carleton College game—nicknamed the "Brain Bowl"—hoists the Book of Knowledge. The victor in the matchup with Hamline University brings home the Paint Bucket, created in the 1960s to end a series of spray-painting pranks on the competing campuses. 
7. Newer athletics traditions include Back to Mac—a perfect fall weekend for Scots fans packed with free sporting events, tailgating, an alumni mixer, and more. In winter and spring, the M Club invites the community to fan appreciation days that feature games, swag giveaways, and free food. At Reunion, the M Club welcomes everyone to participate in the legendary three-person slingshot water balloon challenge, with prizes for teams who come closest to splashing Mac the Scot. 
8. Winning isn't the only priority for athletic director Donnie Brooks and his department. Cox admires how coaches and athletic staff "look at the whole student, including their academic, social, and emotional well-being." Throughout the COVID-19 pandemic, for example, the department found ways for teams to meet and practice safely to provide student-athletes with a support system.  
9. Scots excel in balancing athletics with academics. In the 2019–2020 school year, 161 student-athletes earned Academic All-Conference honors. And two—softball player Julia Carpenter '20 and soccer player Jackson White '20—were named Academic All-Americans. Charles Buchanan is a freelance writer based in Birmingham, Alabama.
Charles Buchanan is a freelance writer based in Birmingham, Alabama.