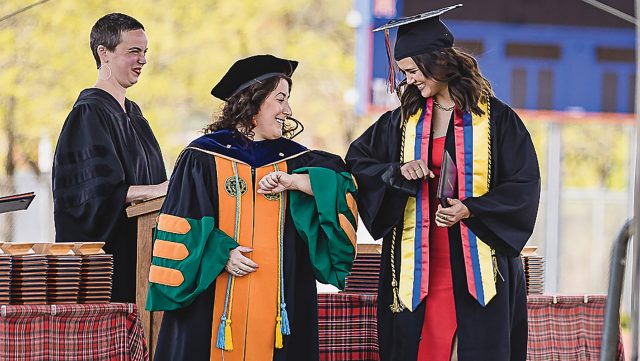 I have enjoyed learning—and school specifically—since I was a young girl. Curiosity is the fuel that pushes me to seek new information, challenge my assumptions, and enhance my understanding of the world around me. Unsurprisingly, I love to read and always have multiple stacks of books, magazines, and newspapers nearby, waiting to be consumed. 
One practice I developed this year that brings me great pleasure is to read the papers our incredible faculty members publish in academic journals. These articles—summarizing their experiments, describing observed natural and human-made phenomena, and posing big questions—provide a window into the array of knowledge and expertise they bring to their teaching. This dual role our faculty members play is the core of the teacher-scholar model that is so essential to the Macalester experience. Reading about the innovative and relevant work our faculty members do makes me want to be an undergraduate student again! 
For example, I was fascinated (and alarmed) by the work of chemistry professor Leah Witus and sociology professor Erik Larson, which illuminated the existence of gender bias in how people hear and understand information about COVID vaccine safety. Their project emerged from a series of YouTube videos Witus created in 2020 to break down complex science topics for a general audience. When she recorded a video explaining how COVID mRNA vaccines work, Larson suggested teaming up to evaluate gender bias. 
So, Witus created a second video, identical except for a male narrator. After 1,100 Americans watched the videos, Witus and Larson learned that the male voice was received as significantly more persuasive by viewers—increasing vaccine intention compared to a group that didn't watch any video. By contrast, the female narration had mixed effects on increasing vaccination intention. Some viewers of the female-narrated video actually reported feeling less likely to seek vaccination. Theirs is a powerful example of interdisciplinary collaboration, a key aspect of working and learning in this community. 
In addition to the contributions our faculty members make to their respective academic disciplines, they also collaborate with students on research, providing meaningful opportunities for them to engage deeply in the production of scholarship. Moreover, Mac students acquire the skills to make meaning of what they learn and discover. Not content merely to learn facts, they also want to know "why?" and "how?" and "what if?" These questions follow our students outside their classrooms and onto the playing field, and the stage, and the studio, and into their volunteer roles in the community beyond campus. In this way, a Macalester education transcends the transactions of traditional classroom instruction and transforms learners into doers. 
Academic excellence is one of Macalester's four pillars and, as a liberal arts college, our central purpose is to educate students: not only so that they may become gainfully employed, but also so that they may create impact in their communities and across the world. As I told our recent graduates at Commencement, the facts they memorized may eventually fade, but the tools they acquired here will help them succeed in any career—or careers—they may choose. 
And, despite the past year's enormous challenges, Macalester excelled in every academic discipline we study and teach. Our students learned and grew. Our faculty discovered and created new knowledge. We earned accolades, we expanded boundaries, and we deepened our understanding of the world. It was a tremendous year of intellectual growth for all of us, in and out of the classroom. 
Our seniors completed capstone and honors projects in a dizzying variety of topics, from diabetes management during COVID to fire history in Glacier National Park to the effects of racial covenants on modern-day property foreclosures. Throughout the year, students also received external support—two Fulbright fellowships are among the many honors—to further explore and develop their academic interests. Thanks to Watson Fellowship funding, Vivian Bauer '21 (Takoma Park, Md.), a linguistics major with minors in art history and Portuguese, plans to travel to Brazil, Portugal, Cabo Verde, Angola, Mozambique, and Timor-Leste for her project, "Art is for Everybody: Looking Beyond Museums in the Lusophone World." And we just found out that Sun Tun '22 (St. Paul) will receive the Society of Vertebrate Paleontology's inaugural Futures Award to support his research with geology professors Kristi Curry Rogers and Ray Rogers. 
I am looking forward to the upcoming academic year and all the joy—and learning—it will bring. Not just student learning in the classroom, but learning we all will do together as we forge the college's future. In particular, I'm excited to welcome our new Executive Vice President and Provost, Dr. Lisa Anderson-Levy, to campus this summer so that we can partner on launching a new strategic planning process. This work will engage every constituency of the college: students, faculty, staff, alumni, parents, and local community residents. Throughout, we will keep academic excellence at the heart of all we do—because learning is necessary to create a more just and peaceful world. 
Dr. Suzanne M. Rivera is president of Macalester College.